Specialising in unique and obscure construction projects, putting quality, service and people first has rewarded SDC with an exceptional reputation with a world-class client list
A remarkable structure
Specialising in unique and obscure construction projects, putting quality, service and people first has rewarded SDC with an exceptional reputation with a world-class client list
Founded in 1972, SDC Builders has taken small but smart steps to become the company it is today one that is projected to turn over £160 million this year. Specialising in unique and challenging projects, and being a forerunner for design and build services in the seventies, the company hasn't changed drastically in terms of the service it provides. What has changed over that time, however, is the structure of the company as in 2007, the now managing director, Francis Shiner led a team which negotiated a change of ownership. Francis' team transformed the company from a traditionally owned business to an employee benefit trust (EBT), and this reflects itself in the level of service and personable commitment the company ensures it delivers to its clients, employees and local area.
SDC takes on projects ranging in value from £5000 to £80 million and its portfolio of clients includes leading companies predominantly from the automotive, education, science, leisure, retail and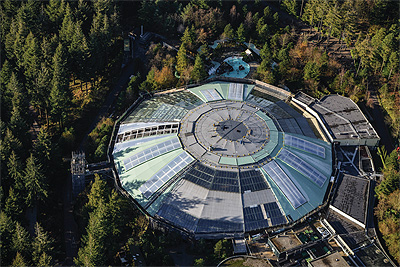 medical industries. The company prides itself on taking challenging and complicated projects that require its team of directors to work closely with the clients to find the best solution. "The jobs we find more interesting are the ones that are a bit challenging and a bit different," says Francis. "If a client brings along something difficult and complicated we would involve the board to work out how we're going to solve it, and how we are going to use the skills of our people."
What makes SDC stand out from other contractors is that every board member works on projects. Every job that the company works on will involve a member of the board who works closely with the client to understand the full requirements and makes sure these requirements are delivered. Currently, the company is halfway through a two-year project at Longleat Center Parcs. The work involves reroofing the dome that forms the central plaza on the resort. "We have developed a system that involved going in over night and erecting a camouflaged platform so that the guests don't know we're there. We are reroofing the whole roof; bringing it up to date with repairs and alterations. That's the sort of thing that when it comes in we have to sit down and work out a way of doing it." Other recent work for the leisure and tourism company includes building the already iconic tropical cyclone water ride at the Elveden resort.
Francis makes it clear that this commitment to service and quality is an attitude that permeatesthroughout SDC. The company is ISO 9001, ISO 14001, OHSAS 18001, and CHAS accredited and takes working to these compliances very seriously, but beyond this Francis believes that: "Quality isn't all about accreditations, it's about a desire to deliver quality. The client never forgets quality; if it's not there then it's an irritation that lives with them forever. It is something we have to deliver and therefore have the systems in place to control it, but also having the pride to deliver it is critical."
One ongoing contract at Cambridge University's Trinity College New Court building is a particular project that is exemplary of SDC's commitment to quality and desire to take on a challenge. The project involves renovating the nineteenth century building to modern day standards. "It's a very complicated job but the result is going to be amazing for the college," explains Francis. "We are using materials that are in-keeping with how the college was originally built, or lovingly restoring existing windows, joinery, floor boards and window boxes, in order to reincorporate them into the building. The end result will be like a new building, but very much preserving the old one, while giving it a facelift at the same time. It's very exciting." The company has worked on a number of projects for Cambridge University having supplied its services building laboratories and sports centres, and refurbishing old college buildings. The same is true for Oxford University, and to have both world-class institutions on its client list is an exceptional commendation that stands to prove the level of quality and service Francis and his team are able to deliver.
Cambridge represents an important market for SDC. "The city is very hot at the moment, it's second only to London. We have done a significant amount of work there and we are well ingrained there and with this comes a lot of opportunities," explains Francis. Operating predominantly within 80 miles of its Bedford office, the company is well placed to take advantage of the growth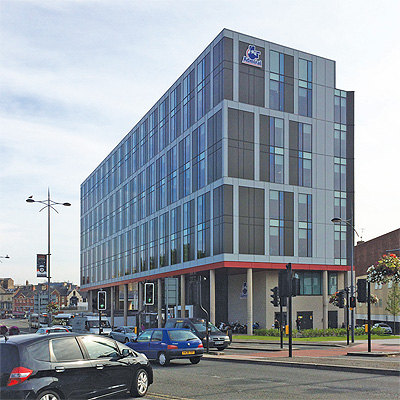 currently happening in Cambridge. Recent projects in and around the area include laboratories for the Babraham research institute, a major set of projects for The Welding Institute at Granta Park in Cambridge involving one building covered in terracotta baguettes, and an advanced smart-lab for GlaxoSmithKline.
It is clear that SDC has a client portfolio including some very high profile names. Of similar high regard is the company's experience within the automotive and motor racing industries. Throughout its history it has worked with British Leyland and Rover, and continues to work with BMW, Ford, Jaguar Land Rover and Aston Martin constructing a combination of office, manufacturing and retail sites. It is currently working on an exciting project with the Red Bull Formula One team, and over the years has constructed sites for Mercedes, Honda and Lotus, plus a virtual wind tunnel for Renault. The distinctive British Racing Drivers Club award winning headquarters trackside at Silverstone is another example of SDC's high profile projects.
The current market for SDC is very strong with demand and opportunity exceeding the company's capabilities and resources. It was also able to remain active throughout the recent recession winning a number of awards including 'Supplier of the Year' for building a new office block in Newport for Admiral. Francis puts this strength down to the service it provides and the client relationships it has formed. He emphasises: "We try really hard to understand what the client wants and to deliver it. We always work collaboratively and are able to negotiate accounts if we have any problems without being confrontational. What really matters for us is that our clients like us and that we have repeat business. We're never happier than when a client says they're really happy with what we've done." In addition to this is SDC's responsibility to its employees, as Francis notes: "About half of our staff have been with us more than ten years. We have low staff turnover. We buy tickets and hampers for the staff that form part of a free company prize draw, and they all get a share of the EBT bonus when the profits are split up." What results from this ethos is a very honest, people-focused organisation, both towards its clients and its staff. With high employee retention and high levels of repeat business from leading companies, the integrity, strength and reputation of SDC is undeniable.
Throughout its history, SDC has been careful not to specialise. Its success and reputation is driven from its diversity as it strives to take on the most challenging and unique projects that come its way. Its core values of service and quality remain as strong as ever as the company looks to the future. "In terms of opportunities there are lot," adds Francis. "We are trying to be very careful about what we take because as soon as we slip on quality the sooner we will get in trouble." Strategically, the company is very realistic. Francis remains completely aware that the construction industry can be hit hard by economic downturns so strategic plans are being put in place so that the company is strong enough to face any upcoming challenges. "We have a site with all our plant that we supply to ourselves, which has everything up from forklifts to a couple of cranes. As well as this, we have a seven-acre site in Caxton, which we use to serve the Cambridge market with, for example, a joinery shop."
SDC is a unique company, it has steadily grown to where it is today because it has secured and retained an exceptional portfolio of clients and a highly skilled and loyal work force. Honesty, passion and pride permeate throughout the company's attitude, and this manifests itself in a level of service and quality that enables the company to stand out from other contractors in the commercial sector. With a smart strategy in place focused more on survival and continued diversity, rather than on fast and progressive growth, SDC looks set to enjoy a strong and successful future.
SDC Builders
Services: Commercial construction specialists