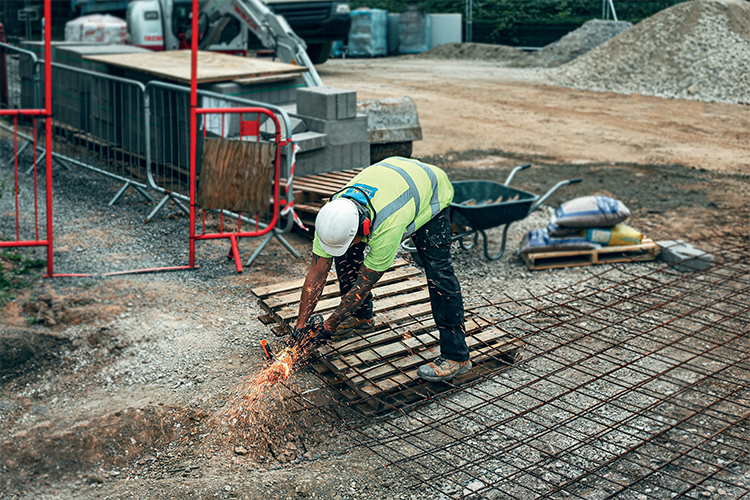 While many industries have suffered from catastrophic disruption as a result of the pandemic, the construction industry is one of the lucky few that looks set to make a speedy recovery. In fact, the Construction Industry Training Board has predicted that the sector will reach 2019 levels of output by the end of next year, with their report predicting strong growth in 2022.
While this is great news for construction businesses, it also means they have to act fast to be able to keep up with demand. In fact, the same CITB report estimates that businesses in the industry will need to recruit an additional 217,000 new workers by 2025 to meet this demand. This means that companies need to work on not just employing new staff, but retaining the talented workers they already have.
The good news is that hiring and keeping hard-working employees doesn't have to be a challenge, as long as you know what steps to take. Read on to discover the most important tips for attracting and retaining construction workers to help your business thrive.
Know where to look for staff
If you're looking to hire hard-working and dedicated staff, you have to know where to find them first. While it's always beneficial to post on popular job boards, such as Indeed, Glassdoor, and Reed, it's also a good idea to expand your job advertisements by using a range of other methods.
One great way to attract employees interested in these types of roles is to post the advertisement on a jobsite specific to construction. There are a number of these websites about to explore, such as Careers in Construction and Construction Job Board. Not only are these sites great places to find workers who already have experience, but they're more likely to be passionate about the industry too, which is always a bonus.
Another great way to find hard-working employees is simply by word of mouth. Get in touch with other people you know in the industry and see if they know any hard-working construction workers looking for a role. Not only is this a way to find experienced employees, but you'll be able to find out more about their talents from someone who's seen them work first-hand.
You could also find future staff by attending school careers fairs and showing young people the benefits of a career in construction. Not only will this be beneficial for attracting new school-leavers, but it can also inspire younger students to consider a career in construction, so there will be new talented and passionate workers in the future, too.
Stand out from the rest with employee perks
When given a choice of the same role at two companies, workers are always going to go with the business which they feel is going to treat them the best. And one of the best ways to show employees that you care is by giving them extra perks. In fact, a study has found that 69 percent of employees would be more loyal to the company they work for if they had a wider array of employee perks (Compt).
The good news for both you and your employees is that there are a number of perks your business could try out, ranging in size and cost. If you're looking for some inspiration, try giving one of the following a go:
<ulL
A shorter work week to give your staff more time to spend with their loved ones. If a whole day off a week seems too much, you could consider doing half days off instead.
Wellness initiatives to help employees look after both their mental and physical health.
The opportunity to earn extra paid time off with a job well done.
Regular work socials paid for by the company to help your employees bond.
Give workers the best resources
To make your employees feel respected and valued, it's important to provide them with highest quality tools and safety gear. As well as giving your staff the confidence they need to complete their work by keeping them safe, high-quality tools will also give them the opportunity to do their best work, which is a win for both you and your staff.
When buying construction equipment and PPE, always go for the highest quality you can. You want durable tools that your employees will be able to use both safely and confidently. And make sure you buy your products from a reputable retailer with an excellent customer service team who will be there to help if any issues arise.
Ask your staff for their opinions
If you do all of the above and you still have trouble retaining staff, there may be an issue that needs to be addressed. So, to keep staff content, take the time to talk with them about how they're feeling in their roles, and ask them what can be done to improve their working experience. Not only is this a great way to make your staff feel valued and heard, but you may discover issues that you had no idea were there.
There are many ways you can ask your staff for feedback. Firstly, make it clear to all employees that your door is always open for feedback, and that all criticism and complaints will be taken seriously. However, your staff may find it difficult to discuss issues with management face to face. If this is the case, open up a suggestion box (or use an online platform to do this) and supply staff with feedback forms to allow them to submit criticism anonymously.
Attracting new staff and retaining the talented employees you have can sometimes seem like a challenge. If you use the tips above, you should be able to find new construction workers and cement a passionate and dedicated team in no time.
For a list of sources used in this article please contact the editor.
Kelly Friel works at Zoro, an industrial tool supplier that helps companies make workplace safety a priority by providing reliable tools and PPE for a competitive price. The company has high-quality resources for every industry, offering everything from office supplies to power tools. It takes pride in offering exceptionally speedy delivery and superior customer service. Zoro stocks over 400,000 products, from some of the most loved brands
For more information please see: www.zoro.co.uk