With its sights firmly set on the future, sustainable growth and upholding its position as the largest structural steelwork contractor in the UK, Severfield plc is a must read success story
Heart of steel
With its sights firmly set on the future, sustainable growth and upholding its position as the largest structural steelwork contractor in the UK, Severfield plc is a must read success story
Severfield plc has three UK companies, Severfield (UK), Severfield (NI) and Severfield (Design and Build). Severfield (UK) is prominent in the top end of the structural steel sector. Covering the London market and significant landmark structures and bridges it has successfully delivered numerous projects such as the Shard, 2012 Olympic Stadium, Paris Philharmonic and Baltic Millennium Bridge. Based in Northern Ireland, Severfield (NI) is the equivalent of its UK counterpart, however it also operates very successfully in mainland Britain. Severfield (NI) competes very successfully in the next tier down from Severfield (UK), in the London market on commercial office and residential developments.
With its headquarters in Sherburn, North Yorkshire, Severfield (Design and Build) was established back in 1949 by two brothers, Frank and Wilf Ward and traded as Ward Bros, initially supplying farm buildings. "The business grew and became a prominent structural steel fabricator in the construction sector both for the home market and also exporting structural steel all over the world in the 1980's and early 90's," explains Jim Martindale, managing director. That business was bought by Severfield plc in 2005, and under the new ownership and further investment the business has secured a position as the market leading structural steel group.
Severfield (Design and Build) concentrates on distribution warehousing and buildings for the manufacturing sector, in addition to serving the retail sector, supermarket stores on stilts and out of town retail developments. The business offers a full range of services, from design through to completion to ensure that projects run smoothly, priding itself on its inhouse capabilities.
"We are a customer focused organisation, and over a long period of time we have specialised in the production of warehouse steel frames, growing to a greater efficiency and higher standard than anyone else," says Jim, adding: "We have a large in-house technical department, which has refined the art of optimising the design and a production team that consistently delivers products on time, fulfilling the intensive site programmes we provide. Our main driver for repeat business is delivering on time, every time."
The group covers all UK market sectors, something that has proved to be a valuable asset. One of Severfield's major differentiators is in fact its flexibility, and as various sectors move and change,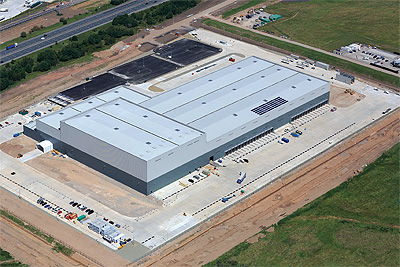 the business is able to move with them. With an unrivalled level of expertise in structural steelwork, that flexibility is something well appreciated by its clients. Severfield recognises that its 1200-strong workforce is the future of its business. Dedicated to achieving its strategic growth objectives, the business continues to attract, retain and motivate the best people in the steel industry.
A string of successful projects is testament to the calibre of its staff, whether engineers, erectors, designers, or any of the numerous other positions within the organisation. Jim joined the business back in 1995 as a trainee design engineer, at a time where the majority of designs and drawing work undertaken involved manual calculations and drawing by hand. As the industry in general faces a shortage of specific skills, Jim reflects on how the industry has changed, and the importance of a complex understanding: "Inevitably technology has moved on and both design and drawing work is now computerised with 3D design and drawing models.
"However, the traditional hand drawn approach is a very good discipline and there is still a case for a technical trainee to start on a drawing board so they truly understand how a building goes together, as it is a good way to focus the mind on designing for manufacture with standard straightforward details." Holding the recruitment and training of apprentices as fundamental to business development, the business takes on at least ten apprentices each year as a means of ensuring that it has all the desired skill bases available in the future.
"For Severfield (Design and Build) the projects that really stand out are the 35 metre high bay warehouses we have built. These projects enable us to show our structural design capabilities and they reverse the rules slightly as the main consideration affecting the design is the build sequence and temporary stability. Generally, buildings up to 20 metres tall are designed for the permanent condition and then checked for the construction scenario," explains Jim. A promising future is bolstered by a strong list of potential projects combined with a good work mix, that includes several distribution warehouses, a 40 metre tall high bay and two factories with overhead travelling cranes. "The crane supporting structures are always a test of good design details to ensure that we achieve the tight steel erection tolerances on site," he adds.
Working towards a future where the company is recognised as a world-leader in structural steel, its ambitious and innovative leadership is certainly fuelling an already fast moving business, as Jim highlights: "We would like to see continued growth in markets and improved margins." Not afraid to get down to basics, key importance is placed on understanding customers requirements and meeting their aspirations through innovative thinking and a flexible approach to deliver successful outcomes.
Severfield (Design and Build) Limited
Services: Structural steel design and engineering