Diversity and change are the beliefs that underpin the Sharkey Group's plans for future growth
A better future
Diversity and change are the beliefs that underpin the Sharkey Group's plans for future growth
"The secret to a successful project is managing people, not processes," comments Scott Sharkey, CEO of the Scottish-based Sharkey Group. "This is the fundamental belief behind our recently launched 'Innovative Solution' approach," he explains. The Group is home to nine entities, the most prominent of which is Sharkey Fit Out, who have recently undertaken a £20 million project for RBS.
Scott continues by elaborating on the processes involved in the company's Innovative Solution': " Through this, we aim at providing our customers and clients with a better future through our approach to a project. At this time, 95 per cent of the projects we work on are repeat business with clients, 80 per cent of which are negotiated projects. We want to progress this situation a step further by becoming a member of the client's professional team at the concept phase.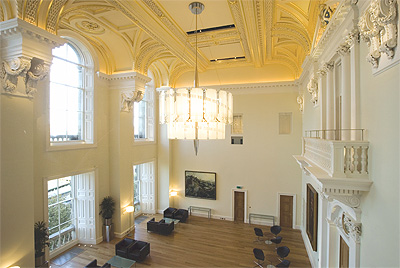 "It is important to explain some of our differentiation between customers and clients," Scott states. "A client is someone that gives us repeat work, whereas customers tend to be one-off projects. A client probably has more than one geographic location, while a customer may forward a project at solely one location. Clients are concerned with best value; customers seek the best price. There was a naivety held by Sharkey, whereby we supplied everybody with the same exceptional level of service. Through differentiating between clients and customers, we are acknowledging that one size does not fit all."
In the past, Scott has found that projects that the Group are involved in can often become confused, with architects, surveyors, and the clients themselves all working to different budgets, specifications, and expectations. Sharkey has developed 'Innovative Solution' as a means of involving the company's employees from the start, in an attempt to get everyone on the same page, as Scott is keen to point out: "The simple rule is to establish a strong relationship with the people that we work with, and to be involved on a contract from the start. We understand the effort needed to formulate and work on projects, as well as having practical experience in regards to the cost of materials and labour required. We have piloted the 'Innovative Solution' approach a number of times recently, and the response from clients has been overwhelmingly positive."
Scott highlights some of the feedback clients and customers have given Sharkey: "Our clients always indicate the importance of the relationships formed throughout the course of a project, and how they are a key factor in generating success. They also commend our responsiveness – I believe that big is not always best. I like to think of Sharkey as a speedboat in comparison to an oil tanker, as we can change direction easily, and respond to a client's requests quickly. Finally, everyone comments on the passion that runs right through the business, and the high level of competence and quality found in every Sharkey employee."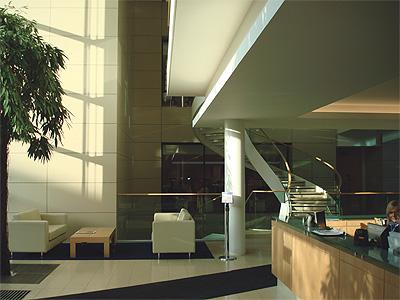 Whilst the Group has a number of projects currently ongoing or in the pipeline, Scott is keen to point out an important development Sharkey is working on, in regards to the environmental responsibility of its processes. "The innovative offering is in its infancy, but we are essentially looking at the concept phase alongside architects and clients, particularly noting the materials used and the manner in which they are fitted, with the emphasis of reducing the overall carbon footprint of our work. Amazingly, the bi-products of an environmental approach offer even more benefits to our clients: the installations end up lasting longer, cost less, are reusable, and are easier to construct. We are planning to operate differently in light of environmental responsibility, and identify to our clients all these supplementary benefits. So we think we might eventually be in a position to offer more cost effective, better, longer-lasting environmental solutions."
Looking to the future, Scott outlines the Group's emphasis on enhancing its core activities as well as diversifying its interests over the coming years: "Sharkey started out as an Interior Fit out contractor, but we have steadily added to our capabilities, and we want to continue on this trend as we progress. At the end of this financial year, Sharkey Fit Out is set to announce a turnover in excess of £40 million on its own, adding to the Group turnover. Next year, Fit Out will reach levels of approximately £50 million. About 20 per cent of Sharkey Fit Out's turnover is generated through direct work, with the remaining 80 per cent being formed via our dedicated supply chain.
"We are always looking at potential acquisitions or mergers, in regards to services that we offer. Sharkey is always interested in expanding its business range, and this includes holding stakes in some of the companies in our supply chain. We have a lot of experience at running, growing, and improving businesses, so there may be companies in the market that could use our financial support and management expertise, and can get to work immediately on our ongoing projects," Scott adds.
He concludes by reiterating the strengths of Sharkey that have contributed to its success within a very competitive industry: "Without hyperbole, I can say that our people are completely adept at doing what needs to be done on a project, and we are small and flexible enough to manage any challenge a client may set to a highly competent level. We don't have rigid processes in place that a client must adhere to – we prefer to work closely to their vision and specifications, and meet their requirements exactly. 'Innovative Solutions' can provide everyone with a better future."