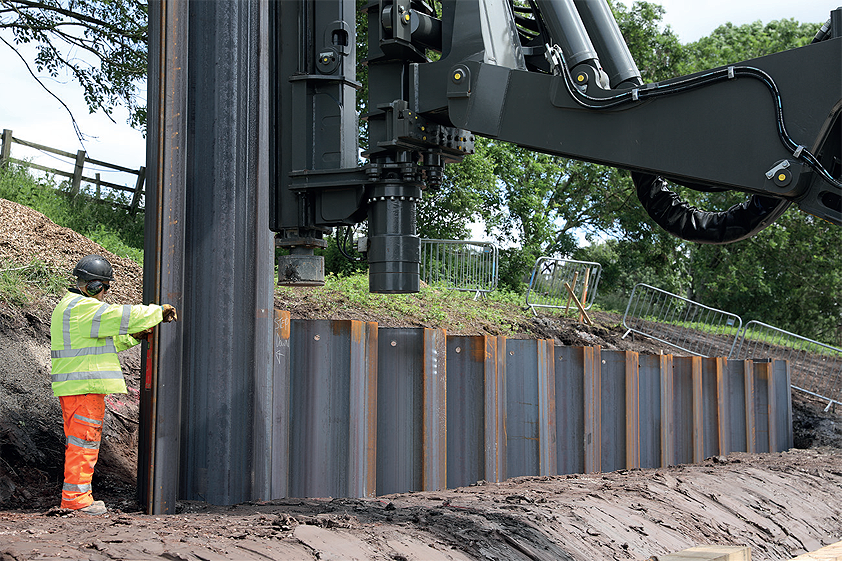 Top of the pile
With a client list that includes the likes of Balfour Beatty, Costain, Laing O'Rourke, Morgan Sindall and High Speed 2 (HS2), Sheet Piling Ltd is a self-sufficient, solutions-based, steel sheet piling contractor ready to assist in the UK's post-lockdown economic revival
Since the company was established in 1996, Preston-based firm Sheet Piling has undertaken over 2000 projects with values ranging from £50,000 to £15 million. A complete package provider capable of taking a project through
design, concept development, estimation, construction, and delivery phases, Sheet Piling offers more than products; it offers innovative solutions.
"We are proud to be the industry's leading advocate for the use of steel sheet piles," Managing Director Andrew Cotton declares. "Over the last 20 years, sheet piles have become a solution more readily employed in the industry and they are now being used extensively as permanent retaining structures for projects involving infrastructure widening and underground car parks. We're not the only company that does this kind of work now, but we are industry leaders in promoting the application of sheet piles in this sort of environment."
Sheet Piling's continued success has been driven by a number of factors, including the company's ability to self-perform its services thanks to a versatile workforce and extensive range of equipment. Andrew believes that the firm has all the tools it requires to be able to deliver, in full, everything it promises its customers.
"A lot of our competitors don't have the same breadth and depth of in-house expertise and technology that we have at Sheet Piling," he notes. "It forces them to go to external suppliers, agencies, and plant hire companies, whereas in true self-delivery style, we have everything under one roof. It allows us to be more prompt, reactive and competitive. Our highly-skilled workforce, in particular, has been instrumental in building the company up. A lot of our staff have been here for 15 to 20 years and are an integral part of everything we do.
Sheet pile stocks
"In terms of plant, alongside a wide range of conventional piling machinery, our flagship piece of equipment would be our long reach telescopic leader rig, for which we have an exclusivity agreement with the manufacturer. It was designed in-house by our engineers and plant department, and it provides a significantly longer reach than traditional leader rigs, allowing for significant cost savings on enabling works and programme durations. On top of this, we are probably the only contractor in the UK regularly installing highly economical Z section sheet piles using a silent, vibration-free pressing method."
Renowned for possessing the UK's largest stock levels of steel sheet piles, Andrew's firm benefits from an exclusive partnership with UAE-based distributor Emirates Steel, who regularly provides the company with thousands of tonnes of Z section sheet piles. Arcelor Mittal also works closely with Sheet Piling and the company's strong supply agreements and high stock levels help to eliminate down time and improve flexibility in times of market unpredictability. The business recently received over 5000 tonnes of new material in preparation for increased activity over the next few months.
"We have over 10,000 tonnes of sheet pile stock available at any one time," Andrew reveals. "I think that differentiates us from our competitors because our clients know we will provide timely delivery as we will never have supply chain issues or requirement delays, whatever the size of the project. Of course, we now stock vast quantities of Z section sheet piles, which are widely understood to be a stronger, more workable alternative to the traditional U section pile."
Bespoke solution
Like most firms across the globe, Sheet Piling has been forced to adapt and adjust during the Covid-19 pandemic, however, the company has been able to remain operational at around 95 per cent of its full capacity throughout the majority of 2020. As the Government continues to ease restrictions on businesses following the end of the UK's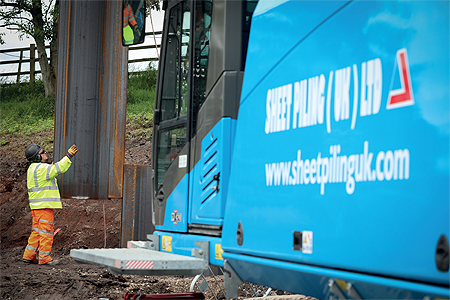 Coronavirus lockdown period, Sheet Piling has resumed work on a range of key projects, including the provision of extensive remedial solutions to a variety of dams and reservoirs for Thames Water.
"By installing sheet piles through an existing puddle clay core, we've been able to prevent seepage appearing through these existing reservoir dam structures, which, if left untreated, would potentially lead to catastrophic failure of the dam," Andrew explains. "Basically, these are structures that have been classified by Thames Water, or the relevant water authority, as having extremely high-risk defects. Using our silent, vibration-free pile press we are able to mitigate any impact on the existing dam and allow the sheet piles to be installed as a way to prevent the seepage that is currently occurring. It's quite a unique and bespoke solution devised through early contractor involvement, followed by a consortium-style development process where ideas are batted about to find the optimum installation solution. This particular remedial solution for dams and reservoirs has resulted in savings of millions of pounds for the relevant water authorities."
As well as performing groundwork and cofferdam support as part of an extension to Fulham FC's iconic Riverside Stand, Sheet Piling has recently been delivering significant infrastructure projects for Highways England. The most prominent of these developments is the M1 Junction 13 to 16 widening scheme, which, at a cost of around £8 million, is one of company's largest value projects to date.
"Our ability to install sheet piles using a long reach machine has been a real benefit for these projects," Andrew says. "We have the advantage of using our own in-house plant department, an extensive range of equipment, an experienced in-house delivery team, and applying all those USPs to provide a major client like Highways England with significant cost savings."
Self-sufficient
More and more businesses across the UK and Ireland are discovering the advantages of utilising steel sheet piles to provide temporary or permanent lateral earth retention and excavation support. A highly versatile material, sheet piles can be used for a wide variety of retaining wall solutions including cantilever, propped and anchored walls, permanent retaining walls, temporary cofferdams, and permanent basements. For Andrew, the benefits are endless.
"In terms of programme duration, cost, environmental impact, recyclability, reduction in site traffic, and reliable quality, sheet piles are the superior option," he proclaims. "Due to the fact that sheet piles are a pre-formed element that is driven into the ground, they do not wholly rely on quality control measures in the field to repeatedly form them on-site. It makes for an increase in quality, plus it is significantly cheaper, quicker, and more sustainable than the alternatives. I think this is why the road and rail infrastructure markets, in particular, are starting to use sheet piles as an alternative for gravity walls and retaining walls."
Looking ahead, Sheet Piling is determined to assist in the UK's economic recovery as the construction industry emerges from total lockdown and Tier 1 contractors begin to seek security in their supply chains. As they enter the second half of a challenging year, Andrew and his team are acutely aware that, more than ever, the UK economy is dependent on a resilient and robust construction sector and that is why Sheet Piling has put every measure in place to ensure that its partners can trust in its ability to supply top quality sheet pile solutions time after time.
"Though these plans are always subject to change, at the moment, it looks like the Government is planning to invest in road and rail infrastructure, environmental and defence schemes, utility developments, and these are all sectors where we are already aligned with the major Tier 1 contractors," Andrew reports. "We are also liaising with various consortiums regarding new smart motorway projects, as well as work on strategic roads and Network Rail sites."
Later this year, Sheet Piling will take delivery of its latest £1.5 million investment in a bespoke long-reach leader rig to assist in the delivery of smart motorway and HS2 infrastructure projects. Though 2020 may have started slowly for the construction industry, Andrew is convinced that Sheet Piling will finish the year on a high.
"As I've said, we are highly self-sufficient, which puts us in the driver's seat going forward," he states. "We've got all the piles in hand, we've got all our plant, a skilled workforce, no supply chain to rely on, and we will never be at risk of material shortages. It's hard to say what the future holds, but we are optimistic that the company is well-placed to play a role in a rapid revamp of the construction industry."
Sheet Piling Ltd
www.sheetpilinguk.com
Services: Steel sheet piling contractor