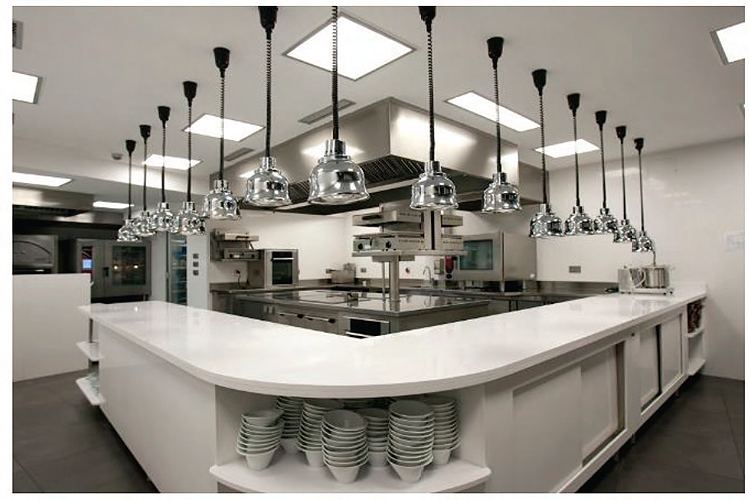 Under the surface
As it celebrates its 25th anniversary this year, worksurface specialist Sheridan Fabrications remains committed to investment, development and meeting the needs of its blue-chip customer base
When it comes to the topic of luxury worksurfaces in the UK, there is one manufacturer that immediately springs to mind – Sheridan Fabrications (Sheridan).
Britain's largest manufacturer of luxury worksurfaces, the business' worktop range includes solid surface, solid wood, granite and quartz, and it is a leading supplier of the world's most prestigious worktop brands, such as Corian and Silestone, for which it is the top UK manufacturer. It also supplies less well-known international brands, such as Caesarstone, Hi-Macs,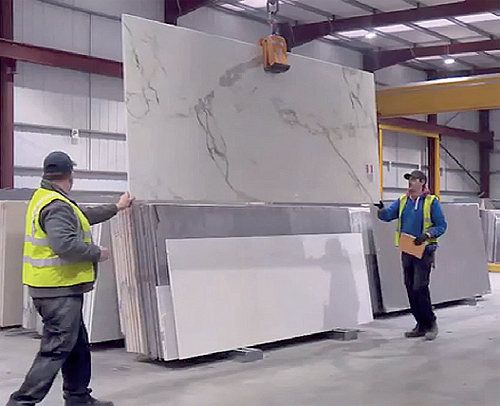 Hanex and Avonite, and Dekton.
These products are in demand from various customer groups from both the retail and commercial sectors, who come to Sheridan not just because they know they can get beautiful bespoke and custom worktops, but also access highly skilled installation staff, and be reassured by multiple levels of quality certification, including ISO 9001, 14001, 28000 and 45001, membership of FIRA, NSF, CHAS & FORS, and partnerships with the British Institute of Kitchen, Bedroom and Bathroom Installation (BiKBBI) and Corian.
Clearly a business of some standing and significance, Sheridan Fabrications is proud to highlight that its products are Made in Britain – manufactured and fabricated in-house by a highly-skilled manufacturing team in Normanton, West Yorkshire. Speaking to CCE, John Blackburn, Sheridan's Founder and Managing Director, pointed out that this facility has been the recipient of significant investments over the years, which have resulted in the creation of a state-of-the-art 130,000 sq. ft. production space, which continues to evolve. "In the last two years alone we have introduced three lines of Breton CNC machines connected directly to our goods-in area," he explained. "This Kaizen-like approach has led to significant improvements in quality, turnaround time, and safety by minimising handling and human error.
"As for our operational side, we are currently entering the late phases of our introduction of a new ERP solution, which began in late 2018. This has already unified and centralised most aspects of our business and has immediately led to better co-ordination and communication between our teams."
The result is that, in John's words, 'Sheridan today is a living, breathing, nationwide operational force'. "Our journey begins with an RFQ from new enquiries or one of our established partner portals, and rapidly progresses through deployment of our laser templating teams, CAD processing, manufacture, quality control, dispatch and installation. Each step is a sequence of procedures refined by Sheridan and executed in-house, which allows us to take maximum control over our own operational efficiency," he said.
It is from this factory that the Sheridan team creates its luxury range of worktops, not just for the brands already mentioned, but also for the company's own brand of luxury worksurfaces, the apollo® range. "We've used our market leading position to design and commission our own affordable alternative range of materials to the global brands. This range includes both full bodied and composite Solid Surfaces; Quartz, Granite, Sintered Stone, Wood and our latest innovation – apollo® Recycled Glass, which we've expanded recently due to a critically acclaimed reception," revealed John.
"The apollo® Recycled Glass range is the only product of its kind that is commercially available," he added. "Completely unique, its 80 per cent recycled glass composition has a crystalline appearance with a literal depth of perspective, and to top it off, it also has similar resistances to those found in Quartz worktops."
The apollo® Recycled Glass range is one of many innovations created by Sheridan – the business is a pioneer in its field, being first to market with a number of original creations. John highlighted that one of its earliest releases was the v-groove technology, which allowed its Speedstone range at the time to mimic full thickness quartz worktops with only a fraction of the material. "Today, while we prefer the craftsmanship of full-bodied stone worktops, we still use the same principle to make apollo® Magna, which our research found to be the most affordable solid surface material on the market," he added. Apollo® Magna Worktops are a durable and high-quality product, featuring a 6mm solid surface, backed by a moisture-resistant chipboard core.
Having referred to apollo® Magna's price points, John noted that this is something that sets Sheridan apart from the competition. "Our apollo® range has achieved considerable success by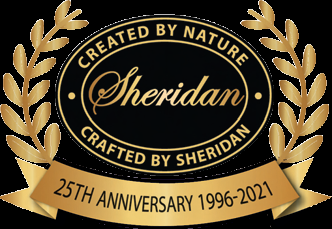 bringing premium worksurfaces within reach of the general consumer, which is why you can find our products with most national kitchen retailers," he said. "Market positioning and service are two real differentiators for us. We offer the fastest lead times available, and have exceptional headroom, which allows us to complete huge bespoke commercial projects on a just-in-time basis," he added.
Furthermore, Sheridan's business structure includes the UK's first, fully BiKKBI accredited nationwide installation team, which has made it the perfect partner for the UK's biggest kitchen retailers, to manage both templating and installation. "As we also maintain a significant distribution network (a FORS-accredited fleet, operating nationwide) we've enjoyed success working on high-rise construction projects and with national housebuilders – edging out our competitors based on our lead times and right-first-time performance," John elaborated.
Looking at the company's development, it is evident that it has worked hard over the whole course of its history, but over the last five-plus years in particular, Sheridan has experienced exceptional growth in turnover. John credits its stable market position and ability to innovate for this success. "The retail partners we work with are the ideal vehicle to reach consumer markets, which in turn informs our annual revisions to the apollo® range.
This continual improvement in the light of such invaluable business intelligence has certainly factored into the success of our brand," he explained.
"The fiscal security we enjoy also gives us the freedom to confidently invest in our own future. Reinvesting in new machinery and technologies has allowed us to hone our operational efficiency, delivering for our current customer base more effectively, while simultaneously building the capacity and efficiency demanded by growing commercial projects."
Of course, innovation also requires research and foresight to enable the business to pick up on trends early and ensure it has the right products available to capture the current aesthetics of the time. "We've seen a significant rise in popularity for marble effect or veined worksurfaces," said John, revealing what consumers in 2021 are looking for. "apollo® Quartz has been our top medium for satiating this demand, but we've also expanded the range in our Solid Surface ranges of apollo Magna and apollo Slab Tech to target this growing niche.
"This month (June) we're also refreshing the apollo Ceramicá range to introduce our first veined sintered stone. While the uptake on sintered stone worktops has been slow to start, this new material has incredible performance, and we believe it will have a huge role to play in the future."
John and the team at Sheridan are advancing into the final six months of 2021 with renewed vigour and a positive attitude, despite the challenges of 2020 and the coronavirus pandemic, which caused major disruptions to the business. Once again demonstrating its innovative outlook, when faced with the challenges, Sheridan quickly adapted to a much lower scale than it was accustomed to, and used the time to streamline internal processes, concentrate on improvements to the production facility and come back more efficient than ever.
Now adjusting to what has become a huge backlog in retail sales, John noted that the business is seeing much longer lead times for kitchen projects, which means much of its work is now queued for the future. "In the coming months, we are expecting this backlog to clear, and a newly invigorated retail sector to bring an influx of orders, hopefully bringing sales to an apex above pre-Covid levels," he said. "Over the last three-to-five years, our foothold in retail has strengthened and given us all we need to grow as a company. Our ambitions now are to use our honed expertise, capacity and unique product offering to gain the same level of prevalence within the UK commercial market."
Looking at its scale today, it is almost hard to believe that Sheridan was founded as a small fabrication company operating from a single lock up unit. With turnover now in excess of £20 million and a target to increase this over the pre-Covid level of £30 million, the team will be harnessing all of its efforts to deliver exceptional service and striking products to its clients all across the UK.
It also will rightfully be celebrating the company's 25th year in business – a significant milestone and one that John and the team are using as a force for good in the wider community. "We're engaging with our end-user base more, and using this opportunity with the accompanying press coverage to both sponsor and raise awareness for the Prince of Wales Hospice," he said. Not just a significant employer and manufacturer but also an inspiring business looking to help those in need, Sheridan Fabrications embodies what it means to be a business that is Made in Britain.
Sheridan Fabrications Ltd
www.sheridan-uk.com
Products: Leading bespoke and modular luxury worksurface manufacturer in the UK