Shielded from asbestos
With over four decades of history, the family-run Shield Services Group has gone from being an asbestos specialist to becoming a complete one-stop-shop, with an all-important emphasis on health and safety
Bristol-based Shield Services Group (Shield) began life in 1979 as Shield Insulation, under the leadership of Phillip House. Specialising in insulation work, the increase in legislation around asbestos removal saw the company expand its services to fulfil a growing need, quickly establishing itself as a leader in the industry, under the name Shield Environmental Services. When it launched its Shield Marine division not long after, the company embarked on a 35-year journey of organic growth that saw the opening of offices across the country, from Cornwall, Plymouth Exeter, Southampton, London, and Cardiff, to Birmingham, Warrington, and Newcastle.
Fast forward to 2014, and a new era began at Shield, as the company welcomed its new Managing Director: Luke House, son of Phillip. Since entering the business aged just 16 as an insulation apprentice, Luke has held both branch and regional managerial positions at the company. Assuming the reins, he has sought to capitalise on the strength of the Shield brand by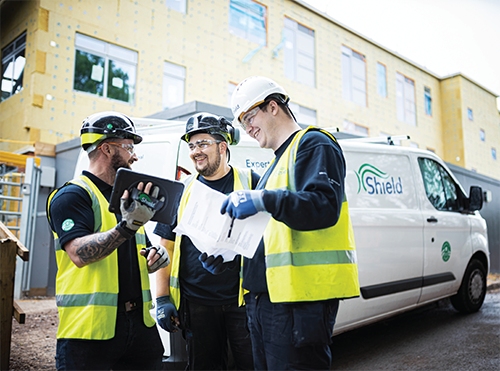 further diversifying its services, beginning with the launch of its asbestos-licensed scaffolding division. A natural move for a company that had long relied on external contractors, it's been followed by yet more ventures: into demolition, facilities management, mechanical & electrical, and fire & security services, cementing its status as a truly one-stop-shop.
Despite the incredible diversity of its service range, each of Shield's divisions is shaped by the company's unique approach to business. "Coming from the asbestos industry, and the strict regulations that surround the Group 1 carcinogen, we look at everything through the lens of health and safety," Luke explains. "It takes just as long to do a job right, as it does to do it wrong. It's about forming the right habits and creating that care. We've even incorporated that into our unofficial tagline: 'health and safety beyond compliance'.
"We don't care about being the biggest, but we want to be the best," Luke insists. "Currently, 14 people work directly for our health, safety & compliance team. We also run a safety-first initiative which incorporates a meeting on the first Monday of every month, across every branch of each division, in order to constantly drill home our message that safety should always be your primary consideration. I'm a strong believer that if you get your quality and health and safety right, then you will win more work. It's as simple as that."
As Luke suggests, Shield's ability to realise this commitment relies upon the strength and dedication of its employee base. "We employ on the basis of personality first and foremost," Luke confirms. "If the person is the right fit, we can invest and train to develop the skillsets we need. You could go to our branches anywhere in the country, and you'd find honest, hardworking, and genuinely nice people – and although we have around 450 employees in total, we're never corporate in our approach. Everyone in the business has a name, and direct access to senior management. We put our trust and respect in them to represent our brand, and we believe that it's appreciated."
Following its success on Phase 1, Shield has recently been contracted to undertake Phase 2 of the asbestos removal and remediation works at Prince Charlies Hospital, located in Merthyr Tydfil, South Wales. A logistically complex project, the works will be carried out over the next 24 months, with Phase 3 overlapping around month 20. All set to be conducted while the hospital remains fully operational, it's testament to the specialised nature of Shield's expertise. "Run by our Welsh branch in partnership with Tilbury Douglas, it's a very well-organised site," Luke comments. "We're employing up to 50 local people on that project, which ensures that the money generated goes towards supporting the local economy."
Shield's work at Prince Charles Hospital isn't its only success. The company was recently awarded the insulation and deck covering packages on Babcock International's Type 31 frigates, for the UK Ministry of Defence, while in Glasgow, the company has been selected to carry out the fit-out of the TS Queen Mary. Shield even received a special mention as part of Her Royal Highness Princess Anne's address, in what was a proud moment for the family-operated business.
"On average, we probably do around 400 projects per month across the UK," Luke indicates. "Around three to four years ago, we applied for a license to open an asbestos division in Northern Ireland. Covid-19 delayed that plan, but as soon as restrictions were eased, we got back to work, and we now have our offices under construction in Belfast. With only Scotland missing, it's our objective to become completely nationwide. Looking at some of the projects we have lined up, we're confident that we'll be able to achieve that soon."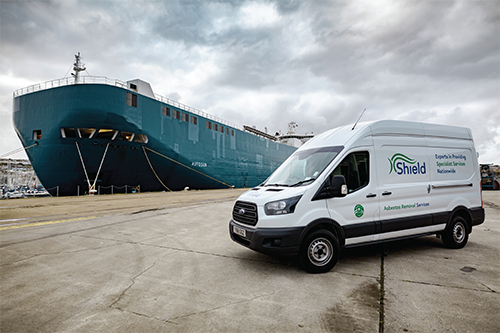 Alongside the success of Shield, since 2014, Luke and his business partners have been steadily growing a sister company, Sword Dynamic Services Ltd (Sword). Intended as a specialist recruitment service for the construction industry, it's a project that has very much grown out of Luke's decades of experience within construction, and some of the challenges facing Shield when it comes to recruitment.
"Our industry typically sees huge spikes in demand at certain times of year, such as when schools are closed for the holidays," Luke tells us. "With that, comes a requirement for extra staff – but if you're only hiring people for a short period, you'll never attract the best in the industry. Equally, as an asbestos company, it's difficult for us to rely on a traditional labour agency. We have one asbestos licence in the UK, and if we were to lose that, up to 300 people will be immediately out of work. Therefore, we need to have confidence that when we're sending a team out to a site, we know the individuals, we're confident in their training, and we can handle and respond to any personal circumstances."
To that end, Sword was founded. "We now have a group of more than 30 professionals who we employ part time throughout the year, in accordance with their preference," Luke says. "They're vetted, they're familiar with Sword and Shield and the expectations we have of our employees. If they're out of work for a while, we have a designated refresher programme to get them back up to speed, and we'll audit them once per week while they're on site. For Shield, it means our standards remain consistent throughout the year regardless of demand."
Turning to the future, Shield expects to continue building its name within the industry. "Due to the imminent recession, we're anticipating a tough couple of years," Luke concludes. "But what you can expect from Shield is a resilient business, committed to its core values and continually striving for excellence. Within five years, we hope to have grown organically across all our service offerings, with truly nationwide asbestos coverage."
Shield Services Group
www.shieldservicesgroup.com
Services: Construction, demolition and refurbishment contractor