Working closely with contractors, architects and industry bodies, and leveraging decades of experience in steel frame and structural steel projects, Sigmat has become the largest constructor in its field of expertise
Building the future offsite
Working closely with contractors, architects and industry bodies, and leveraging decades of experience in steel frame and structural steel projects, Sigmat has become the largest constructor in its field of expertise
Between 2001 and 2017, P.A.W. Structures led the way in the specialised design, manufacture and build of load bearing light gauge steel framed (LGSF) structures that meet the ever-growing demand for offsite construction solutions. More recently, the company would come to develop and launch its own Sigmat system, ushering in the next generation of LGSF buildings. It was this development that led to the rebranding of the business to Sigmat in September 2017.
"Following a successful management buyout in 2016, we began to lay the ground work for presenting all of our activities under one umbrella," explains Sigmat's Estimating Director, James Walker. "We have always set ourselves out as being something of a one-stopshop for our clients, delivering services from source to site, and by rebranding everything we do under the Sigmat name we really enhance the message we are trying to spread throughout the industry."
Key partners
By being able to offer a complete range of project services covering LGSF structures, and with an ability to contribute to all stages relating to the specification, manufacture, logistics, delivery and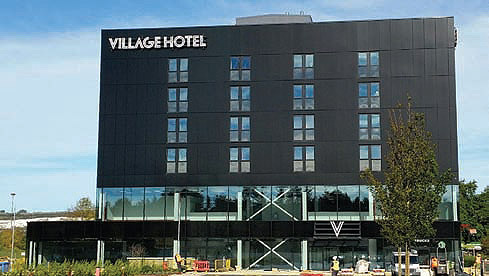 installation of frames and structural steel work, Sigmat continues to rack up an enviable list of clients. One of those to recently benefit from Sigmat's skills has been the Village Hotels group.
The company's involvement with Village Hotels, through the main contractor Willmott Dixon, began with the development of the first Urban Resort Hotel in Portsmouth. It was here that Sigmat's structural expertise, manufacturing, assembly and installation teams provided the LGSF superstructure for the build, which included 153 rooms, conference facilities and a leisure club, complete with a 20-metre swimming pool, gym and fitness studios.
The success of the Portsmouth hotel resulted in Sigmat being contracted on a second Urban Resort Hotel in late 2017, this time in Bristol. Once again, the company is providing both the load bearing LGSF superstructure and hot-rolled steel transfer structure for the building, utilising its tried and tested approach.
"These projects are by no means straight-forward," James goes on state. "With each one we have to find ways to treat the steel to suit certain environments, around the poolside for example, incorporate little nuances on the lower floors of buildings to accommodate things like linen rooms and store areas, and at times even create hybrid areas where we bring hot and cold rolled steel together. With each project of this kind we make the various processes smoother and cleaner, meaning that we better understand just what clients want to achieve. For this reason, as well as our proven ability to bring their ideas to fruition, we hope to remain key partners as the Village Hotels roll-out continues in the years to come."
Continual improvements
When we last spoke to James in 2017, he talked about the success the company had gained from its construction of student accommodation buildings across the country. As he goes on to say, this field of expertise continues to prove valuable for Sigmat. "The student accommodation arena remains buoyant and we are currently on site with a number of projects in this sector. Most notably, we are mid-way through our largest ever project, to deliver 1462 apartments across nine accommodation blocks as part of a £155m development at the University of Hull."
Outside of this particular sector, the focus of James and his team is now turning to the residential market and the opportunities that await here. "Whilst we expect demand in the student accommodation market to remain strong, supported by large university expansion and renewal programmes, we are seeing significant growth in demand across the residential sector, particularly in the buildto- rent segment," he adds. "Our LGSF system is ideally suited to this market. By focusing on mid-rise structures, developers can make more efficient use of land and our rapid offsite construction method aligns us with the government's ambitions of delivering significantly higher volumes of housing over the coming years."
At the heart of this plan is the company's target for growing its turnover on a year-on-year basis, something that it has achieved with flying colours in recent times thanks to a simple, yet highly effective philosophy. "We continue to innovate when it comes to the services and products we provide, bringing in small incremental changes over a period of time, which ultimately add up to bigger and better improvements in the way we do things," James concludes.
Sigmat
Services: Offsite light gauge steel framing