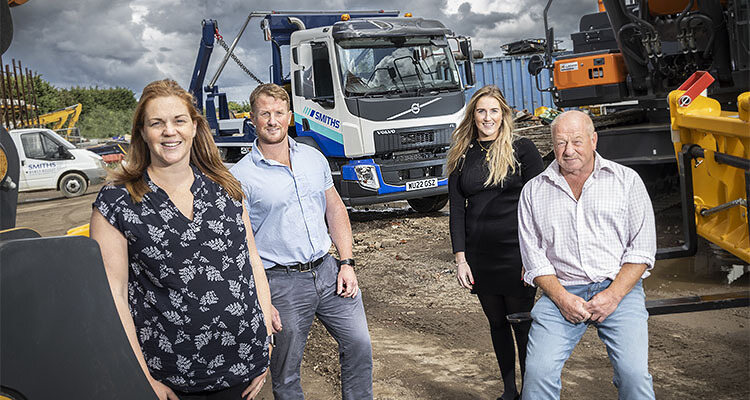 Smiths, where success is built one project at a time
Emerging as one of the UK's largest construction and specialist waste management companies, Smiths Gloucester Ltd (Smiths) has been providing solutions for the leading construction and civil firms for over 40 years. Family-owned and run since its inception, the company has nurtured strong and enduring relationships with its essential supply chain partners. These include Keyline, Wolseley Group, Civils Store, Hanson, Cemex, Thornbury Surfacing, Dyfed Steel Stockholders, and Breedon. Noteworthy contracts secured by the organisation include partnerships with Kier and BAM. Priding itself on its heritage, today siblings Paul Smith, Lisa Smith, Rebecca Pullin and Helen Smith are Directors, with founders Alan and Anne Smith also holding Director roles. Smiths primarily operates in the South-West of England and South Wales, but the company's teams extend as far south as Somerset and as far north as Redditch. Lisa Smith explains: "We are also willing to travel beyond these areas for particularly exciting projects."
Strategic expansion
She goes on to talk us through the company's inception and evolution. "In 1982, Alan Smith established Smiths Plant Hire Ltd with a determined vision to make his living using an aging JCB machine. A year after securing his very first contract with Gloucestershire County Council, where he worked on county roads projects, Alan could afford to purchase a second JCB. Over the next few years, Alan saw the growth of his company as numerous people joined him and became integral contributors to its development. These individuals remained dedicated members of the company, playing significant roles in shaping its progress and success. In 1984, his wife, Anne, became a full-time member of the business. As Alan was keen to take any work he could get and would be frequently out on-site, Anne ended up managing incoming calls from their home office.
Her support ensured that no opportunities were missed. "The business experienced steady growth throughout the 1980s, leading to a pivotal moment in 1990 when it underwent a division into three distinct components. These divisions include Smiths Construction, Smiths Transport, and Smiths Plant Hire, each specialising in their respective areas of expertise. In 1992, the Smiths Demolition division was established, marking a new expansion within the company. Two years later, the headquarters were established in a village named Eastington. The year 2000 marked the successful incorporation of all divisions under the Smiths umbrella. This significant step led to the establishment of a new business structure, which included the formation of a dedicated waste management division. The first waste facility at Moreton Valence, Gloucester, was opened in 2002. Since then, Smiths has expanded its waste operations, establishing additional waste depots in Bristol, Cardiff, and Tewkesbury."
She continues: "Currently, we have a workforce of approximately 550 employees. Like many businesses, we endured huge challenges posed by the 2008 recession, and during the pandemic we recognised the need to diversify and work as hard as we could to ensure that the business was able to continue running. We are confident that we have the right people and work ethic for the business to continue its growth in the coming years."
Efficient solutions
From its roots as a plant hire company, Smiths has undergone a remarkable evolution, now providing tailored solutions to clients through an extensive range of services. "We aim to be a one-stop shop for customers in the construction industry. Thus, we now offer services such as construction, demolition, laser levelling, drainage, asbestos removal, skip hire, commercial waste collections, event waste, waste management and transport, tipper transport, sweeper hire and grab lorry hire. Furthermore, our training centre, conveniently located near Gloucester, now enables us to provide specialised training for the Construction Skills Certification Scheme (CSCS) and National Plant Operators Registration Scheme (NPORS). Through this training, we not only facilitate the development of our own teams but that of
our customers as well, to whom we extend the offer. Our training manager has designed the courses to cater specifically to the knowledge and skills that we and our customers require on-site, all while still being engaging," she elaborates.
In a highly competitive industry, Smiths has distinguished itself by delivering unparalleled levels of service. "As a family-run business, we are committed to providing a personalised experience to our customers. Our dedicated customer services teams are readily available to address any inquiries, and when advice is sought for a specific project, we dispatch experts to ensure the highest quality of service. Moreover, we strive to find efficient solutions to any of our customers' challenges, making every effort to accommodate their needs as quickly as possible. Launched in 2022, our newest service capability of volumetric concrete further demonstrates our commitment to customer satisfaction. This solution was created as a cost-effective alternative for our clients when purchasing concrete. Unlike the traditional drum mix method, which often results in wastage and extra charges, our volumetric mixers are highly efficient, producing the precise amount of concrete needed. This ensures that our customers only pay for what they need," she enlightens.
Superior services
This year, Smiths has experienced a notable increase in demand for its volumetric concrete, serving as a testament to its success in meeting customer needs. However, the true pride and joy of the company lies in its distinctive culture. Smiths' core values are centred around the ethics of reliability and fostering a work environment that values and rewards exceptional customer service and hard work. "The business was founded through my parents' and their employees' hard-work, determination, and commitment to taking on new projects. Although the company has grown significantly, we remain steadfast in upholding these values. The continuity of our team, with some members having been with us since the company's inception, plays a crucial role in preserving this culture across the business. We strive to work hard and provide top-notch services to our customers all while enjoying both our work and the people that we work with," she adds. Through its acquisition of Ermin Plant Hire (Ermin) in 2022, Smiths is empowered to continue delivering superior services with the help of the management team at Ermin. "Our business activities complement one another, this has been a very successful acquisition," Rebecca, Director at Smiths and Ermin concludes. Smiths' continuous work towards delivering excellent customer service and overcoming challenges is sure to propel it towards even greater achievements and prosperity.
www.smiths-gloucester.co.uk