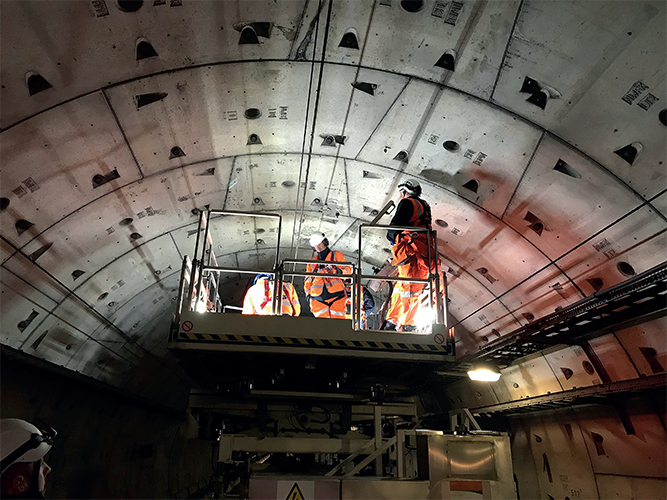 Promising certainty
In a world full of ambiguity, SOCOTEC UK uses its industry-leading data technology to provide clients with the assurance they need
The SOCOTEC Group was founded in 1953, and in the wake of World War II, helped the construction and infrastructure industries build out of difficult and uncertain conditions by providing assistance in the areas of health and safety, quality assurance and the environment. Sixty-seven years later, the SOCOTEC Group's UK division, SOCOTEC UK, has built itself a reputation as a trusted partner of Britain's construction and infrastructure sector.
SOCOTEC UK provides inspection and measurement assistance, as well consultancy, certification and training. Its primary goal is to ensure the integrity and performance of its clients' assets and the safety of their people.
Since its genesis, the company has seen exponential growth and success as the result of its dedication to innovation and excellence. Most notably, the company was able to acquire ESG, the UK's leading provider of inspection and compliance services, in 2017.
"Since the acquisition, SOCOTEC UK has acquired five more companies in the health and safety, building control and geotechnical sectors. These include ITM Monitoring in 2018, 4See in 2018, Survey Associates and Butler and Young in 2019, and finally TOR drilling in 2021," summarises Peter Godfrey, SOCOTEC UK's major projects director.
"With a turnover of £140 million, and over 1,700 employees, SOCOTEC UK is the second most important geographical platform in the SOCOTEC Group. Nicolas Detchepare joined the business as UK CEO in April 2021, and his appointment aligns with the SOCOTEC Group's ambition to become the leading third party company in testing, inspection and certification for the construction and infrastructure sectors," he adds.
SOCOTEC UK's plethora of services range from asbestos management to geotechnical monitoring. "We are committed to continuous improvement, innovation and quality," Peter details.
"The company offers a wide range of services to assist and advise clients through every step of a project's life cycle. These include comprehensive infrastructure solutions, safety compliance and sustainability, environmental compliance, environmental science, building control and fire consultancy."
Offering a wide variety of services is integral to SOCOTEC mission, as Peter explains: "We deliver tailored solutions to meet clients' needs across a wide range of sectors. Whether they require one-time engagement or long-term management, our team of experts are well positioned to offer technical advice to stakeholders in a variety of areas. These experts will strive to ensure the safety, sustainability, compliance and
performance of a client's assets.
"SOCOTEC UK assists clients throughout the lifecycles of their projects in the areas of quality, health and safety and the environment. Our technical experts are the bedrock of our business, and we recognise that it is the calibre of our teams that differentiates us from our competitors."
SOCOTEC's leading team of engineers and industry experts are currently working to support a local contractor in the Warwickshire region who is undertaking major transport work. "SOCOTEC Central has recently secured a four-year contract to provide concrete compliance testing on 80km of track between the Chiltern Tunnels and Long Itchington. SOCOTEC will send a significant number of trained technicians to multiple sites along the route daily, where they will perform tests in-situ and manufacture concrete cubes to be brought back to our central facility for curing and compressive strength testing," Peter summarises.
"The presence of our technicians and the locality of the laboratory will allow our clients to concentrate on their demanding schedules, while SOCOTEC assures the data they need to progress is returned in a timely and efficient manner. We will also provide an early warning for any materials that may fall short of specification, so that remedial action can be taken instantly," he continues, illustrating how client- centric the SOCOTEC process is.
The company has also recently opened a new 50,000 square foot, state-of-the-art facility in Coventry, which has specifically been built to cope with the ever-increasing demand for testing, inspection and compliance services. "Infrastructure projects on this scale demand heavy resources and a much larger capacity than previously known," comments Peter. "SOCOTEC Central has space for more than 18,000 concrete cubes to be cured at any one time, providing plenty of scope to support additional projects."
Striving to innovate as well as expand, SOCOTEC UK has spent the last 12 months researching its new Laboratory Information Management System (LIMS) in order to take its system's platform to the next level.
"SOCOTEC UK has partnered with an Australian construction specialist systems provider
'Spectra Qest', who will implement their 'Qest Platform' with SOCOTEC for the first time in the UK market," details Peter. "The new software will help to manage SOCOTEC's field and laboratory testing operations, schedule field technicians, interface with testing equipment and communicate technical information to clients."
This decision also aligns with the broader goals and values of SOCOTEC as a company, as Peter elaborates: "This lines up directly with the organisation's strategic ambition to grow its digitisation capabilities, significantly enhancing the existing field-based mobile data capture capabilities we use for key tests.
"This is a major investment for SOCOTEC UK, which is expected to transform our service delivery in the future and will further enhance and grow our existing digital capabilities in the UK. It also massively complements our new office and laboratory facility in Coventry, enabling vastly improved end-to-end data processing and instrument interfacing."
It is clear that innovation and investment in the newest technology are activities that SOCOTEC holds in high regard. "SOCOTEC is committed to the continuous improvement and development of new, innovative methodologies, processes and products," confirms Peter.
"We are driving an industry-wide technological revolution, bringing efficiency, quality and visibility to everything we do. SOCOTEC's team of advanced, in-house software architects are working alongside the Nashtech offshore development team, and our current chosen system partners are continually developing innovative technologies in order to deliver seamless client solutions."
An example of such innovation comes in the form of an exciting new cloud-based capability, which Peter suggests 'will significantly enhance and complement the existing data management and mobile data capture capabilities we already have in place across our ground investigation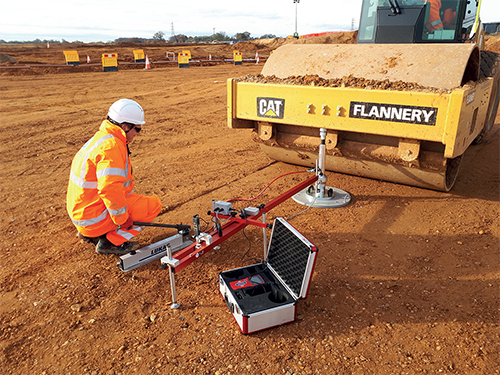 division.'
"SOCOTEC UK has committed to building on our existing relationship with Bentley Systems by investing in their 'OpenGround Cloud Geotechnical Data Collaboration Platform' and 'OpenGround Data Collector'.
This is a tablet-optimised, field-based data capture tool that uses configurable mobile data entry profiles. It enables data to be captured offline and quickly synchronises with The Cloud when an internet connection is available.
"The investment will ensure that this business-critical part of the company is underpinned by a robust, future-proofed and fit-for-purpose technology platform."
It is apparent that SOCOTEC is finely tuned into the demands of the construction and infrastructure sectors, one working symbiotically with the other. Nothing makes this relationship clearer than the way in which SOCOTEC is predicting the needs of its clients following the Covid-19 pandemic.
"The investment needed to build a laboratory and kit it out with the latest in geotechnical testing instruments demonstrates SOCOTEC's confidence in the recovery and growth of the UK construction market after the pandemic," outlines Peter. "We foresee a huge demand for geotechnical and construction materials testing services as the restrictions begin to ease."
The company not only safeguarded the construction and infrastructure industries during the Covid-19 pandemic, but it was essential to the nation as a whole: "In line with government guidance, SOCOTEC remained operational throughout 2020. Most of our workforce became key workers, due to the fact that our services were critical to keeping the country operating throughout the Covid-19 lockdowns," reflects Peter.
Used to working through uncertainty, SOCOTEC's malleability meant it could adapt to the new conditions of a pandemic. "We adapted many of our working practices to ensure that we mitigated the risk by closely following the measures advised by Public Health England," says Peter.
"Where it is necessary for employees to attend the workplace or client site, we have strict health and safety procedures in place, and field-based employees are also asked to familiarise themselves with specific client arrangements on site. As well as changes to our site staff, our IT infrastructure was adapted to enable office staff to work from home as effectively as they would on SOCOTEC premises. In addition, our health and safety team continues to review the Covid-19 measures in place, in order to ensure that they follow current Government guidance."
Protecting its people is of the highest priority for SOCOTEC UK. "Our employees are our most valuable asset, and we are committed to strengthening their skills and capabilities in order to help them achieve their career goals and our business objectives," asserts Peter. "At SOCOTEC, we strive to foster a working culture that helps staff to achieve their professional goals, while ensuring that their growth and development also aligns with our own business objectives. All of this combined creates a culture that can be described as collaborative, dynamic and ambitious."
The company's dedication to social responsibility includes the wellbeing of the planet, as well as its workforce. "SOCOTEC is committed to reducing our environmental impact via the implementation of an Environmental Management System (EMS). This acts as a framework to drive continual improvement and environmental performance," Peter reveals.
"Sustainability considerations are fully integrated in our business decision-making, implemented through such applications as environmental awareness training for our employees, measuring our carbon footprint and promoting a sustainable approach to all of our clients and stakeholders," he adds, asserting the importance of a sustainable model for SOCOTEC going forward.
Looking into the future, the company aims to publish its first carbon management plan at the end of September 2021, in line with the UK's ambition to be carbon 'net zero' by 2050. "Our wider CSR strategy will launch in October,"
Peter states. "It will cover our aims to achieve a more sustainable world, promote social inclusion and develop our teams to cultivate expertise. This in turn will enable innovation and provide value to our clients in the construction, real estate, infrastructure and industry sectors."
For SOCOTEC UK, its future growth and development aligns with the SOCOTEC Group's ambition to become the leading trusted third party in testing and inspection certification. "There is a real readiness and drive from our clients for digital transformation, and we will reinforce our position and experience in this area to enhance digital customer experience and be at the forefront of digital innovation," concludes Peter.
"There are also many opportunities for us as a company, as the focus for our clients moves to safety, the sustainability of buildings and infrastructure and the support of energy transition."
SOCOTEC UK
www.socotec.co.uk
Services: Testing, inspection and certification services for the construction industry