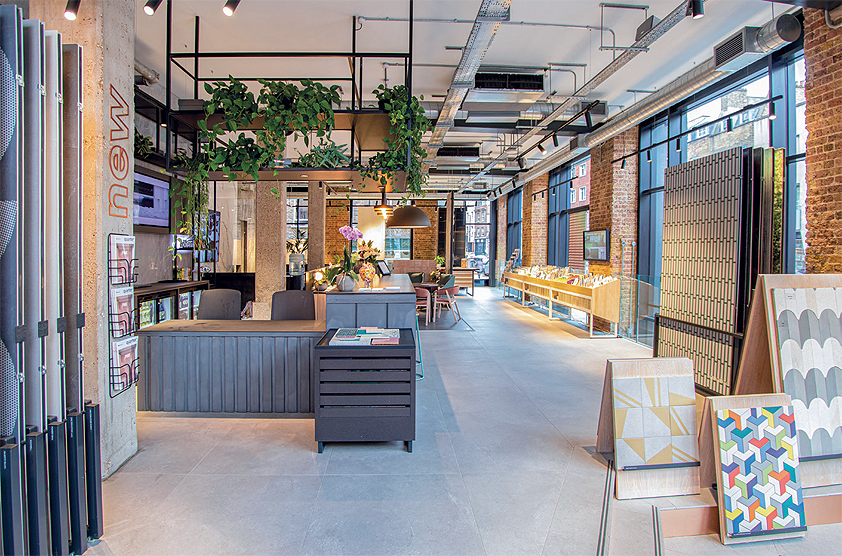 When supply meets demand
A family run business with a desire to be recognized as the trusted market leader in the supply of tiling solutions for the specification industry, Solus is navigating its way through 2020 thanks to a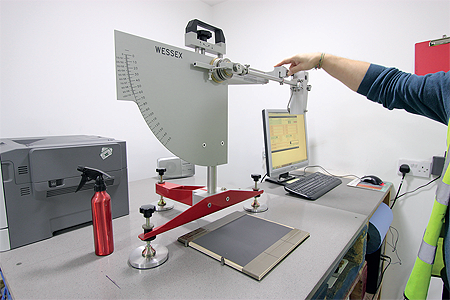 forward-thinking mindset and a set of well-defined core values
The founding of a now prosperous business from one's own front room or garage is not a new phenomenon, however, to do so whilst recovering from major surgery such as a kidney transplant is altogether less common. These, however, are precisely the circumstances under which Peter Bentley established the company Solus Ceramics (now Solus) back in 1995. Fast forward to 2020, and the company has grown to become one of the most successful and trusted distributors of ceramics to the architectural specification industry.
"Here at Solus, we supply a huge catalogue of ceramic wall and floor tiles via architects, builders and interior designers, as well as a wide variety of bespoke tile cutting services and comprehensive technical information," begins Managing Director, Marcus Bentley, son of founder Peter. "The clients that we work with typically specify our products for the projects that they are working on, and these can range from leisure and hospitality developments, to retail spaces and car showrooms."
Although it is best known for supplying tiles to commercial projects in the UK, Solus also has a vast amount of experience working with international brands, shipping products to all sides of the globe, from South America to Asia. What gives it the ability to stretch its wings so wide, and helps set it apart from its competition in the marketplace is the fact that it works in partnership with around 200 different tile factories, carefully sourcing material from some of the biggest and most reputable suppliers, predominantly in Italy, Spain and Portugal. This allows Solus to bring to market products of superior aesthetic quality and impressive technical performance, in a range of colors, sizes, surfaces and special pieces to enable the widest choice of solutions, combinations and applications.
"Such a network of suppliers gives us access to an almost infinite array of tile products and styles, which means that we are consistently able to meet the design briefs of our clients, irrespective of the criteria," Marcus continues. "Over the years, we have supplemented the growth of this network, by also investing heavily in our own infrastructure. In addition to our Birmingham headquarters, three years ago we opened up a flagship showroom in the heart of Clerkenwell, London. The two-floor building gives architects and designers the opportunity to look for tile inspiration and develop design schemes and has really helped to raise the profile of the Solus brand."
Business values
The negative effects of the global Covid-19 pandemic on businesses are well documented, and Solus – like every other entity – has not been immune. During the UK's lockdown this year, trading was down by around 50 per cent in terms of sales, but there have been signs of improvement during June and July 2020. By keeping its cost base low, the company has been able to successfully keep its wheels turning and trade comfortably within its range.
As Marcus is keen to point out, part of the reason for this was the company's adoption – in late 2019 – of a new Enterprise Resource Planning (ERP) system, called SAP Business One, which aims to automate key business functions in financials, operations and human resources. "SAP Business One is an all-encompassing system that covers everything from finance and accounts, to order processing, customer relationship management and warehouse management, and replaces our previous Sage 200 software," Marcus details. "Being a cloud-based system, all that our employees need to access our entire system is a laptop or computer and an internet connection.
"As you can imagine this proved absolutely vital during lockdown when our employees worked from home, as they could continue to process orders without interruption. These orders are then sent electronically to our warehouse teams, appearing digitally on their individual scan guns, who are then able to dispatch products to our customers without the need for any physical paperwork. The system formally went live in December 2019 and has been invaluable in allowing Solus to continue to trade throughout 2020."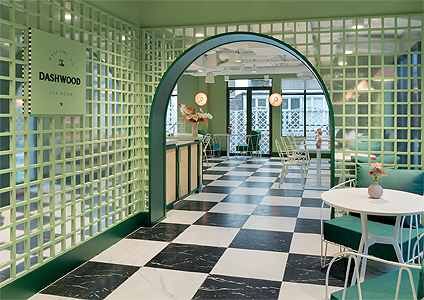 Being a second-generation Managing Director means that Marcus has also been tasked with maintaining the family feel, culture and atmosphere of the business, even as it has grown in size. "Retaining our culture has always been incredibly important to us as a whole, and indeed for me personally," he confirms. "One of the ways in which we have done so in more recent times is to introduce a set of core values into the business, which was carried out in conjunction with our employees. Collectively, we asked them to identify what they felt made Solus special, and from their responses we eventually emerged with seven key words that we feel best describe what Solus is all about as a business and represent its DNA."
These values, which are instilled throughout the business are as follows:
Experts – We are experts in our market, knowledgeable in our products and skilled in our individual roles within the business.
Progressive – We are constantly evolving, change is viewed as a positive trait and we are at the forefront of innovation in our market.
Adaptable – We are nimble, able to react positively to changes in our market and have the flexibility required to meet client needs.
Proud – We share and celebrate our collective success, and take satisfaction for our individual contribution to the business.
Energetic – We do it with passion, energy and drive.
Ambitious – We show a strong desire and determination to succeed and demonstrate high personal aspirations to achieve.
United – We work together to achieve our goals, and co-operate our efforts together in the interests of the business.
Going forward, the highest priority for Marcus and the rest of the Solus team is – understandably – to negotiate the coming 12 months or so, which he admits will be the most difficult time that the company has ever faced. "Having been here through past crises such as the aftermath of the 9/11 terrorist attacks and the 2008 financial crisis, I can still safely say that what we are going through right now is the most challenging period any business – not just ours – has likely ever encountered," he states. "Our primary goal at this time therefore is to successfully protect the business and navigate through this prolonged spell, and with the aforementioned ERP system in place we are extremely confident that we can continue to do so. From there we will work as hard as we possibly can to grow the business back up to where it was pre-Covid-19, which is our ultimate aim at present."
Doing so will no doubt require the company to focus on many of the areas of business that were gaining particular traction during the latter stages of 2019. "Internationally, we had been witnessing strong demand, with healthy relationships being forged with customers in the Middle East – particularly in Dubai and Abu Dhabi – and in the United States as well, so it would be great to see such endeavors continue to grow in the months and years to come," Marcus says. "Similarly, our corporate client bank was steadily growing pre-lockdown, so that is another area of the business that we will be striving to get back on track too as we move forward in a positive direction."
Solus
www.solusceramics.com
Services: Leading specialist supplier of tiling products