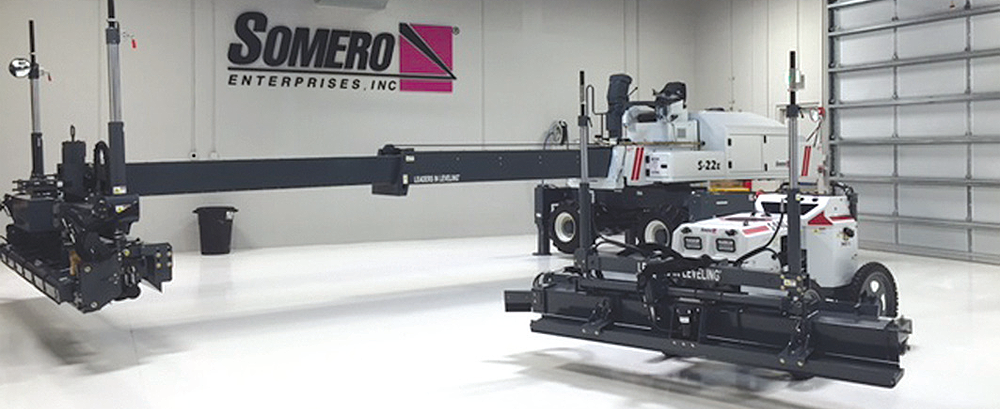 Laser-guided machinery
Founded in 1986, Somero® Enterprises (Somero) is a leading manufacturer of technologically advanced concrete placing equipment and associated machinery. With manufacturing facilities in
Michigan, and executive offices in Fort Myers, Florida, the company has spent the past 35 years prospering thanks to its ability to deliver superior products. These are marketed in Europe, the Middle East and Africa, Latin America and Asia through a direct sales force, sales representatives and dealers.
Somero manufactures laser-guided and technologically innovative machinery used in horizontal concrete placement, to advance the productivity, concrete flatness and efficiency of the job site. "Somero has always been the industry leader for laser screed machines. As a matter of fact, the Somero brothers were the inventors of the very first machine of its kind in 1986, thus creating the industry we lead today," explains the company's Marketing Director, Brad Wymore. "Our strength in this field has grown to such an extent that it now supports our place within the industry where we are focused on our customer's success through the delivery of training, global customer support, and continuous improvement across all of our machines."
Technological advances
Somero believes that its customers' success represents its own success, and as leaders within the industry it has a collection of long-standing customers that it relies upon and collaborates with as it seeks to improve existing machines, or create new ones to serve varying needs. As such the company has dedicated its time and resources into inventing and manufacturing products that get the job done.
"The 22-EZ Advanced Laser Screed® Machine is the flagship machine within our fleet of solutions and is the workhorse of the industry. It represents the evolution of the first ever laser screed – the S-100," Brad continues. "Meanwhile, it is our unparalleled focus on innovation and our unrivalled technological expertise that helps to drive our machines, and gives our customer's practical solutions that no other laser screed manufacturer can offer. These include the Quick GradeSet System, Column Block Protection, the Self Levelling Head, Programmable Quick Pass, Soft Touch Landing, and Trimble LR-212 Receivers with 1.6mm remote grade adjustment."
In terms of recent technological advances, Somero's Sky Screed® 25 Laser Screed Machine employs the world's first ever 'knuckle boom' on such a solution, allowing for unparalleled versatility and multi-directional screeding on any structural building project, including high-rise and specific slab-on-grade applications. The lower frame has three stabilisers, while the upper frame and screed head rotate 360 degrees, providing the flexibility to screed around columns and other protrusions. Powered by a 32.5HP Kubota gasoline engine with electric start, the machine functions are controlled via wireless controls.
Machine debut
This March, Somero will be appearing at the UK Concrete Show 2020, the only UK event dedicated exclusively to the concrete industry. It is here that the company will be displaying several of its products, including the S-940 Laser Screed and the Somero CH XD 3.0. The former machine provides unmatched versatility and simplicity with increased power, and is available with a fully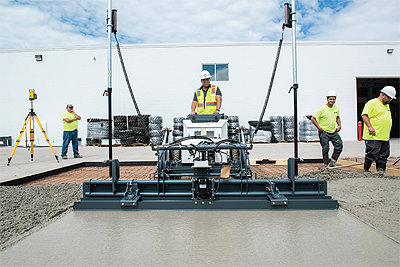 automated self-levelling screed head or a raking/fine grade head. It also possesses a foldable elevation beam that provides a narrower profile during transport, giving it easier access to jobsites, while its off-set screed head provides less of an overlap per pass. The CH XD 3.0, on the other hand, is an improved, fourth generation, walk-behind laser screed machine, ideal for slab-on-grade and upper decks applications, and with the ability to improve performance over chaired rebar or mesh, in-floor heat and freezer slabs, including ice rinks.
"The UK Concrete Show is a major focus for Somero in 2020, and the event will see us rolling out a brand-new machine that we feel has tremendous potential, specifically in the UK and European markets," Brad states. "Our other goals for the year revolve around supporting our existing customer base with their current machines, as well as working with them to identify ways that a new or re-manufactured solution can help to grow their respective business. We are also focusing more of our attention towards how we can better support our customers that are delivering agricultural industry projects."
Finishing our conversation on the subject of the long-term vision that drives Somero forward, Brad concludes with the following: "We are defined by our innovation, so whether it be long- or short-term, we are always pushing ourselves internally to collaborate with our customers and to understand what improvements can be made to our current machines, or what development can be put towards future solutions, in order to best serve their business goals and needs."

Somero Enterprises
www.somero.com
Products: Horizontal concrete placement machinery and solutions