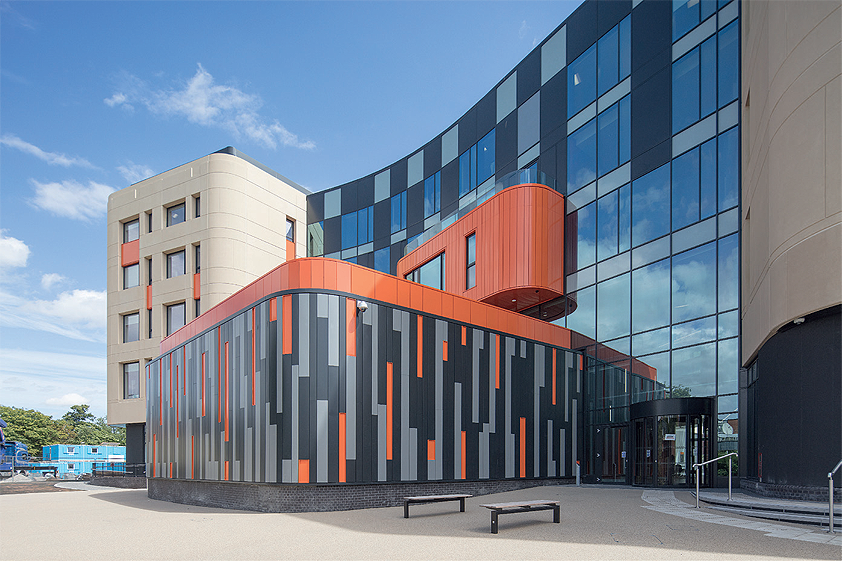 Total façade solutions
With a proven track record of delivering large-scale façade projects, Speedclad specialises in creating practical solutions that combine the best of contemporary and cutting edge construction methods and products
In terms of company growth and development, 2019 was a highly significant year for leading specialist façade contractor Speedclad. In addition to a 25 per cent increase in turnover, the year also added no fewer than 18 new members of staff across its design, estimating, commercial, construction and procurement departments.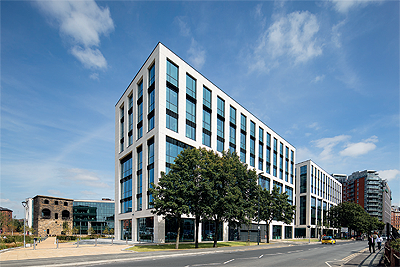 Furthermore, it successfully managed to expand its client base with contractors that were keen to develop long-term relationships, enhance its research and development activities – developing a range of A2 rated glazed-in panels – and relocated its Divisional and Regional offices to larger, more accessible premises, in Doncaster and Tamworth respectively.
Speedclad is the brainchild of Directors, Tony Blake and Paul Dingle, who established the business in February 2008. Specialising in rainscreen cladding from its inception, in 2014 it expanded into the provision of curtain walling and glazed façades, before going on to provide integrated cladding and glazing façade solutions across the business in 2016. Today, its design, supply and installation services are provided to main and management contractors across a range of sectors, including retail, leisure, health, residential, education, industrial and public.
"Speedclad's offering focuses on complete package management of façade solutions, with our core specialisms including pre-construction advice and planning, façade design, procurement in line with our robust supply chain, and experienced on-site installation," explains Commercial Director, Tony Blake. "Drawing on technical knowledge and expertise across all departments, our core product range encompasses innovative systems and solutions that remove the need for clients to co-ordinate multiple independent trade contractors, while also realising best value."
Significant partnerships
For Speedclad's clients, cost is not the only driver. At the same time, they seek long-term, stable relationships with its supply chain, and have particularly high pre-qualification and delivery standards that demand a consistent level of commitment and professionalism. Speedclad's ability to meet such needs has led to it forging multi-year partnerships with the likes of Winvic Construction, with whom it has completed 110 jobs to date, and Wates Construction, to name just two clients.
"Speedclad's success has been driven by careful business planning and assessment of opportunities against a robust risk assessment approach that is embedded across the business," Tony continues. "This has enabled us to make fact-based decisions and not compromise our standards, including our commitment to the management of health, safety, quality and environment. The business operates within a structured framework of processes and procedures, which supports consistency, allowing successes to be replicated. In addition, we understand that Speedclad's success is a collaboration and, as such, we put great onus on developing mutually beneficial and lasting relationships with clients and the supply chain."
Prestigious scheme
Said success is reflected in the array of ongoing and successfully completed projects that Speedclad has been involved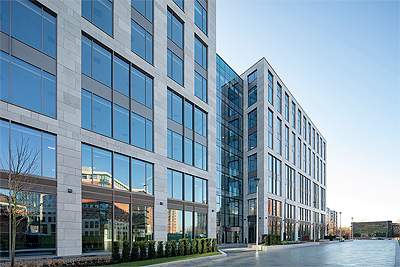 with. In 2019, for example, it took on its largest façade package to date, this being a £12.6 million contract for the integrated cladding and glazing façade at 7&8 Wellington Place, Leeds, for Wates Construction. This was Speedclad's fifth consecutive project award on this development. This particular scheme will ultimately become home to HMRC's new regional hub, and will accommodate 6000 public servants in the city's prestigious business quarter.
"The schemes that we are a part of at Wellington Place are particularly pleasing, especially when considering the sheer scale of the project, the challenges that we have had to overcome, the need to deliver the utmost consistency, and the repeat business that we have gained," Tony proudly states, before going on to detail other past, and current, contracts.
"The Chamberlain Hall student residences scheme for Birmingham University is recognised as a 'watershed moment' for the business, and as such is a particular example of accomplishment," he details. "Speedclad had particular input and influence to this scheme at a very early stage and the design that the we developed not only increased the thermal performance of the façade, but also reduced construction time on site and presented the client – Balfour Beatty Construction – with notable cost savings, playing a major role in it securing this development. This complex and large-scale façade showcased what Speedclad could achieve and marked a turning point in the type of schemes we would go on to undertake.
"Additionally, a contract at the new production facility in Coventry for the London Taxi Corporation, where Speedclad completed the curtain walling, windows and doors, also marked a key growth step for our Divisional Office, demonstrating the ability of our glazing division to meet the demands of large-scale flagship schemes."
Current projects
At time of writing, Speedclad can be found in the midst of preparing for the on-site installation of both the rainscreen cladding façade on a new multi-storey car park at the Royal Victoria Infirmary in Newcastle, as well as the new cladding and glazing façade of the new foyer at Symphony Hall, Birmingham. Elsewhere, the company is executing design orders for a Specialist Hospital Facility on the Queen Elizabeth Hospital campus in Birmingham with Vinci Construction, a new office development at 11 York Street, Manchester, with Kier Construction, and a Teaching and Learning Centre at the University of Leicester with ENGIE.
Positive culture
As a business, Speedclad is the first to admit that all of its accomplishments have only been made possible due to the efforts of its people and their respective skills, expertise and commitment. In return, it places a huge degree of emphasis on ensuring that its employees are looked after and that Speedclad's culture supports their individual success. Central to its culture and values is the business' Wellbeing Strategy. Focused around four elements; Connect, Know, Thrive and Give, this strategy rolls out a wide variety of provisions to support staff health and wellbeing, including Health MOTs, wellness initiatives, listening groups/forums, an Employee Assistance Programme, and an engaging fundraising and CSR programme.
"At Speedclad, we recognise that our success is inextricably linked to our people, and that providing our staff with a positive working experience will in turn benefit the effectiveness and success of the business," explains Business Services Director, Rebecca Forward. "The working world has changed, with employees seeking more fulfilment from their jobs and wanting their work to enhance and complement their lives outside of work as well. There is a much-needed realisation happening in all sectors, including construction, as to the importance and business benefits of supporting and actively promoting wellbeing at work."
Much in the same vein as the previous 12 months, 2020 is set to be a busy year for a company that strives to be not only the go-to contractor for total façade solutions, but also one that people aspire to work for and with. Not only does Speedclad have a strong forward order book for the year – and beyond – it also has been granted planning permission for a new Head Office premises, sited at Leeming Bar in North Yorkshire.
"Speedclad's long-term strategy is that it doesn't want to be the biggest, but it does want to be considered among the best," Tony affirms. "We recognise that sustained success necessitates being agile and able to respond to opportunities and changing markets and, as such, we are exploring various options within our business strategy. These include, off-site modular systems such as unitised curtain walling, and the market for fire-rated systems to support our FIRAS certification, as well as continued innovation and R&D in the development of our own specialist façade products. Sustainability is also about relationships, and we will continue to maintain our strong relationships both up and down the supply chain and identify new business partners that share Speedclad's values."
Speedclad
Services: Specialist façade contractor