Stanton Bonna Concrete Ltd
Whether supplying a small local project or a fast moving multi-million pound project with complex delivery arrangements or challenging design and manufacturing demands, Stanton Bonna Concrete Ltd has the experience to meet a customers' needs
Solid foundations
Whether supplying a small local project or a fast moving multi-million pound project with complex delivery arrangements or challenging design and manufacturing demands, Stanton Bonna Concrete Ltd has the experience to meet a customers' needs
Stanton Bonna Concrete Ltd is just ten years away from reaching the milestone of a century since its beginning, and while the business has developed a great deal since its early days, the next
decade is likely to see even further changes. Through this history the company has diversified from its roots as part of British Steel, and as of 17 years ago became a part of a larger conglomerate Consolis Group, which is the largest precast producer in Europe. The parent company employs over 10,000 people, operating over 100 factories, and as a group records a turnover that exceeds a billion pounds a year. Stanton Bonna itself is based in Ilkeston, situated between Derby and Nottingham, and employs over 150 people but this number can fluctuate depending on what projects are being worked on. The combined experience of Stanton Bonna and its parent company ensures a professional and competent project completion.
Stanton Bonna is currently in the process of commissioning some new facilities, which is something managing director Colin Richardson expanded on: "It has cost over three million pounds, which is probably the largest single investment we have had in this company during the last 20 or 30 years, this was done largely to tackle previous under investment and as part of an ongoing commitment to meet market needs. This together with further planned investment will allow us to upgrade plant equipment, which will in turn improve our ability to capitalise on some of the opportunities that are appearing in the UK over the next three or four years."
There is little doubt that taking such a positive and proactive approach will better position Stanton to take advantage of the many infrastructure projects currently being discussed for the UK, all of which could call on products made by Stanton. Colin elaborated on these: "HS2 throws up good opportunities for example in terms of tunnel segments, bridge beams, box culverts, and other forms of precast for use on a high speed network, something that we have lots of experience of through our involvement in similar projects both here in the UK and within Europe. Our involvement for example in the current Crossrail project is a point in case, where we have been able to tap into the group's R&D expertise to help us deliver a world class sleeper that was designed to attenuate noise and vibration, a critical aspect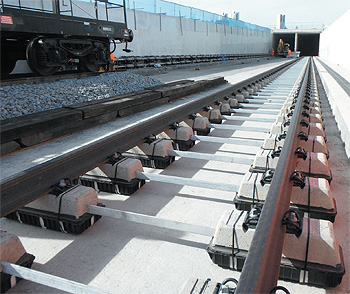 in their procurement brief."
Another variety of project that Colin predicted would call on Stanton Bonnas' services in the near future would be those of power plants: "Since the government has stated already that they will shut down the coal power stations, they are going to have to replace them with something. And I don't believe solar or wind will be able to fill the gap that is going to be created, so that gives me reason to think that we must follow through on the building of nuclear power stations – in fact we have been in discussion with the designers of these for a number of years now. Some of the products that will be needed are those that our business and our parent company have almost a century of experience making. An example of this is our pressure pipe solution, for which there are only two companies in Europe that currently manufacture them. One of which is in mainland Europe and the other is us in the UK." The fact that Stanton is able to produce these products in Ilkeston is seen as providing them with a distinct advantage in the supply to any future power station project. Colin also went into more detail about the product and highlighted several other projects that could benefit the company: "It is effectively a high strength steel tube of up to 4m in diameter with concrete cast on both the inner and outer surfaces, and is predominantly used in the transmission of large quantities of cooling water, often under pressure, required by the power stations to cool their turbines. Other projects that are interested in this type of solution are those at Hinkley Point, as well as Moorside which is the new extension to Sellafield." All of these are promising factors in the companys' further success.
The overriding attitude of Stanton Bonna is that of resilience, both in terms of its products and the company's ability to continue succeeding in a tough market climate. With plans to further diversify, and expand the capacity of production, it certainly looks in a promising position, and Colin gave an insight into its plans for the future: "We will come out of this bigger and better in the long term, certainly in the next three to five year period our business has the prospect to double in size, if not more. We will diversify and harness the upcoming opportunities that are going to be there for a company like ours, and we will leverage our European experience and knowledge in the precast sector to succeed." No doubt Stanton will be a company that helps build the future of energy and transport in the UK.
Stanton Bonna Concrete Ltd
Services: Precast concrete pipes and manholes, drainage systems, pressure systems, railway products, specialist precast solutions