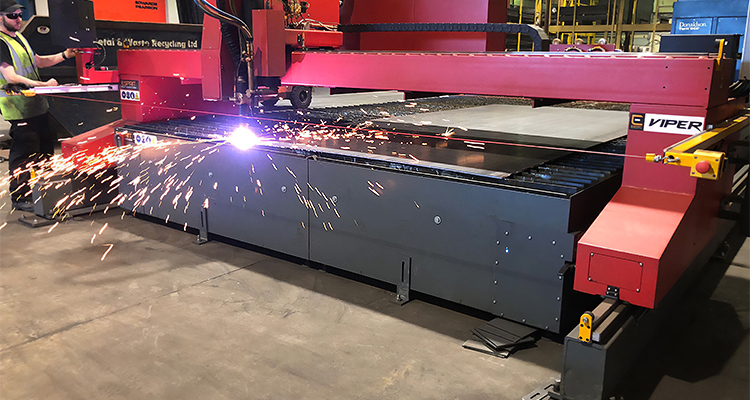 Industrial Metal Services has the largest range of steel products in the southeast UK
For more than 40 years, Industrial Metal Services' (IMS) high-quality steel has been a vital component in a vast number of large-scale construction, engineering, and architectural projects across the UK. Based out of the southeast, the organisation is headquartered in Southend-on-Sea, Essex with a secondary site in Sittingbourne, Kent. Both sites possess processing equipment that is operated around the clock. IMS is also part of the BMSTEEL Group, which consists of Barclay & Mathieson Ltd, Steel Plate & Sections Ltd and Abram Pulman Steel Ltd, which is made up of 17 sides with a turnover in excess of £200m.
The business prides itself on its high level of professional, whilst personal, service, which is bolstered by its multiple contact points. These include an online quote builder, where clients can place their own orders for the inhouse team to action that same day, as well as the company's app, and live chat application. Given that the sales and customer service teams work on a strictly regional basis, they can build a thorough understanding of their repeat clients, what they need, and when.
IMS houses the largest range of steel products in the southeast across its 416,000 square feet of warehousing space throughout Eastern and Central England. It also possesses over 32 vehicles fitted with the latest telematics, to reduce their impact on the environment, and real-time tracking technology. The BMSTEEL Group has a combined fleet of over 100 vehicles and is responsible for providing the company's national coverage and comprehensive delivery service, within a 30-to-50-mile radius of each of its 15 depots. These are strategically placed between Winchester, Sittingbourne, Bangor, Peterborough, Liverpool, Sheffield, Glasgow, Aberdeen, and many other locations.
The BMSTEEL Group uses the moto 'MORE THAN STEEL' and this is demonstrated by the exhaustive product range IMS offers, these include an expansive collection of different metal products, covering the following categories: Access and safety, structural sections, builders' beams, re-rolled products, hollow sections, sheets and plates, mesh and flooring, bright steels, stainless steel, aluminium, a DDA range, an edging section, tube clamps, GRP, railheads, and fasteners and fixings. IMS is so confident in its offering that if an engineering client requires a product that the company doesn't sell, the team will always strive to get it in stock as quickly as possible.
In terms of specialities within these, the business offers a cut-while-you-wait service for its builders' beams. This is generally completed within a one-hour turnaround, and is only required for non-standard sizes, all popular sizes are fully available for immediate collection daily. The stainless steel and aluminium ranges, on the other hand, are only available by order, but include plates, channels, angles, tubes, bars, tees, and hollow sections.
IMS' 24-hour steel processing centres offer a wide array of different cutting and treatment services. These include shotblasting and painting, saw cutting, profiling, HD plasma cutting, folding, drilling, punching, and cropping.
In terms of shotblasting and painting, IMS operates two separate lines, to be able to offer greater flexibility to its clientele. Its capabilities facilitate work on materials as thin as 8mm, right up to those at 21,000mm in length. The fast-drying action of the water-based primer that the company uses not only provides temporary protection against corrosion for steel constructions, but it also ensures the products are processed quickly and efficiently.
Alongside its Ficep Gemini and ESPRIT Viper plasma profiling machines the business also offers drilling, punching, shearing, and cutting on its brand new Kaltenbach saw line. IMS has invested heavily over the last five years and as part of this plan has recently introduced a state-of-the-art Esab CombiRex DX4000. This powerful gas profiling system can cut through materials of more than 100mm with complete precision and accuracy. The machine utilizes a combination of a high-quality oxyfuel cutting system and a controller vision system that can read and interpret material being cut in real time. This enables the machine to make perfectly exact cuts, with no need for manual intervention. When it comes to profiling, IMS employs the latest CNC software to facilitate its oxy cutting services. These are also available across a wide range of sizes, given the line's capabilities to work with plates measuring up to 12m by 3m.
IMS places a great deal of importance on its external relationships. The organisation states to have always believed in maintaining strong business relations with both customers and suppliers and considers both to be crucial in securing its continued success. Furthermore, the business' directors have formed their own relationships with specific long-standing customers and suppliers, in ensuring that both sides of the fence are on the same page when it comes to providing mutual support for each other's strategies and objectives.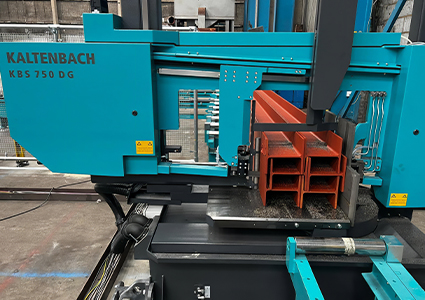 During recent times, these closer relationships with key steel suppliers and those of general products have resulted in vastly improved efficiencies within IMS' supply chain and a greater range of onsite stock for the company itself. Even throughout the pandemic and following inflationary climate, the business has been able to ensure a steady continuation of produce from its key suppliers, despite the surrounding implications of the lockdowns.
The same attitude is propelled towards the organisation's workforce, as the directors similarly recognise the important role they play in the long-term success of IMS. All staff are managed by a line manager who records their performance against predetermined KPIs. They are also responsible for identifying the employee's training and development needs, whether on-the-job or externally. The entire group always places great emphasis on developing its managers of tomorrow and is acutely aware of the key role in which each and every employee plays in delivering for its customers.
IMS aims to recruit and maintain competent and motivated people, and believes that promoting from within is the best reward for performance and dedication. The clear path for progression that it implements has resulted in many employees being promoted to senior roles over the years. Alongside its key HR principles of ongoing training and personal development, the business encourages consistent two-way communication between its different areas and organises quarterly town hall meetings, which include a direct Q&A with the CEO, as well as strategy and cohesion events to bring everyone together and to generate ideas for the future.
Regarding IMS' ESG initiatives, the business has a well-developed environmental and sustainability policy with stringent targets. Furthermore, it is fully committed to protecting the environment, and acknowledges that the pursuit of economic growth has to be balanced with absolute respect for sustainability. Sustainable development is a key fundamental of the organisation's philosophy and processes, which is demonstrated by its periodical review of each relevant policy and endorsed by the company's directors and management team, who take responsibility for the delivery of its aspirations and key objectives. In demonstration of this, IMS and the wider group are seeking to be the first steel business of its type to calculate the full end to end emissions of its operation, so that armed with this data it can aggressively undertake a carbon reduction program and further enhance its sustainability.
In a summary quote the BMSTEEL Group CEO Kyle Greenwood stated: "The BMSTEEL Group and IMS have a clear mission for the future as well as five core values, which act as pillars in every decision that is made. It is this clear strategy that will enable us to continue to grow in the future for the mutual benefit of our employees', customers, supply chain and the environment."