Stena Stål is one of Sweden's largest suppliers of pre-treated steel products and the market leader in flame-cut plate
Steel at the top
Stena Stål is one of Sweden's largest suppliers of pre-treated steel products and the market leader in flame-cut plate
Stena Stål is a nationwide steel supplier with a wide range of products, including beams, reinforcing bars, plate, merchant steel, toolsteel, alloyed structural steel, forgings and castings. It is the leader in cutting and CNC-processing of heavy plate. Its warehouses and sales facilities in 20 locations across Sweden and Norway are staffed by 517 employees.
"After rapid growth in recent years, Stena Stål is a full-service supplier with a strong presence throughout Sweden. We provide good service and deliver steel products adapted to our customers' needs, regardless of industry," comments Jan-Erik Dahlin, president of Stena Stål.
Closeness, commitment and customer needs have been the watchwords during Stena Stål's transformation in recent years. Through the acquisitions of Nomeko in 2006 and Eurosteel in 2007, the company has doubled its employees and broadened its product range.
"Being big has never been a goal for us. What's more important is being close to our customers to provide the best possible service. Our goal is to be a steel supplier that makes our customers more competitive, "Jan-Erik stresses. "We provide accessibility through our geographically diverse network of branches and through our extensive shuttle delivery fleet. We deliver to customers using environmentally certified vehicles the day after an order is placed."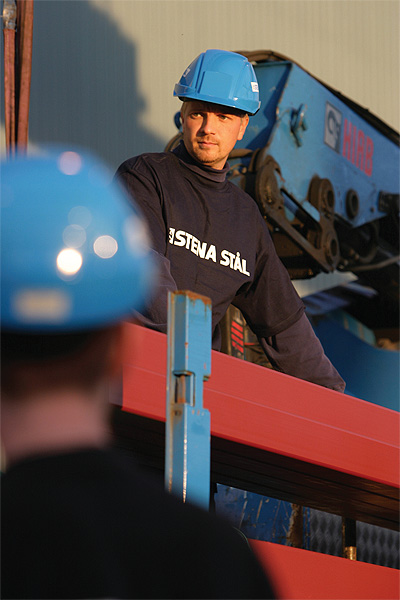 The second result of the expansion is that Stena Stål has substantially improved its capacity to pre-treat, and refined steel products to adapt exactly to customers' needs. It has extensive capacity in flame cutting, precision cutting, drilling, shot blasting and painting, as well as in supplying rolling mesh and cut and bend re-bars.
"As part of broadening our product range, we've built up a stock of stainless steel in Västerås and, in addition to the normal assortment, we offer stainless beams and profiles. We're expanding our main Västerås warehouse to meet growing demand in the wholesale business area and Stena Stål's growth is continuing in industrial components as well through an expansion of the production units in Molkom and Nybro to increase capacity in flame cutting and CNC-processing."
Stena Stål has a close relationship with Lemvigh-Müller, the largest steel and engineering wholesaler in Denmark. A sophisticated logistic system, in combination with EDI-solutions, gives the salesmen in Sweden access to one of the market's widest ranges of steel products that can be delivered one to two days after order. With more than 5000 products in stock, Lemvigh-Müller has Denmark's largest product selection in steel, reinforcing steel, stainless steel, tubular and cold-cast profiles, steel bars, steel beams, plates and coils, polished steel and special steel.
One of Stena Stål's most visible projects  is the construction of Göteborg's new football stadium, located centrally in the city. Scheduled to be completed by the end of 2008, it will hold a crowd of 18,000 and Stena Stål has supplied the steel for the 64 roof beams. In total, the delivery involves 1000 tons of heavy plate and the order was received from Lecor Stålteknik AB in Kungälv. Lecor's president, Tennce Carlsson says: "We started working with Stena Stål when we got into the business in 1965 and have always worked well together. They provide plenty of access to both Chinese and German plate."
In the spring and summer of 2008, Stena Stål produced and supplied the material for a railway bridge stretching over highway E20 at Olskroken in central Göteborg. The bridge is an important link for freight traffic, accommodating 40 trains a day. "This is a major order in terms of both weight and volume but we have a cutting facility with enough capacity to handle work of this size," comments Bo Stalfors, product manager at Stena Stål. "The order for 1000 tons of heavy plate was delivered, cut and edged, for the customer Västsvenska Stålkonstruktioner AB (VSAB)."
Of the project, Thomas Unger at VSAB says: "We specialise in welding and assembling large steel structures. We want to do as little processing as possible ourselves and have been customers of Stena Stål for years. The company could offer a total solution that included cutting and edging. The advantage of Stena Stål's solution is that we, as a customer, have one contact instead of several, which saves a great deal of time and energy."
Stena Stål offers a tailored service by adapting the steel so that it can be immediately used in production. This is achieved through the wide selection of products the company supplies, which provides the customer with short lead times and simpler, more efficient production services. The supply of customised products is a matter of pride to the company, as it can provide the components required in any material and size. The ultimate aim is for Stena Stål to be a full-service supplier, which can provide the client with security and convenience. The organisation's expertise and experience ensure that Stena Stål offers the very best service to its customers, and it is these strengths that provide a basis for future progression.