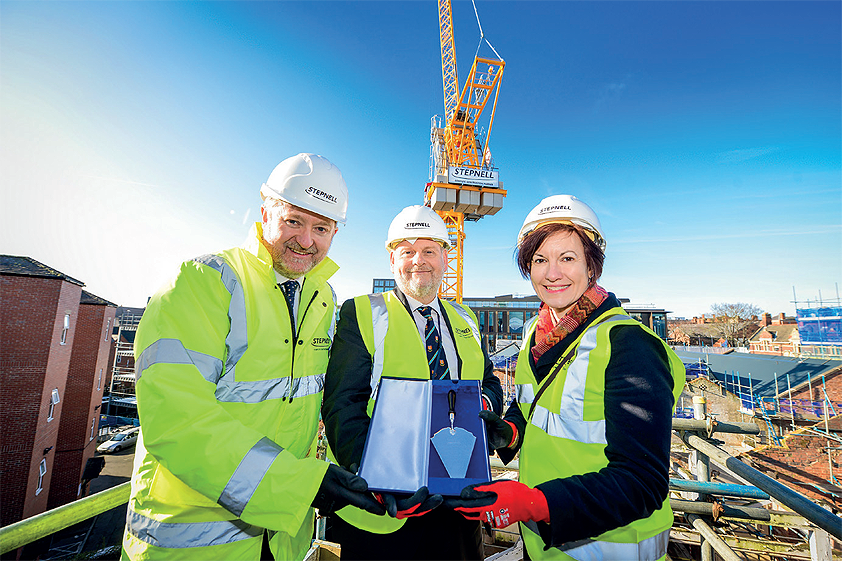 A step ahead
A strategic construction partner with proven end-to-end project lifecycle expertise, Stepnell works closely with its clients to ensure it delivers the highest standards of customer service
With a 150-year heritage in the construction industry, this family business is a leading contractor in the UK, operating a three-region model in the East Midlands, Midlands and the South. The roots of the company stem back to 1687 when George Bosworth and Horace Wakeford built a construction business in Daventry under a different name. The company then changed its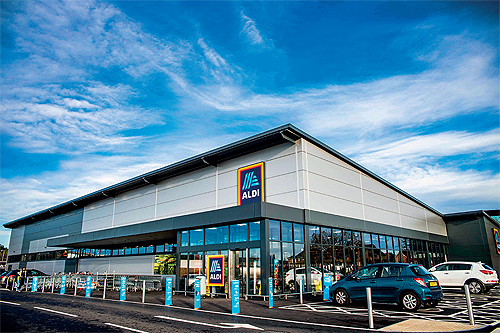 name in 1946 to Stepnell, with a family business spirit at the forefront of its operations.
Today, the Stepnell name umbrellas a handful of developments which include Stepnell Park, a £10 million park development located in Rugby that is being self-funded by Stepnell, as well as EvoEnergy, which is one of the country's leading solar power companies and based in Nottingham. Tom Wakeford, the company's joint Managing Director, tells us about the legacy of Stepnell's business and how it continues to sustain its progress in the construction industry by working with exemplary ethics to leave a positive impact. "EvoEnergy for example, is one of our partner companies that we work closely with to ensure that we use the best technology and renewable energy sources when possible on all our development projects," he explains.
"Over the years, Stepnell has built up a history of successfully delivering a variety of projects for both private and public-sector clients, which include health care, civil engineering, commercial and industrial, education, leisure, residential and property and development," Tom shares with us. Because it has the resources and infrastructure to deliver large, challenging projects, sometimes with a value of up to £30 million, the business is able to cater for a vast client base, making it a unique complete construction partner.
Meticulous planning
This ties in with what sets the company apart from other competitors in the industry. The company works closely with its clients to provide the highest standards of customer service, going beyond the requirements by providing unexpected value, anticipating risks and identifying new opportunities to help clients maximise the whole life value of their investment. "We often take the project through planning and pre-construction stages using our in-house teams before work has even started on-site. Our meticulous planning process allows us to give watertight and programme accuracy, giving our clients the confidence of on time and on budget delivery," says Tom. Recently, Stepnell assessed the rating of its performance by its clients using the Construction New Promoter Score which rated it a 41, showing that the company is performing well above average and delivering a high-level of service to its clients.
Stand-out projects
Other innovative ways in which the business strives to push boundaries in this sector is by investing in digital technology, and Viewpoint, Fieldview and BioSite are amongst the core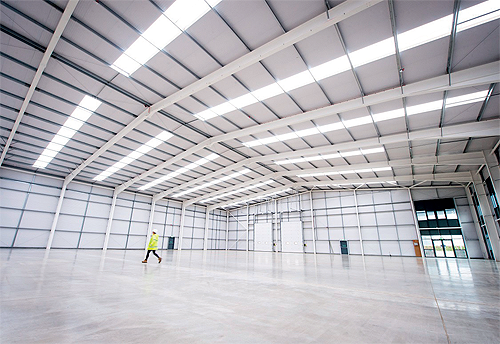 products used at Stepnell. BIM and clash detection are also key elements of the business it is using to provide its services. According to Tom, the company insists on using products that will help solve problems proactively for its clients while giving its teams the controls necessary when working on-site.
These measures have led to impressive projects being completed by the team. Some of the more noteworthy ones include the Royal Shakespeare Company's costume workshop in Stratford-Upon-Avon, where the team was contracted to renovate the Grade II listed site that was valued at more than £6 million and required extensive amounts of retention and heritage remedial works. Another stand-out project was the progression of construction at Vulcan Works, a £14 million redevelopment of Northampton's listed Vulcan Works factory to create spaces and workshops for Northampton Borough Council.
Currently, the team is underway with preparations for two new public sector renovation projects on the Procure Partners Framework, which will both start on-site this year. "The £2.5m renovation of Northampton General Hospital includes the refurbishment and replacement of critical mechanical systems within the hospital. We also succeeded in winning five projects for the Royal Berkshire Hospitals totalling £4.6m," Tom highlights.
Valuable teamwork
On the people side, creating a positive company culture with engaged, productive employees who feel valued and invested in Stepnell remains a continuous priority. Tom notes that it is vital for the industry to develop and attract young, skilled workers, who are driven to succeed, learn and grow, so much so that the business is even supporting young people to achieve accredited university degrees through to professional qualifications within construction management, quantity surveying, design management, sustainability and construction planning. "If an apprentice or trainee has a specialism or a key area of interest, we want to support that, and help them to develop it further. We have always maintained at least ten per cent of our workforce are apprentices, trainees or graduates; currently this is 13 per cent; we are still investing in bringing young people in the industry in the current climate," elaborates Tom.
Stepnell is determined to build a long-lasting legacy that recognises the importance of each team member – this is how it plans to uphold the reputation that George and Horace instilled into its foundations all those years ago. "We have a great team at Stepnell, and we continually seek to add value to our clients' next schemes so we provide them with a service based delivery. We recognize that successful delivery only comes from the whole project team working in partnership," Tom concludes.
Stepnell
www.stepnell.co.uk
Services: Strategic construction partners