By cultivating a co-operative management style and valuing mutually beneficial long-term relationships, Stirnimann has been able to guarantee the highest levels of customer satisfaction for over 100 years
Raising the bar
By cultivating a co-operative management style and valuing mutually beneficial long-term relationships, Stirnimann has been able to guarantee the highest levels of customer satisfaction for over 100 years
With its sound regulatory environment, openness towards foreign trade and investment, and its embracing of entrepreneurial growth, Switzerland boasts one of the most competitive and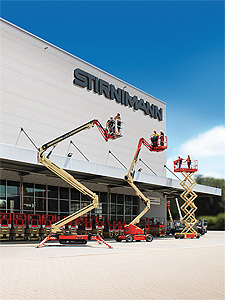 innovative economies in the world. A highly skilled workforce, low unemployment, and a well developed service sector and manufacturing industry has resulted in a per capita GDP that rivals any other nation.
It was the above that provided the country with the resilience needed to bounce back from the economic downturn experienced in 2008-2009, and has helped contribute to a resurgence in recent years. "The exchange rate in Switzerland has definitely seen an uplift in the last few months in particular," states Fritz Oschwald, CEO of one of the country's traditional service providers, Stirnimann. "This has provided a welcome bounce for important areas such as the export market and the tourism sector, which in turn has provided our customers with the level of confidence needed to embark on new projects."
Active for more than 100 years, Stirnimann has forged for itself a reputation for being an innovative, proven partner of the construction and transport industries, as well as the public sector. With customers ranging from small, family-operated businesses to major, blue-chip construction companies, Stirnimann has developed its services to ensure customers receive a high quality, personalised, comprehensive service package, both in its home market and in Austria where it has been active since 2013.
By fostering long-term relationships with construction equipment manufacturers such as Grove, Potain and JLG, the company has become a leading representative for a host of internationally recognised branded products. These include Grove's line of mobile telescopic cranes, from eight tonnes to 450 tonnes, and Potain's range of more than 60 different models of tower crane, from ten tonne-meters to 3600 tonne-meters. This is further underpinned by associated patented technologies from the aforementioned companies. Meanwhile, a combination of modern infrastructure and technically skilled personnel allows Stirnimann to provide a fast and complete service offering, which includes after-sales, erection, crane inspections, maintenance, equipment revisions and repairs.
Since we last spoke to Fritz, back at the end of 2016, he has overseen a profitable 12-month period, characterised by high demand across its various product lines. "2017 was a very good year for us, one that exceeded even our own expectations," he enthuses. "This was led by strong rental fleet occupation rates, as well as year round sales and rental demand for our tower cranes, mobile cranes and platforms."
The health of Switzerland's economy can be observed by counting the number of projects that are currently ongoing across the country. "The confidence that I previously spoke of is being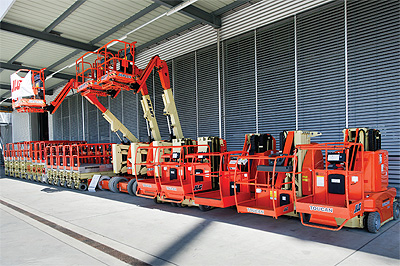 translated through the many different undertakings you see in the French, German and Italian regions of the country. These projects encompass buildings and facilities of all shapes and sizes, and we have also seen considerable investment being channelled into the public services sector in recent times, specifically when it comes to the rail sector and other transport industries.
"What also makes us unique as a country is that many of our national companies are mid-sized, family-owned businesses, which tend to share similar approaches when it comes to how they operate. One such approach is that, when it comes to investing in equipment, they prefer to call upon the expertise of trusted, reliable long term partners, which is certainly what we consider ourselves to be."
Customer service
As has become commonplace, 2017 also saw the successful 'graduation' of the latest in a long line of young people to have been given the opportunity to learn and develop with Stirnimann as the company looks to help establish its next generation of workers. "This is one of the most important focus areas for ourselves," Fritz explains. "Separate to all of the equipment and tools on our books, arguably the greatest instrument we have at our disposal is the level of quality customer service we are able to provide, and this can only be successfully delivered by having a well-trained, well equipped and highly motivated workforce around us. This is why we invest a lot of time, capital and investment in both our new and existing people."
New facility
Moving into 2018, the company is poised to actively leverage its recent achievements. "Here in Switzerland we are very positive about the economy and what the coming months hold," Fritz says. "What we plan to do as a business is capitalise upon this through the development of new business models. One example of this is how we are taking the way that we traditionally provided equipment rentals, renting out a certain crane not only for a limited time rather introducing longer rental contracts. We see this as not only a means of improving the occupation and attractiveness of our equipment, but also providing our customers with even greater flexibility and better value for money, which is what the construction industry in particular craves.
"At the same time, we are also following up on the purchase of a large piece of land that we acquired in the French region of the country at the tail end of 2017. We have since commenced with construction activities and this site will become the location of our newest facilities, including new office space, workshops and a new stockyard. It is expected that this facility will be inaugurated by the middle of 2018, and we feel that its ability to bring us closer to our customers and economise our transport costs will only increase our overall efficiencies."
Being as close a partner as possible to its customers has been the goal of the company since its formation over 100 years ago and, as Fritz emphasises, will remain so for the next century. "We strive to create human partnerships with our customers, something that is at the heart of everything we do as a business. We recognise that we live in a technologically advanced, modern world, but at the end of the day we know that it will always be fundamental that we stay as close to our customers as possible, assisting them as best we can, every step of the way."
Stirnimann
Services: Crane hire, sales and service