Having grown synonymous with high-quality service, Stirnimann recorded an exceptionally strong year in 2018 that saw the company grow its business in Austria and open a third facility in its home country of Switzerland
Exploring new territories
Having grown synonymous with high-quality service, Stirnimann recorded an exceptionally strong year in 2018 that saw the company grow its business in Austria and open a third facility in its home country of Switzerland
Two memorable events stood out for Stirnimann in 2018. Against the backdrop of a steady growth in turnover across all of its crane hire activities, the Swiss supplier of mobile cranes, tower cranes, and lifting platforms saw a significant expansion of its business in Austria and also began a highly-strategic partnership with JCB.
"It was an excellent year for us," enthuses Fritz Oschwald, the amicable CEO of Stirnimann. "To start dealing with JCB and represent the renowned English manufacturer of construction equipment in Switzerland, was an important milestone in our history. We have been offering their products since March and the business has continued to pick up pace since."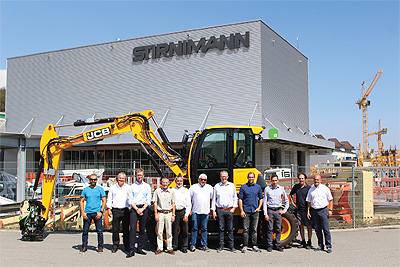 At first, Stirnimann decided to focus on supplying JCB's telescopic boom lifts, hydrostatic track loaders, and mini excavators, but as time goes on, the company will look to expand its portfolio of JCB products further. Now being the English business' official distributor for Switzerland, Stirnimann provides JCB's wide range of construction machinery to the Principality of Lichtenstein, too.
Since its foundation in 1915, the brand of Stirnimann has gradually established itself as synonymous with high-quality tower cranes, mobile cranes, aerial lifts, radio remote controls, and container systems across Switzerland. Last year, the company made a huge step towards transferring its reputation cross border by nearly doubling its turnover in Austria.
Fritz comments: "It was amazing to grow so remarkably in a country whose market has historically been dominated by a giant like Liebherr. For many years, there was not a second high-quality provider of cranes that could also deliver an excellent level of customer service. I am convinced that we are doing a very good job at the moment, utilising our core competence, which is quality of service, and the customers appreciate that. They are very happy to have a choice between two suppliers and we are proud to be able to serve them and compete in the area."
New facility
While the majority of new products added to Stirnimann's range in 2018 came from JCB, one notable exception was Potain's Hup C40-30 crane. Its quick assembly concept deemed revolutionary, this crane is characterised by its compact size that enables its transportation on a conventional lowboy semi-trailer with foldable gooseneck.
"It is a cost-effective and efficient solution ideal for construction sites in cramped and congested areas. The crawler crane can be operated fully assembled with slopes of up to five per cent and is, therefore, usable in a versatile way. What is more, the displacements are realisable without the need for disassembly, which allows its quicker movement from one point to another, and this is particularly helpful when operating in larger sites," Fritz explains.
A year ago, when we last spoke with Fritz, he announced that Stirnimann was building a new operational facility in the French-speaking part of Switzerland – in Vufflens-la-Ville, projected to be completed in 2018. When asked about the successful realisation of the project, he affirms that the company has moved from its old site to the new one in September. "We have already experienced major benefits from being situated in the French part of the country. This way, we are even closer to our customers, which has resulted in improved service quality and reactivity," he points out.
"Another very important advantage has been the reduction of transport costs. To give you an example, previously, we had to take a crane from the French part of Switzerland to the German part just for maintenance activities, which was arguably not the most efficient arrangement. This has changed now and we are immensely satisfied with the increased efficiency of our operations."
Talented individuals
Unsurprisingly, the development of Stirnimann's new site formed the most substantial part of the company's investment ventures throughout 2018. "Setting up the facility cost us about eight million euros. It is a large building spanning some 12,000 square metres, and, as you are probably aware, land in Switzerland is very expensive," Fritz reveals.
The growth in Austria discussed earlier was also supported by targeted investment in the company's rental fleet, while another sphere Stirnimann has traditionally been allocating resources to, is internal training and apprentice development. Fritz adds: "Investing in young people is a vital part of our philosophy. We continually take on talented individuals from the next generation who are keen on pursuing a career in the industry and we do everything in our power to assist them with whatever they need."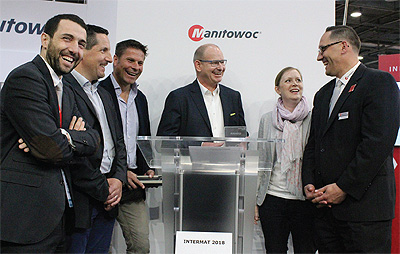 Highlighting the extent to which Stirnimann is dedicated to ensuring that the company's apprentices and existing staff alike have the best possible conditions to work and learn, is a staggering example provided by Fritz. "In order to facilitate the communication with our customers and, ultimately, level up the quality of our service, we have hired in-house teachers in French and English to strengthen our language competences. It is an absolute necessity for us to be able to speak foreign languages, because, even though we are headquartered in the German part of Switzerland, we have suppliers from France and clients from the French-speaking part of the country, which we need to understand in their mother tongue," he reasons.
Switzerland has traditionally had one of the healthiest economies in Europe and as the business climate is set to remain favourable for infrastructure investments, Fritz is confident that Stirnimann's trade will flourish. "A lot of public service buildings are either being constructed or renovated at the moment," he notes. "We benefit from the fact that Switzerland is not a big country and all of the major cities are in close proximity to each other. Many of the projects are interconnected and because of the ongoing urbanisation, cranes will continue to be needed for various schemes in the years to come."
Positive outlook
Last year, Stirnimann initiated a new business model, which includes longer rental contracts. This way, the company achieved the ambition expressed by Fritz during our previous conversation that it should encourage the establishment of closer and more valuable relationships with its customers. The further development of the model will be one of the main focus areas for the business in 2019.
"We signed several long-term contracts with a duration of between five and eight years and we feel that these arrangements work very well," Fritz shows his optimism. "Right now, we are at a stage where we are gaining experience of how best to manage this type of business model, with a view to grow it in the future.
"The general outlook for this year is very positive. One of our key goals is to maintain the growth of our Austrian business and to ensure that we have the right processes and service quality there that will allow us to strengthen our position. Finally, we also expect 2019 to be an important year for our partnership with JCB. We have invested a lot of time and money in setting up this association, we have assembled the right machines, and now, we are ready to expand significantly in the market," he concludes.
Stirnimann
Services: Crane hire