Stirnimann offers crane hire, sales and service on a wide range of cranes and related equipment
A powerful partner
Stirnimann offers crane hire, sales and service on a wide range of cranes and related equipment
Celebrating a century of business in 2015, Stirnimann operates from three sites in Switzerland, which cover the Swiss market, as well as a relatively new office in Austria that was opened in 2013. As Fritz Oschwald, CEO, explained Stirnimann AG is active throughout Switzerland and its customers include big-name companies from areas such as the building trades, transport, industry and the public sector. "We have a wide variety of customers ranging from small family-operated companies to the most important construction companies in Switzerland," he said.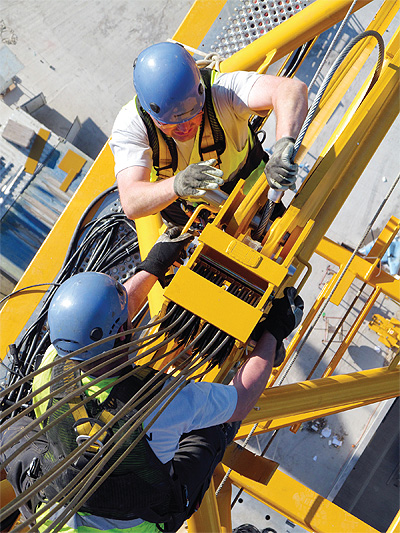 "With our dedicated staff, we offer a full-service package of the highest quality that is tailored precisely to our customers' needs. Whether sales, rentals or service – as a general agent for leading global brands we are a strong and competent partner for our customers," he added, continuing: "We foster long-term relationships with internationally well-known construction equipment manufacturers such as Grove (since 1969) and Potain (since 1986), both part of the Manitowoc Group, as well as JLG (since 2004). Today we are a leading provider for construction cranes in Switzerland."
The range of products available from Stirnimann is extremely wide – its rental fleet comprises 400 units, to give some idea of scale. Fritz gave some more details on what the company can offer: "With our technically competent and well-trained personnel as well as a modern infrastructure, we can provide a comprehensive and fast service. We live our slogan 'Power at your service' by offering a full-service to our customers including: after-sales, erection, crane inspections, maintenance, equipment revisions, repair work and so on.
"Potain offers a range of more than 60 different models of tower cranes from ten tonne-meters up to 3600 tonne-meters. The Grove line of mobile telescopic cranes ranges in capacity from eight tonnes to 450 tonnes (8.5 USt – 550 USt), with patented technologies like the MEGATRAK suspension system, the TWINLOCK boom pinning system and the MEGAFORM boom design – all to keep Grove cranes at the top of the market.
"When it comes to lifting platforms we offer a wide variety of scissor lifts, boom lifts, telehandlers and telescopic work platforms together with JLG and other partners."
In fact, Stirnimann's relationship with Manitowoc, the manufacturer of Potain and Grove equipment, has remained close and fruitful over the quarter of a century, and a contract undertaken in September 2014 highlighted the complicated projects in which the company's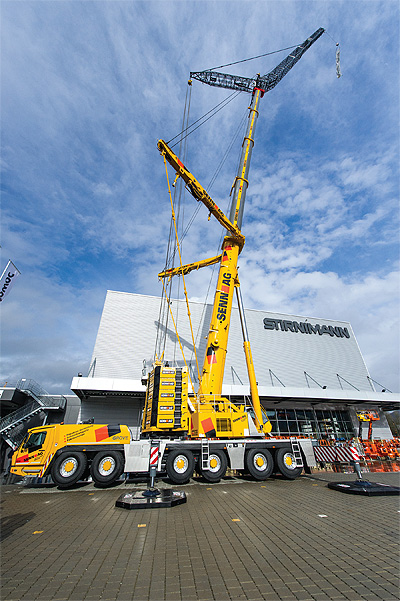 cranes are used.
Stirnimann rented three Potain MD 560 B tower cranes to main contractor Implenia, for use in the construction of an office complex inGeneva, Switzerland. The 25 tonne capacity Potain MD 560 B cranes were erected on custom-made ten metre wide bases to allow easy access for other equipment within the congested jobsite, saving time and expense on the 200 million euro project.
Stirnimann said the highcapacity crane was surprisingly compact for its size, as Fritz explained: "We worked in central Geneva near the United Nations, where space was limited and the project had a demanding schedule," he said. "We needed a crane with a compact footprint that could handle demanding loads. We designed the portal base to ensure site traffic could flow freely, so the crane gave us optimal reach and capacity without an encumbering size."
The three Potain MD 560 B arrived in April 2013 and worked at the site for 18 months. They were fitted with portal bases at Stirnimann's workshop in Olten before being erected at the congested jobsite. The tower cranes, which stood at heights of 48 metres, 68 metres and 88 metres, were building the new headquarters of an international company.
The cranes worked 11 hours a day, six days a week. They were predominantly used to lift formwork and pre-cast concrete structures. As the project progressed, the cranes placed much of the 5600 t of steel and 16,500 m2 of glass needed for the structure and façade of the nine-story building.
This project illustrates the technical capabilities of the products that Stirnimann is able to supply, and as Fritz noted, this is enhanced by its relationship with Potain, Grove and JLG: "We have long-term relationships with all three companies," he confirmed. "These are leading brands in their sector, internationally successful and with wide networks. They are offering top quality products that keep pace with technical innovation for a good value."
Having operated successfully in Switzerland for several decades,Stirnimann made the decision in 2013 to open an Austrian division, Stirnimann GmbH, which offers sales and rentals as well as assembly / disassembly and service of construction cranes under the Potain brand in close co-operation with Stirnimann AG. This new division allowed the company to reinforce its co-operation with Austrian clients and to strengthen its position with suppliers. "We started with our expansion into Austria by being a distributor for a part of the country," said Fritz. "Since January 2015 we have been a general distributor for Potain cranes in the whole of Austria and thanks to this subsidiary and a stable international network, we can offer flexibility and reliability in a fast-moving market. We haven't planned any more new divisions, as we are continuing to focus on the sustainable growth of our existing locations."
In all areas of its operations, Stirnimann strives to be the best. As it moves into the future, Fritz has a firm strategy in place to maintain its success: "We are going to focus on keeping our market position in Switzerland," he concluded. "We are also continuously developing our service and ensuring comprehensive occupational health and safety for all our employees. Furthermore, we will also be strengthening and developing our market position in Austria." Whether clients require a tower crane or scissor lift, a mobile crane or container solution, the organisation can draw on years of practical experience and continuous development in order to be able to deliver whatever its customers might be looking for.
Stirnimann
Services: Crane hire