Stobart Infrastructure owns and manages a number of infrastructure sites across the UK with a view to delivering growth, shareholder value and returns on investment
Master builders
Stobart Infrastructure owns and manages a number of infrastructure sites across the UK with a view to delivering growth, shareholder value and returns on investment
Being dubbed a 'Business Superbrand' may sound like hyperbole, but for a business such as Stobart Group it not only perfectly reflects its sheer size and scope, it is also the name of the award that it has been recognised with for nine consecutive years by The Centre for Brand Analysis (TCBA) and the independent Business Superbrands Council.
Stobart Group is a Support Services business with three key operating divisions (Aviation, Energy and Rail). It also has an Investments Division and also Stobart infrastructure which supports the operating divisions by acquiring and developing new facilities or enhancing existing owned sites. Stobart Infrastructure also manages a commercial property portfolio and through its' asset management skills, creates value for the Group.
Drawing upon a highly skilled workforce Stobart Infrastructure operates in an individual capacity on behalf of the wider group, purchasing land and commercial properties and managing them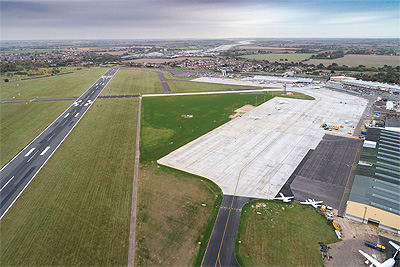 within a commercial portfolio. As part of its service offering, the company carries out facility design, planning, construction, base build, fit-out and commissioning services. Individually and together, these capabilities are essential to building and maintaining modern, high quality facilities such as airport terminals, air traffic control towers, distribution centres, cross-docks, warehousing, offices, car parking, security and welfare units.
As one can imagine, there are several good examples of Stobart Infrastructure's work to draw upon when documenting the company's activities. One such example is the work undertaken on the Carlisle Distribution Centre at Carlisle Lake District Airport. The airport itself is considered to be a key asset in Stobart Group's portfolio, with current plans for its development set to bring increasing volumes of commercial passenger flights to Cumbria and open up tourist opportunities for the stunning region that is the Lake District.
Project experience
Previously, the Infrastructure Division, in partnership with Stobart Rail, has overseen expansion works at the hugely successful London Southend Airport, which included a programme of runway expansion and the construction of a new terminal building and an on-site railway station. It was the experience the company gained from this landmark project that it was able to harness in Carlisle, with Stobart Rail managing the scheme at all stages, from project planning through to implementation. In addition to upgrading the existing runway and associated aviation areas, the company also contributed to the construction of a 310,000-square foot freight distribution centre on 21 acres of development land. Beginning in December 2014, and completed in September 2015, this £11m undertaking involved the excavation of 270,000 tonnes of material, and the use of 25,000 tonnes of aggregate, 10,000 cubic metres of concrete, 750 tonnes of structural steel, 410,000 square feet of cladding and 5000 tonnes of asphalt.
Sutton Park
Two other recent examples of projects that have benefitted significantly from the efforts of Stobart Infrastructure are the Widnes Combined Heat and Power Plant Update and its work within Sutton Park. In the case of the former, the project involved the civils package valued at £11.0m in connection with the construction and operation of a 20.2MWE waste wood biomass combined heat and power (CHP) plant and wood processing facility, the largest waste wood renewable energy plant of its kind in the North West of England.
A team of 70 men and women were tasked with both the sub-structure and superstructure works on the project, which consisted of several challenging aspects, not least of all the transportation and installation of the plant's 125 tonne boiler. This particular element required the construction of a new haul-road and the use of two 250 tonne cranes which lifted it onto four bogies that transported it to the site. A 650 tonne and 250 tonne crane were used to successfully lift it onto the frame and into its permanent position within the new biomass plant. Additional superstructure works included the incorporation of reinforced walls, precast walls, steelwork and cladding, with work commencing in January 2016 and being completed in August 2016.
Investment goals
The Sutton Park project, meanwhile, was conducted in conjunction with Stobart Forestry, which itself was involved in the harvesting of undermanaged woodland to extract, primarily, roundwood and brash. While the project as a whole is currently in its research and development phase, Sutton Park in Sutton Coldfield has been selected as the location for the first test site. The process will see material sourced and provided to specialist facilities where it will be made into pellets to provide renewable energy.
Regardless of the type of project that Stobart Infrastructure becomes involved in, its end-goal remains the same. That end goal calls for, when the time is right for Stobart Group, Stobart Infrastructure to sell off parts of its commercial portfolio. In doing so it is able to then invest the capital gained back into Stobart Group and its respective divisions. It is a model that has proven successful time and again, and will no doubt continue to do so in the years to come.
Stobart Infrastructure
Services: Infrastructure development services