A unique business model has helped Strickland become a leading UK manufacturer with a genuine commitment to its customers
On track
A unique business model has helped Strickland become a leading UK manufacturer with a genuine commitment to its customers
First established in 1945 to recondition ex-US military tracked machines for use by farmers after the Second World War, Strickland has grown to become one of the UK's most successful manufacturers of buckets and attachments supplying the excavator market. The company's history progressed as it became the UK distributor for Italian firm Berco's tracked undercarriages and in 2002 the company was able to sell this part of the business and take its extensive experience to split into two separate manufacturing companies. The first, Crawler Track Systems, is now the world's largest manufacturer of complete track systems for heavy crushing plant and the second, Strickland MFG, focuses on the manufacture of buckets and attachments.
Having achieved unrivalled success with both companies in the time since, continuous growth has prompted a recent move to expand the sister-companies' operation capacity. "Both parts of the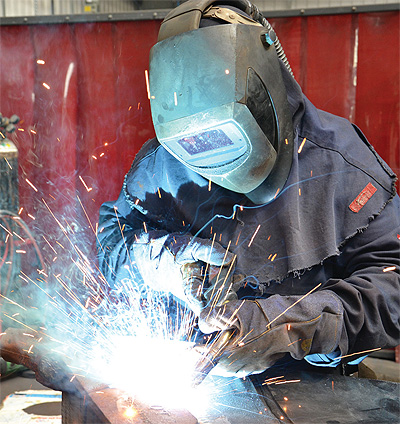 company were previously operating out of one 20-acre site near Evesham, but both of us had outgrown this facility," explains Managing Director of Strickland MFG, Ian Wooltorton. "So the buckets and attachments operations have moved out. We looked first at trying to find something ready built that would suit us, but the endgame really was to build from scratch a facility that was exactly what we required and that would future proof us. We were lucky to find a large plot of land down the road from the old facility and build a new factory with new welding and painting facilities as well as state-of-the-art offices and a stores environment. We have also been able to capture some extra land for any future expansion programmes should the need arise."
Founding this successful growth is a business plan that uniquely serves the market and allowed for Strickland to perform well throughout the economic downturn. Serving both OEMs, dealerships and the UK's massive plant hire market the company's focus is on making sure it has high stock levels available on shelf to serve demand. "We differ from other manufacturers by looking at the market place and estimating what course it's going to take over the next year in order to produce forward for that requirement," highlights Ian. "Throughout the recession a lot of our customers became stock averse so were reluctant to make huge investments into keeping a stock of buckets and attachments. However, our business model allowed them to call us up and order parts on a very quick turnaround basis, with the potential capability to provide next day delivery." With over £4 million worth of finished product in stock, over 80 per cent of orders placed in a day are capable of being shipped the same evening guaranteeing customers a more reflexive and cost effective way of supplying their own customers with products quickly and reliably. "The relationships and partnerships we have established with our customers over the years therefore makes it very difficult for other companies to compete against us," adds Ian.
Strickland's product offering provides a complete complement of products for machines ranging from one-tonne miniexcavators through to 50-tonne excavators. Amongst others the range includes: buckets, hitches, grapples, pulverisers, rippers and pallet fork attachments. "We've tried to create a one-stop-shop for buckets and attachments, and all the products are designed by our in-house team," expresses Ian.
In order to achieve this 'onestop- shop', the company is continually focused on developing new and innovative products for the market. Most recently Strickland has launched its range of S-Lock hydraulically operated quick couplers, which have been in development since 2011 and are manufactured by the company in Northern Ireland. "We've only really been pushing them over the last few months because we are now wholly confident in the product and are happy to put the Strickland badge on the side," Ian continues. "The S-Lock quick hitch is one of the most simple to operate coupler in the market place with the fewest moving parts. Alongside the ease of which the hitches can be taken apart and put together again, the few moving parts means there are less items to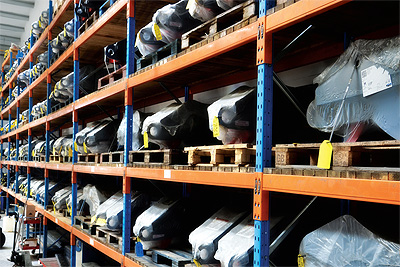 potentially go wrong so makes a very robust product, which the customer wants. We have been providing people with our buckets and attachments quickly for a while now and we noticed a bottle neck in the supply of quick hitches amongst our competitors, so integrating this product into our stock-based business model has proven very successful within the market."
Strickland's business model has proven to be hugely successful over the last few years with a significant amount of growth illustrating this. "We gained a huge amount of traction from the recession as our customer base realised the importance of trying to buy economically and we were the most competitive in the market place," says Ian. "As this growth continues and we continue to gather market share, it is a challenge to keep this under control. We don't want erratic growth – we want sustainable growth. To do this we have a structured company and add sales staff gradually so that they become part of a trained organisation with knowledgeable people working closely on how to help our customers in the best way. It is important to us that the growth doesn't impact on our existing customer base."
The success experienced by Strickland is not only down to a unique business model that serves the large UK market in the best way, but also to the service that the company offers to its customers. Whilst it focuses on growth and development, it constantly looks to maintain customer relationships to ensure that it continues to provide the service that its reputation is built on. Having spent the last year or so on moving the business to the new facility with as little impact on the customer as possible, the next 12 months will be predominantly focused on bringing the S-Lock to market successfully. In the longer term and with a wider outlook, Strickland looks to develop its US distribution office, which has been set up in Virginia since 2011, in order to continue increasing its market share throughout Europe and the USA. On a concluding point and further demonstrating the genuine commitment the company has to its customers, Ian finalises: "I would like to say a thank you to our loyal customers who have helped us move forward in the industry. Without them none of this is worth it or possible."
Strickland
Services: Attachments and bucket manufacturer