Known for its unique green branding and long-term expertise within the construction industry, strukta Group is the market leading building merchant of choice for those seeking high quality supplies and services from foundation to finish
Structured growth
Known for its unique green branding and long-term expertise within the construction industry, strukta Group is the market leading building merchant of choice for those seeking high quality supplies and services from foundation to finish
Established in 2013 following the highly successful merger of Southern Building Supplies and Coastline Building Products, strukta Group has become a leading specialist building merchant,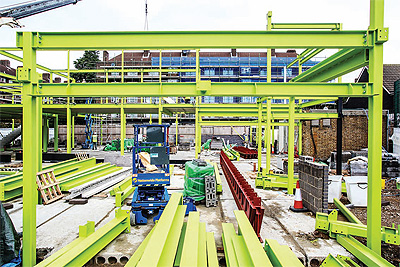 providing its growing customer base with unbeatable service and products. Discussing the background of the two firms is Myles Moggach, Sales & Marketing Director of strukta Group: "Southern Building Supplies had been in business since 1989, while Coastline began operations in 2000. With both companies based on the south coast of the UK, we had known one another for many years and felt the opportunity was there to merge and thus increase our brand presence."
Despite both businesses being successful, the two companies realised an increased market area with their product range would result in more sales within the construction industry, as Myles continues: "We felt we were constrained and seen as being local businesses, however, by creating a new brand under the merger and creating a larger organisation we could become a regional and national presence."
Today strukta Group's services are aligned with the two sides of the business, steel fabrication experts and specialist builders merchant. struktaSTEEL provides customers with exceptional service from initial enquiry through to contract completion with a dedicated steel team, has more than 30 years of experience in the construction sector, and can deliver the finest quality installations throughout London and the south of England. The specialist builders merchant offers a comprehensive range of leading brands at competitive rates, and provides a range of services to help customers across all types and size of project. For those seeking assistance, the company's struktaSUPPORT team solves issues ranging from order and quote queries, sourcing non-stock items, to scheduling services to ensure products for customers' projects are delivered in a precise and efficient manner.
"As a business, we listen carefully to what our customers tell us and use their feedback as a basis of continual improvement. Our customers rely on us and we will go the extra mile to ensure we do what we say we will, which is a brand value that runs right through the organisation. In talking to our customers, we found the best way to service them was through having plenty of communication. This was important on the structural steel side of our activities where we today provide design, co-ordination and collaboration, all the way through to assist with project management and onsite installation.
"As a specialist builders merchant, co-ordinating the supply chain is especially critical. As well as seven Trade Stores in the south of England, we deliver direct to site throughout the UK and are very proud of our On Time In Full KPI of 98 per cent. It is a great record that we work hard to maintain."
He continues: "We achieve these high results by keeping things simple and managing our supply chain effectively with a strong team in the procurement and operation side of the business. We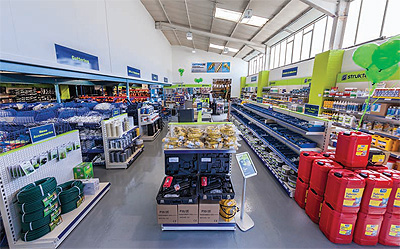 have also improved our direct to site deliveries, by offering a same day solution in addition to next day service, which was always market leading in the construction industry. As the market gets busier same day delivery means we can get products to site that can solve customers' problems quickly. We are keen to support our customers and do exactly that."
Lauren Moggach, Projects Director, adds: "One example of this is our struktaSTOR offering where we provide a fully stocked storage unit on large building sites and we replenish them as and when needed. This is just one of the ways we've used our customer feedback to innovate, and means we can be there when they need us all the way through a project. "We're currently working closely with one of our customers on a project, that involves maintaining a period frontage, whilst installing a curved steel frame to a new reinforced concrete structure in the space behind. The project incorporates both cold rolled and hot rolled steel packages, and will require careful delivery and erection as the plot is surrounded by buildings on the other 3 sides," says Lauren. "This has given us the opportunity to deliver value right through the project and we're looking forward to its successful completion."
"We are able to incorporate the building supplies part of a project and the fabrication and installation of the structural steel needed on a site too. By providing for both these sides of a development and bringing them together we provide a unique service offering," Myles confirms.
With the construction industry going through a period of growth, strukta Group is enjoying the opportunity to increase its market share as it expands across the regions and develops its reputation on a national scale. "The amount of investment that the Government is to make in the UK with additional housing developments and garden villages, for example, will provide us with some fantastic opportunities. We are also looking forward to promoting and developing our brand, particularly at the UK Construction Week Build Show in October 2017," Myles concludes.
strukta Group
Services: Steel fabrication and specialist building merchant services