SVK is one of the largest manufacturers of building materials in Europe
Strong foundations
SVK is one of the largest manufacturers of building materials in Europe
SVK stands for Service, Vakmanschap (craftsmanship) and Kennis (knowledge). We have morethan 100 years of manufacturing, supply and technical expertise and our goal is not to become the market leader or sell the cheapest products, but to offer the best products in the market at a competitive price," explains Walter Verhaert, general manager at SVK Belgium. "All activity takes place in the same site in Sint-Niklaas, Belgium, on a global surface of 1,350,000 square metres; our four main divisions are fibre cement, which includes slates, corrugated sheets and siding sheets, bricks and tiles, architectural concrete as well as insulation and gypsum products."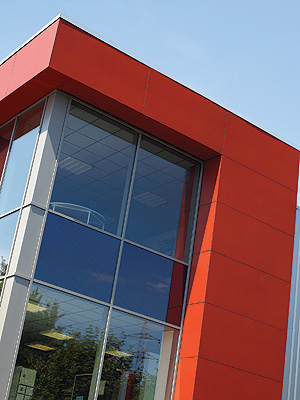 Founded in 1905 by Leon-Jean Scheerders and his wife Camilla van Kerchove, SVK began as a brick and tile factory under the name 'Pannen-en Steenbakkerijen van Sint-Nicolaas'. In 1923, the company started the production of fibre cement material and changed its name to SVK in 1928. "Later, in the 1970s, a division of architectural concrete was added with a new production line; furthermore, the selling of additional products, complementary to the existing range, was given a start up, which includes insulation and gypsum materials," says Walter.
Today SVK specialises in the production of building materials for roofing and facades, with a core focus on fibre cement materials for roof and wall applications and cladding panels becoming increasingly more important in its product range. Supplying construction firms in Belgium and across Western Europe in areas such as the UK, France, Germany, and the Netherlands, the company has its own resources for deliveries in Belgium and uses sub-contractors for other areas. "The main customers of SVK are the wholesalers of building materials, roofers and hall builders that are situated in West-European markets. Offering customer service on a permanently high level is one of our most important challenges and can make all the difference with our competitors; we know good customer service equals a satisfied customer," highlights Walter.
Aware that quality, the use of colours and a detailed finish will be influential on the overall look of a customer's building, SVK offers a spectrum of colours that can be combined in any number of ways. Boasting a wide range of creative possibilities, ornimat comes in a range of 20 standard colours, over 60 RAL colours and 16 exclusive design shades; this allows customers flexibility to experiment with colour combinations, shapes and sizes as well as offering the potential to integrate perforations. With ornimat and ornimat design, which can be made to any specification, customers can decide the exact dimensions and shapes they require. Moreover, the ornimat sheet's most important asset is the high quality of the finish achieved on the factory floor as the edges are coloured using the same quality coating as the sheet surface.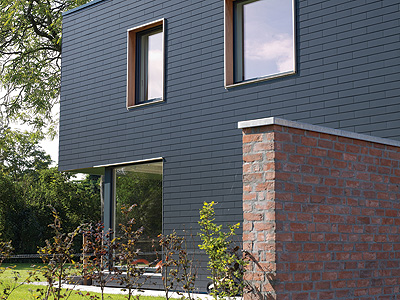 SVK's unique production process ensures ornimat offers excellent quality and strength; the product is also easy to clean and requires limited maintenance. Since ornimat is not a standard size product, the sheets are cut to size according to the customer's specification, such as sloping, curved or pre-drilled. Following this, SVK then finishes the front side and edges of the sheets. Additional benefits of choosing SVK façade panels include less construction site waste to be disposed of, immediate mounting by craftsmen following delivery, fully finished products that won't absorb moisture or dirt at the edges and no delays for manual edge-finishing.
Despite an increased focus on cladding panels, the company remains dedicated to the development of all products, as Walter elaborates: "Our company started as a brick making factory in the early 20th century and facing bricks remains important in our range of products. For that reason a complete renovation and enhancement of the kiln was undertaken recently, which should allow us to add to the existing range both in sizes and colours. From 2006-2010 SVK invested approximately 20 million euros, which has improved the general quality and outlook of our products, extended our product range and enhanced productivity. No big investments have been made lately, which is due to the slowdown in the construction industry over the last two to three years, however, we are continuously making improvements and modifications to our existing installations."
The renovation of SVK's facing brick kiln has resulted in the production of three different series of facing bricks utilising advanced technology that is based on the expertise of four generations. The series includes shades of grey, which has blue braised bricks in unique shades of grey that are available only in the exclusive, slim vechtsize; terranova, which has blue braised bricks in unique earthly colours that are only available in vechtsize, and artisan, a series of authentic facing bricks with a rugged and irregular surface and bold colour shadings. The latter is available in vechtsize and more profitable, larger sizes.
Looking ahead, the company aims to expand the façades area of the business through utilising new concrete applications that will provide its customers with more possibilities for creativity. Keen to regain some of its market share, particularly in the Belgian market, SVK has already made adjustments internally to ensure the sales team is more efficient and adaptable to the ever-changing markets. "Over the next three to five years our core business will be more important than ever and every effort to maintain and expand our position on the market will be made. We also have important properties, mainly land, that has the potential to be developed in the near future," concludes Walter.
SVK
Services: Producer & supplier of building materials