Swan Housing Association – NU living
Swan Housing Association has been providing residents with exemplary homes and communities for nearly a quarter of a century, boosted by the expertise of its in-house development company NU living
Homeward bound
Swan Housing Association has been providing residents with exemplary homes and communities for nearly a quarter of a century, boosted by the expertise of its in-house development company NU living
First formed in 1994, Swan Housing Association (Swan) today operates in East London and Essex, where it manages over 11,000 homes, and has a secured development pipeline of over 6500
homes. These future builds will be delivered using both traditional and offsite construction methods by NU living.
"Swan and NU living have a clear vision to deliver 10,000 new homes by 2027," details Paul Williamson, Managing Director – Modular Housing. "This is certainly an ambitious strategy, but it is both the collaborative approach we take and the innovation that we are applying that makes Swan stand out. We already have a secured development pipeline, and our model will see us generate over £250 million of gift aid by 2027, which will be reinvested in affordable homes and services for our residents."
Holding Investors in People 'Gold' status, and ranked 22nd in The Times 'Top 100 Best Not for Profit Companies in the UK 2018' list, Swan's mission is to deliver effective services, enterprising solutions, and exemplary homes and communities. Always looking to innovate, the company was presented with Inside Housing's 'Award for Modular Construction 2017'. "This award was in recognition of our investment of £3 million in our own factory to build modular homes in Basildon," Paul explains. "The first homes, which are BOPAS accredited, are being delivered to our regeneration of Beechwood in Basildon and use our 'NU build system' to deliver up to 100 homes a year (capacity to build 500), first here, then to Laindon Place and then to Watts Grove in Tower Hamlets."
Cognisant of the need to modernise the construction industry, Swan had already suspected that offsite development could help to deliver quality homes more quickly, and its research showed that it could create a viable factory turning out 100 homes a year (with the capacity to build up to 500 per year) using volumetric Cross Laminated Timber (CLT). Swan has also managed supply so as to harness the benefits that offsite construction can bring, thus producing sustainable homes that are greener and cheaper to heat, delivering greater time and cost savings, and achieving a reduction in defects due to high precision factory processes.
The investment in the Basildon factory will also see benefits extend to the wider region. "The £3 million that we have invested will create up to 70 jobs, helping to stimulate wider economic growth and building manufacturing expertise within the UK," Paul says. "Beechwood will fund the factory set up costs, making viable four further developments that are earmarked for modular, while the lessons being learnt are already being shared across the industry, contributing to wider sector expertise and ultimately helping deliver more homes to meet demand."
Responding to the Government's new custom-build and self-build initiatives, Swan has also successfully created a design framework for homes that residents can personalise to their own requirements and tastes. This online configurator solution allows buyers to choose from over one million configurations, including external materials, internal design, and additional rooms etc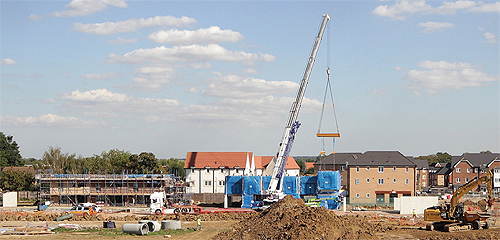 from a range of complementary options. Swan also ensures that all external materials are price neutral so that buyers are free to customise their homes without constraint. This flexibility is only possible due to the factory manufacturing process that Swan has created.
"With five starter houses to choose from, residents first select their plot and then create their new homes using our specialist software," Paul continues. "Starting with the basics such as the number of bedrooms, and the arrangement of the downstairs and upstairs plans, and the level of specification, residents then choose from a palette of external finishes for walls, roofs and windows, and even add bays, conservatories or roof extensions. By varying the building form, typology, scale and density of a proposal, we create places of different character and interest that respond sensitively to the existing landscape edges."
As one of the first housing associations to have an in-house developer, Swan is leading the way in showing that such associations have the capability to build as well. "We welcomed the previous announcement of new funding for housing associations to help build social homes, as delivered by Prime Minister Theresa May," Paul adds. "In it, she called for housing associations to take the lead in transforming the very way in which we think about and deliver housing in this country by taking on and leading major developments ourselves, rather than simply buying properties built by developers. We can proudly say that Swan does this already!"
This year, Swan's CEO John Synnuck celebrates his 50th year in the housing industry, a milestone he reflects upon while also casting an eye to the future. "I have worked in the housing sector for five decades now and my experience has shown that it is only through approaching the challenges we face with an entrepreneurial and innovative spirit, that we can deliver the significant number of homes needed to make a real difference," he says. "I do not agree that acting in a commercial way is somehow undermining our social purpose. In fact, it is only by acting commercially that we can generate the profits needed to really invest in communities to make the biggest impact.
"At Swan, we have set ourselves the target of growing commercial activity to 60 per cent of our turnover. The reason for this is because it will generate at least an additional £250 million, which will be invested in more social and affordable housing, and in services for our residents. The end result will be the power to continue to deliver successful regenerations, the likes of which are taking place in Beechwood, Basildon."
Swan Housing Association – NU living
Services: Housing association and developer