T H WHITE Installations Ltd was founded in the late 1970s, in response to a rising demand for commercial and larger scale grain handling, processing and storage projects which today is a successful brand operating as T H WHITE Projects
Reputation for excellence
T H WHITE Installations Ltd was founded in the late 1970s, in response to a rising demand for commercial and larger scale grain handling, processing and storage projects which today is a successful brand operating as T H WHITE Projects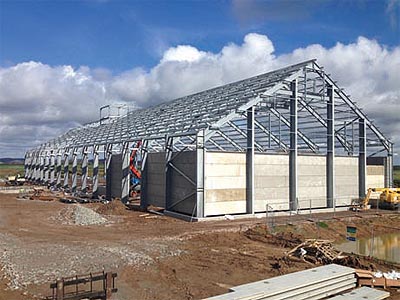 Part of the legendary T H WHITE Group, T H WHITE Projects' capabilities are split into four areas – Commercial and Industrial Projects, Fabrications, Farm and Estate Installations, and Service, and as Ken Spreadbury, Technical Director explained, these are offered from its brand-new factory and offices in Wiltshire. "T H WHITE Group began in Devizes in 1832, and we have a lot of history here," he began. "Our original office was in the middle of town where the company was first founded, but we moved out to our previous site in the 1980s, and our most recent move was in October 2016, when we built a new factory and offices to unite with the other Group facilities on the same side of the road."
The four departments highlighted by Ken work with clients in a variety of sectors, with Commercial & Industrial Projects focusing mainly on the design and construction of large agricultural and industrial plants, specialising in grain and other free flowing bulk solids handling installations. In fact, the company is one of the UK's largest independent specialist in the end-to-end design, procurement, project management, and construction of grain processing & storage facilities for the co-operative and commercial grain storage sector and is also actively involved in the Malting and Brewing, Milling, Ports and Animal Feed compounding industries.
"We are involved literally at the start of the food chain with the seed that is planted in the ground," stated Ken. "Some of our customers are involved with seed production, covering a wide range of disciplines, in terms of the cleaning, handling and drying of seeds, so in this sense we are working with customers to prepare seed before it is sown."
Once the cereals crop has grown and been harvested, then solutions from T H WHITE Projects once again come to the fore, when the grain is stored at a farm, or sent to a large co-operative. "From there it can be sold to a flour miller or maltster, who turns it into a product that is then used by the brewing, distilling or baking industries. So, in this area our customers are large commercial grain stores, and the flour milling and malting industries," clarified Ken. "With regards to milling, that can be flour, animal feed, and oat milling," added Andrew Workman, Head of Business Development at T H WHITE Projects. "Additionally we are involved at the Ports on both the import and export sides, as there are a lot of grain handling terminals in the UK."
The clients that Andrew referred to come to T H WHITE Projects not only for its exemplary service and years of expertise, but also for its flexible approach – it can work with them for the entire design and build process or it is happy to offer services at any point throughout the journey. Ken noted: "In many cases we get involved with the initial planning concept, creating and adjusting the design, and then we move to a feasibility study, where we will also look at what new technology is available on the market. We are very open to new ideas and products, and while our industry is a little bit traditional and it doesn't change very much, innovations come along from time to time so we keep abreast of these and work with clients to tailor solutions exactly to their requirements."
"Many clients know what they want to achieve, but they don't know how to achieve it, and we can help them create an efficient and valuable solution for their site," added Andrew. "We can then
assist the client with preparing documentation and drawings to go for planning approval and while that is happening, we look at the detailed design and costing, and help them with budgets."
This latter point is important; as Ken highlighted, the first concept is seldom constructed and the final solution is a balance between what is desirable and what is affordable. "Depending on the scale of a project, it can take three years or more to develop an initial idea into an end design. Throughout the process we are on the customer's side, so we accept that we have to look at all the various aspects of 'what would this be like' and 'but what it would cost', and refine the plan until we come up with the final result."
Andrew gave an example of just how flexible T H WHITE Projects can be: "We are currently working on a multi-million pound scheme and are breaking it into phases over the next five or six years so that the client ends up with the total package but the finance is handled in stages. Plus, we also appreciate the fact that in two or three years' time the business will have changed slightly so the installation won't get built in the exact way we initially planned but by working with customers in this way we can adapt and change plans rather than shoehorn components into the space possible – I would describe this as working with clients rather than for them with our eyes on the future."
Due to T H WHITE Projects close client relationships and high rates of repeat custom, the company has an established knowledge base that means it can 'hit the ground running' at the early stages with a clear idea of what could be provided. "But sometimes we get involved further along the process and are comfortable that we can demonstrate our worth to clients in the way we work and how cost effective we can be, as well as the support we can offer after the installation," added Ken. "We have been around a long time and a lot of our customers respect that and to be honest many of them such as the flour millers and the maltsters have a history that may even exceed our own! Our experience has stood us in good stead over the years, especially considering the value of trust, integrity and confidentiality on these large projects that can have a high monetary value."
While the company can draw on the support of T H WHITE Group should it be required, it also benefits from the knowledge of Ken himself, who has been with the company almost since it was created in 1978 (he joined in 1979). He has seen the business evolve from pens and paper in the drawing office to a high-tech organisation with significant in-house expertise, and his firsthand experience has proven itself invaluable, as Andrew highlighted: "When we are talking to clients initially, if you have someone with 37 years' experience as Ken has, and he says 'that is the way to do it' or 'no, that isn't the way to do it' and he can relate it to experiences he has had in the past, his advice is immensely valuable.
"A lot of the problems that clients may have are not unique and it's possible that we have come across the issue before, and can help them through it. It is a process of being able to share our experience, whether good or bad – if we used a solution a while ago and it wasn't as beneficial and efficient as anticipated then we don't want to repeat that. The process is a continual evolution."
The second area of expertise from T H WHITE Projects is its Fabrications department, which supports all this work for customers by providing the ability to engineer bespoke solutions at its dedicated new factory based in Devizes. "We don't buy 'offthe- shelf' items of equipment, and that is where we tend to differentiate ourselves from the competition," said Andrew. "Our products are bespoke – effectively non-standard or one-offs – and we are ideally set up to do that in the factory. We do offer some standard products but predominantly what we produce are bespoke fabricated mild steel items, painted or galvanised, or in stainless steel."
The factory is equipped with the latest in technology and staffed by qualified fabricators, and working together they can manufacture components and structures including large hoppers and grids,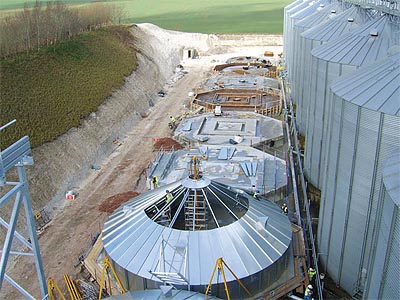 ladders, platforms and stairways, steelwork supports and structures, ductwork and diverter valves, and skid and assembled solutions, to name a few.
These products are available not only for use on T H WHITE projects but also for third parties, and this is an area the company would like to develop further: "We are keen to increase our production internally and externally, and as we have increased the size of the factory floor we have the opportunity to take on more work, as well as tackle bigger volumes and larger sizes of module," he confirmed.
Another benefit of the new factory is that Ken and his team were able to design the layout from scratch, creating the most efficient workflow and the ability to take a lean approach to manufacturing. This mentality was even applied to the move itself, which was achieved with only a one day office closure: "Moving an office and a factory included a lot of complexity and we planned it over several months, as we had to keep operating at the same time," said Ken. "On the actual moving day of the office we closed for a day, otherwise we managed to get it all transferred and still fulfilled all our deliveries, so it was a good team effort and is already proving well worth the investment."
He continued: "Another major benefit is that we're all on the same side of the road now and that means we can share technology across the different Divisions. So, for example T H WHITE Lorry Cranes specialising in Palfinger lorry loaders is also on our site, and that means we have opportunities to invest in and share technology, such as material profiling equipment or the new finished product painting booth."
The factory's products are installed in a variety of sectors as Andrew highlighted earlier, but historically grain storage and processing is where it has found most of its work.
One perfect example of a T H WHITE Projects solution is a series of installations undertaken with Camgrain. It has worked closely with the organisation over the past three decades on the design and construction of its stores, particularly at its original site in Linton, Cambridgeshire, which has seen much growth and expansion to make it a strategic part of the Camgrain infrastructure. Today Camgrain operates four Advanced Processing Centres (APCs) which all come together in one co-ordinated operating unit to centralise collections from farmers and deliveries to customers within each area.
Over the past few years, T H WHITE Projects has completed all four of these APC installations at Camgrain sites in the UK, and the latest APC to be finished could be described as a 'cathedral for grain.' It provides a combined tipping pit intake capacity of over 1500 tonnes per hour to service 90,000t of storage in both silo and on-floor bunker format. This capability is supported by multiple continuous flow dryers, pre-cleaners, and fine cleaners as well as a dedicated clean room, which provides direct store-to-mill capabilities. The already strong relationship has since been further enhanced by Camgrain's partnership with the Openfield group – and indeed T H WHITE is familiar with Openfield, as it also designed and constructed the UK's most modern seed plant in Lincolnshire for the business in 2004.
Strategically sited next to the A1 trunk road in Lincolnshire, this seed plant is based in a dual line system enabling two different products to be processed at the same time. The seed cleaning equipment includes sieve cleaners, de-awners, indented cylinders, de-stoners, and a gravity separator. Finished seed is then run through specialist chemical treaters, and in stream batch weighing equipment that is built into the bulk bag packing assembly. By any standards this is an impressive and versatile bulk seed production facility, all built neatly into a redundant bulk grain storage building.
T H WHITE Projects has been involved in many high profile and significant developments, and the high capacity intake, weighing, conveying, and integrated holding silo system it completed for Carr's Flour Hutchisons at Kirkcaldy in Scotland is another one of these. This project is central to bringing Kirkcaldy Harbour back into commercial use, and ended a gap of some 20 years since wheat was delivered to the flourmill by water.
The new harbour silo will not only help maintain employment in the Fifeshire town, but will also save some 2000 to 4000 lorry journeys a year into and out of the waterfront site. The project was designed and constructed by T H WHITE Projects and was carried out in partnership with Forth Ports as the navigation authority, with the assistance of a Freight Facilities Grant from Transport Scotland.
The projects referred to here are only a small example of the multitude of contracts that have been completed by T H WHITE over the years, but they all illustrate their technical complexity. Achieving these ambitious plans is possible only through the use of significant in-house expertise and impressive 3D CAD design facilities, which allow both the company and the customer to visualise the end product before even one piece of metal has been cut. "We have certainly embraced technology over the years and we were probably one of the first companies in our sector to adopt it back in the 1980s," agreed Ken. "It was very expensive, but we dipped a toe in early on, and we now have a team of highly skilled engineers working within our design office who can produce drawings as files that can then be loaded directly into a machine by one of our manufacturers and it will produce the holes, the lengths and everything else that is needed, without any further interpretation."
"The drawing side has gone from pens and paper on drawing boards to 2D CAD and 3D Inventor," added Andrew. "Those early solutions were 2D but 3D is a massive enhancement and advancement for any company that uses it. It helps us at our tendering stage when we are producing the initial drawings for the customer so they can really visualise what they are going to get.
"This gives the customer the benefit of fully understanding what we are designing and seeing how he is going to invest his money. It also helps further along the process with details such as choosing colours and floor levels, as well as helping reduce the risk of errors – on a 3D drawing if some items of steel are going to touch each other and they shouldn't then we will be able to see it.
"Technology also assists us by documenting all of the necessary adherence to regulation that clients and standards organisations require – we are ISO registered and we have CE marking of steelwork and all that has to be logged and followed through. We embrace technology as the world keeps moving forward and we have to move with it or we go backwards and we have no intention of doing that!"
The extraordinary attention to detail that T H WHITE Projects brings to the design and manufacture of its projects continues through the actual on-site installation, where the organisation works with a civil contractor to construct the final solution. "We usually talk to two or three civil contractors at the tendering stage, and then we will work with one of them to implement and go ahead with the whole project," explained Ken. "Sometimes it could be the civil contractor who is acting as the main contractor, and they come to us for mechanical and electrical solutions, or we may go to them and ask them to work with us as a civil contractor and we take main contractor role."
T H WHITE Projects also has its own team of installers, who work on the agricultural Farm and Estate Installation projects. "These tend to be in the Devizes area, as we prefer to serve the local farmers and estates with our own personnel," highlighted Ken. For farms and estates T H WHITE again offers advice on plant and equipment selection, as well as full engineering design, project management and construction – providing the complete design and build package from concept to completion, whatever the size of the contract. Typical projects include steel framed buildings and sheds, flat and hopper bottomed grain silos, grain driers, chain and flight conveyors, structural steelwork, grain ducting, diesel or kerosene dryer burners, electrical control panels and wiring installations, and groundworks.
"A lot of the work that we do on the farm and estate side will utilise our own teams to install and build, but of course we will work with other contractors, especially if they are already familiar with the client's systems and operation. Again it's working with the client rather than totally for them. We also get some comfort from the fact that it's someone they've worked with before, and as long as they are competent and capable then we are happy to work alongside them.
"We also support the customer, and farmer, in the longer term, through after sales and service, which is something that a lot of other people wouldn't be able to offer. Many customers stick with us and will only come to us because of the whole package we offer, which includes maintenance, winter servicing, repairs and upgrades, breakdown and emergency call-outs, safe access platforms and spare parts. They can also benefit from the other products that T H WHITE Group can provide, such as agricultural or construction equipment."
The four areas of Commercial & Industrial Projects, Fabrications, Farm and Estate Installations and Service are where T H WHITE Projects will continue to focus its attention going forward, supporting current clients and welcoming new ones. "We are dedicated to supporting the customers who have been with us for so long, and we won't lose focus on their needs. Around 80 per cent of our order book is repeat business, so we need to be sure to maintain that and support those customers," said Ken.
He continued: "We have a good dialogue with our long-term customers, to the extent that they would give us a heads up on what might be coming up in the future. We appreciate knowing if a large development might be on the agenda for the next two or three years as we would make sure we create the space in our schedule so we would be able to jump on it when they needed us.
"But we also welcome working with new clients and some in new industries. We are always open to getting involved in projects that are allied to the industries that we serve. We have a lot to offer different customers, so for example; we recently ran a project involving waste processing. We find that sort of project interesting and it builds our varied skills sets to widen our industry sector capabilities – it's not an every day issue but when it comes along we want to be there."
"We also have a new website being launched in the second quarter of this year, which will enhance our presence in the UK," added Andrew. "This is an important development for us and it will highlight a lot of the activities we are undertaking across the different industries as well as promoting products too."
From speaking to Ken and Andrew it is very clear that T H WHITE Projects is heading into 2017 with a solid plan for growth, thanks to its new facility, customer philosophy and a willingness to embrace new technology. It's a philosophy that permeates the whole of today's T H WHITE Group, whose purpose has been resolute since it was established in 1832 – 'to get the best from innovation using ingenuity and know-how to support livelihoods through generations.'
With an annual turnover in excess of £140 million and employing more than 500 people, the T H WHITE Group has wellestablished supplier relationships with world-leading names in agriculture and construction, including New Holland, Case IH and Manitou, Palfinger lorry cranes, plus Ransomes and Jacobsen in the leisure and municipal grounds care businesses. In the automotive sector T H WHITE operates the UK's first purpose-built Fiat Group Brand Centre, dealing not only with Fiat and Fiat Professional (commercial) vehicles, but also Alfa Romeo, Abarth and Jeep.
It is this very diversity and cross-fertilisation of thinking that makes T H WHITE so effective at supporting customers across a wide range of activities, but as Ken Spreadbury concludes: "Its dedication to the agricultural and food chain industry goes back a long way and that is how it will stay – its clear direction has steered the organisation since it started as an ironmonger and it remains the same today."
T H WHITE Projects
Services: Procurement, project management and construction of grain processing and storage facilities