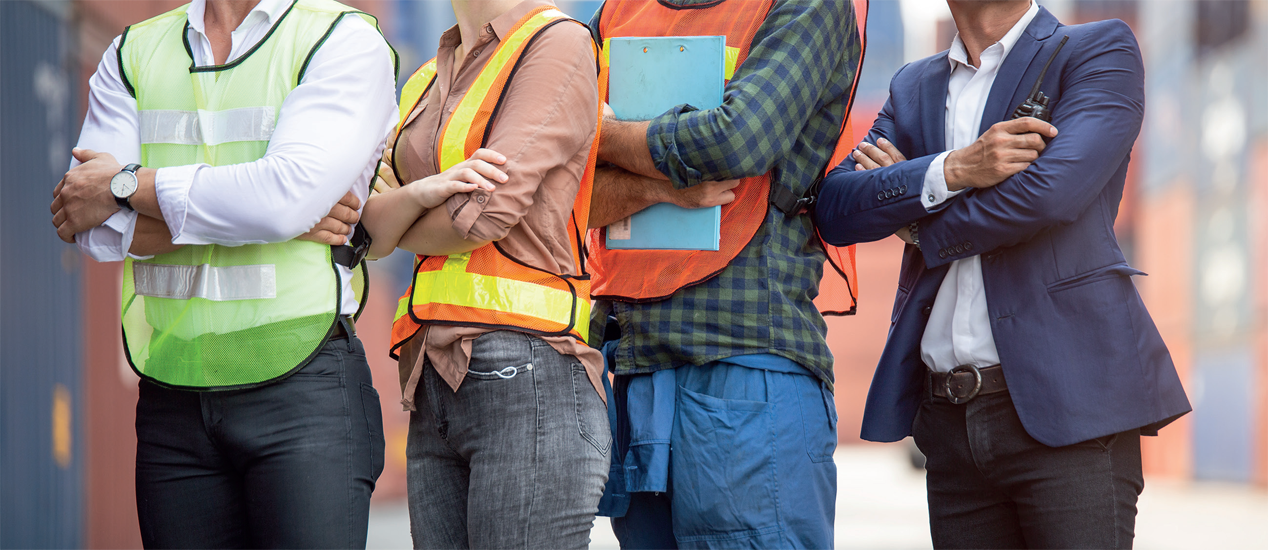 Building the construction workforce. By Michelle Essen
Ayear ago, our world as we knew it was turned upside down by the coronavirus pandemic – the construction industry rose to the challenge, was quick to adapt, and worked hard to carry on working.
But one thing that the industry has struggled with for some time, and continues to struggle with, is a labour and skill shortage. And, with Brexit and the new immigration system, we are likely to see a reduction in the number of available EU national workers that the industry has traditionally relied upon.
A shortage of labour and skills is problematic for a number of reasons. It affects construction businesses' ability to complete projects on time or to take on new work, which can be vital to cash flow and the survival of the business. It can also mean the cost of labour goes up (with increased wage levels plus additional costs for recruitment and training), and this can impact on the cost of delivering projects and on profit margins which can already be very slender in the industry.
However, there are some practical steps that employers and contractors can take to mitigate these risks.
Be Brexit-proof
Office for National Statistics figures show that up until now over nine per cent of the UK construction industry workforce has been EU nationals – and this is higher in London at 30 per cent. With the new points-based immigration system there is more paperwork such as visas; longer lead times for arranging labour which can create delays; and increased costs – for example, a medium/large company looking to cover all fees for a single migrant worker over a five-year period could face immigration costs of up to £10,000.
What can you do? Review your labour and skills requirements – really understand what projects you have coming over the horizon and start planning your workforce early to factor in those longer lead times. Review your recruitment processes and make sure they are Brexit-compatible by ensuring you understand and can implement new visa criteria and processes. Take account of any additional workforce costs in your project planning and budgeting.
Be reflective
When work is busy, it's hard to find time to take a step back to see the bigger picture. But over the last year, the industry has learned so many lessons. By taking even one small efficiency and replicating it over a number of projects, there can be significant savings or advancements.
What can you do? Take time out to understand lessons learned by the sector during the pandemic. Some construction companies have found that by carefully planning and reorganising their programmes and how some jobs are carried out, and by being more focused on critical path activities, work could still be carried out efficiently and effectively, even with fewer workers on site than normal.
The post-pandemic rise in technology take-up and use has changed the way in which manual roles are carried out too. For example, drones are being used for site inspections, 3D modelling, volume measurement and topographical surveys, and are predicted to fulfil an essential role in construction companies in the future. This can save on labour requirements – but does also mean that a new set of skills is now required for the industry, so consider planning and budgeting ahead for this too.
Similarly, there has been increase in the use of offsite, modular construction during the pandemic, which again requires developing design skills and logistics expertise.
Think apprenticeships
The UK has an increasingly aging population – this is mirrored in the construction workforce, and will impact on available labour and skill levels in the longer term. However, apprenticeships can help construction companies bring in new talent.
We've recently discussed this with Midas Group, which uses apprenticeships to support social mobility and widen routes into the industry. Midas has developed its own comprehensive LAUNCH programme, which supports all its apprentices and graduates through their first year of employment and ensures a more effective group of new starters – and Midas says the programme is proving successful in generating high engagement and retention levels and laying the foundations for successful careers within the industry.
Thomas Tucker is Trainee Quantity Surveyor for Midas Construction in the Wessex and Wales area. He is currently working on a 638-bed student accommodation scheme at Swansea Waterfront. He told us: "Midas Construction has provided me with unparalleled experience over the past four years, alongside supporting me through my bachelor's degree in Quantity Surveying and Commercial Management. I have worked on projects in excess of £28m and projects under £4m varying from residential to commercial builds; giving me the diverse and essential training required to be successful within the construction industry. I have been able to work, learn and earn under Midas's trainee scheme and would recommend it to any young apprentice looking for a role in construction."
Be more balanced
Construction is a male-dominated industry. But figures from Statistica on the number of people employed in the UK construction industry show us that more women have become part of the industry over the last 15few years. In Q1 2016, there were 2,002,000 men and 270,000 women employed in the UK construction industry – whereas in Q2 2020 the figures were 1,939,000 men and 298,000 women.
This equates to a 10.3 per cent increase in the number of women working in the industry between 2016 and 2020 – with women making up 11.9 per cent of the workforce in 2016, increasing to 13.3 per cent in 2020.
It is great to see more women becoming involved in the industry – it creates an open, diverse and inclusive environment resulting in increased productivity, improved staff retention and different ways of thinking – and according to WISE's analysis, "there is a correlation between STEM companies having more women on their boards and their reaching the FTSE 100".
But also, from a practical perspective, encouraging more women into construction will go some way towards tackling the labour and skills shortage.
What can you do? Consider how your workforce is made up – and whether any shortages or gaps can be filled differently, whether there are barriers to women joining you (such as the available facilities) that can be easily addressed, and what plans you can put in place to recruit new talent from this group.
Michelle Essen is Managing Associate at Womble Bond Dickinson, a transatlantic law firm with more than 1000 lawyers based in 27 UK and US office locations. Its projects, construction and infrastructure team advises public and private sector clients across a wide range of industries on all aspects of capital projects from inception to completion, through to the operational lifecycle of an asset, including front-end contract strategy, project documentation, regulatory matters and risk management.
For more information, please see www.womblebonddickinson.com/uk