Plant distributor, Taylor and Braithwaite, proves that organic growth and solid service can be a winning formula to expand in today's markets
Planted success
Plant distributor, Taylor and Braithwaite, proves that organic growth and solid service can be a winning formula to expand in today's markets
Taylor and Braithwaite can trace its roots back to the 1970's when Harold Taylor and Trevor Braithwaite started buying and selling second hand agricultural equipment to local farmers. Since then the company has grown to take on new machinery, and now 90 per cent of the company serves the construction industry as a major UK franchise of Hyundai excavators. Working from its site in Cumbria, the company employs around 20 people at present with operations split across sales and aftermarket services. Organic growth sits at the heart of the company's strategy as it focuses on making the most of opportunities that open up. This steady and natural expansion means that whilst Hyundai remains the core business, the company has started to develop a diversified range of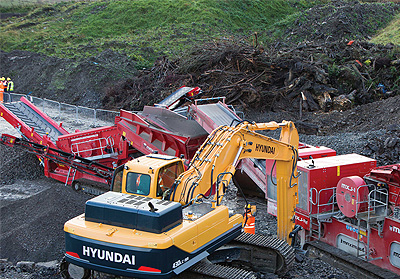 products to serve a large section of the market. The current portfolioconsists of Hyundai, Maximus, Wacker Neuson, ProDem, Yamaha ATV, Viking, Stihl and Kranzle allowing Taylor and Braithwaite to offer products to a broadening range of construction, demolition and quarry industries among others.
Taylor and Braithwaite's relationship with Hyundai is an integral part of the business. "We are building a very strong longterm relationship," sales director, Ian Burton, tells Construction and Civil Engineering. "It's a considerable part of the sales volume for the company." During the recent UK recession companies were not looking at taking on new brands or expanding their product ranges. Taylor and Braithwaite had the vision to see the potential in the Hyundai brand and the lack of any other distributor in the area meant that the opportunity was there to establish this relationship. Since then the company's sales of Hyundai products has helped to establish them as one of the top distributors in Europe. Last year saw the business sell 140 new Hyundai machines in what Ian referred to as "an exceptional year." When it took the brand on Hyundai had 1.2 per cent market share in the UK, today this is at ten per cent where the market leaders occupy 16-17 per cent. As Ian explains: "Hyundai is starting to come onto the radar of some of the major players. The market is becoming more competitive as Hyundai are now being seen as a threat."
Commenting upon what gives Taylor and Braithwaite its competitive edge within the market, Ian says: "I'm fully aware that anyone can go anywhere and buy a machine. Our strengths are in customer service and decisionmaking. If a customer has a problem they can speak directly to a director within the company seven days a week, and we can make decisions there and then to get it sorted."
Riding the success of its relationship with Hyundai, the company is currently focused on expansion, and the diversification of the product range is central to this strategy. "A lot of the customers we are selling excavators to are dealing with a lot of other products. I felt that if we've already got this relationship with the customer who knows how good our service is, why don't we try and offer them more. It was a natural progression to move towards a 'one-stop-shop' business. We're not there yet, but it's part of trying to grow long-term relationships with customers who know and trust us. We're trying to make it as easy for our customers to do business," highlights Ian. Now Taylor and Braithwaite has a product range that includes demolition and recycling attachments from ProDem, site dumpers, telehandlers, compaction equipment, lighting towers and water pumps from Wacker Nueson, and crushers and screeners from Maximus.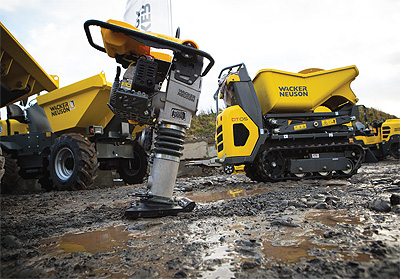 In the last financial year, which starts in November for the company, it saw an increase in sales from £10 million to £14 million with excavator sales up by 40 per cent, suggesting that diversifying the range is having a positive effect. As it experiences this growth the company is expanding its facilities and work force, it has recently built one additional building on site and has planning permission to extend its workshop. It is also looking to recruit additional sales people as demand grows. "I would like to say we are organically growing," Ian expresses. "We are not working towards recruitment targets, as needs must we are taking on more people." The same strategy can be applied to its approach to entering new markets, taking them on as opportunities arise. For example, by selling excavators to quarry sites it was encountering customers who also use crushers and screeners, thus prompting a move to set up a Maximus franchise. "Additionally, forestry is definitely looking like an avenue that we would like to expand into. We do a lot of forestry adaptations for machines, which is picking up at the moment," explains Ian.
This year, sales are continuing to steadily grow for Taylor and Braithwaite, although sales aren't at the same level they were this time last year. Ian believes this is down to a shortage in qualified operators in the industry. "If we could grow drivers we would sell more machines. I personally put the labour shortagein the industry down to the recession when companies stopped employing apprentices. If they had continued to do so those guys would have three or four years experience and there would be a higher level of qualified operatives on site. The problem in the industry is that it's lost five years worth of training, and this is now starting to have an impact on sales." Despite this challenge, however, the company is positive about the future and growth levels are still increasing.
"We're expanding quite nicely here and there," concludes Ian. "In the next 12 months I'd be looking to establish the crushing and screening part of the business to get that up and running and bringing in some volume. In the next three to fiveyears we're looking at a 30-35 per cent increase in sales." In terms of market share for the Hyundaibrand the aim is to maintain the current position in the market, nextgeneration ranges that are being launched later this year should help the company to do this. Ultimately, with a continued commitment to natural growth and providing high standards of service and aftermarket care, Taylor and Braithwaite looks set up to achieve success over the coming years.
Taylor and Braithwaite
Services: Plant sales