With a strong approach to health and safety, collaboration and providing a complete service offering, Taziker Industrial is experiencing rapid growth
Repair and protect
With a strong approach to health and safety, collaboration and providing a complete service offering, Taziker Industrial is experiencing rapid growth
Founded in 1994, Taziker Industrial has expanded its services to offer a single point of contact for the refurbishment of steelwork structures. Having received its first two framework contracts from Network Rail for CP5, the company is well on its way to achieving its ultimate goal of becoming the contractor of choice for structural strengthening and refurbishment schemes across a variety of demanding industries. Not only can its success be put down to a mixture of organic growth and acquisition, but also to its high delivery record and health and safety standards, which has rewarded the company with a strong and robust reputation.
Where Taziker Industrial really stands out within the industry is in its service offering. The company now has a multi-disciplinary service offering of steelwork fabrication, strengthening and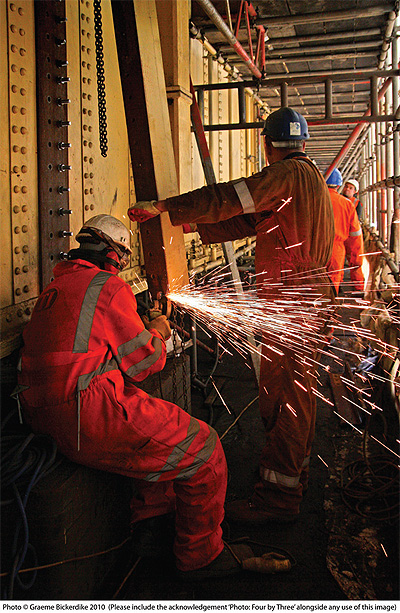 repairs, scaffolding access and surface preparation and protective coatings services. These services are complemented by also offering masonry, minor civils and scour protection works, all delivered utilising their directly employed staff. Adrian Calder, National Sales Manager, explains: "Clients aren't having to manage a number of sub-contractors on site, which will increase their preliminary costs and project management time. With us they have one point of contact who can deliver everything in relation to the scheme in house."
Complementing this are the strengths of its knowledge and customer service commitment. "We are a very niche and specialist company. Bridges form a large part of our work but we are delivering works on a wide range of structures across multiple industries," Adrian continues, "No two structures are the same and we are strengthening and repairing them all year round. Therefore, the knowledge and forward insight that we have into the problems that we're going to come up against is a massive strength. We are focused on forming long term partnerships based on trust. Our business does not foster a culture of being commercially aggressive, we work in collaboration with our clients to come up with the best design and delivery solutions. We're not afraid to challenge and put our opinion forward from our experience to achieve this."
Serving to exemplify Taziker Industrial's competence and reputation within the industry are a number of successful projects. Most notable and recent is the completion in June 2015 of the refurbishment to the Royal Albert Bridge in Plymouth. By far the most extensive refurbishment work that has been undertaken on Brunel's last major civil engineering project in its 156-year history, the company has undertaken a full scale steel strengthening and protective coating project, along with scaffolding access to the Grade I listed bridge. "It is of unbelievable importance to the local community and it has iconic status in the South West as a beacon of engineering excellence," comments Adrian. "The multi-million pound project has lasted for three years. The protective coating system will mean that Network Rail won't have to go back to it for any major maintenance for 25 years." Taziker Industrial received the STAR award for Health and Safety from Network Rail and also the prestigious Platinum Badger award. This is the highest accolade for Network Rail suppliers displaying excellence in quality, safety and environmental protection on the Western Route, which had previously only been held by major contractors on Crossrail and Reading Station projects. Extending the work at Plymouth, the company has also been awarded a three-year contract for the Tamar Road Bridge, which runs parallel to the Royal Albert Bridge.
In addition to this Taziker Industrial has also been involved in the refurbishment of the Tay Rail Bridge in Scotland, Europe's longest at over 100 spans. "We competitively tendered phase three and were awarded the contract to refurbish spans 12-27 and 80-83 of the structure with scaffolding access, steelwork and grit blasting and protective coatings works. Phase three was a multi-million pound threeyear project. After successfully completing Phase three, we have been awarded the fourth and final phase which will see our work extend to refurbishing the central high spans of the structure. This scheme, which has two years left to run, is the largest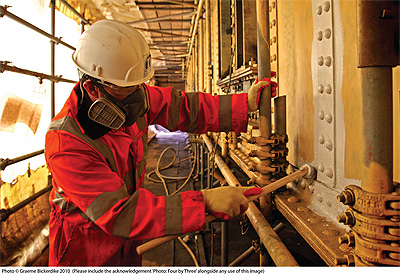 contract, by value, we have ever undertaken," says Adrian.
In August 2014, the company was awarded its first two Network Rail frameworks for CP5 in Scotland and the London North- East region. To accompany this, Taziker Industrial has developed a notable commitment to collaboration to also act as a tier-two framework contractor for other tier-one contractors of Network Rail. "Now we're moving into frameworks, it gives us that long-term view and the ability to plan and invest; invest in our people, plant and processes. This investment will allow us to continue to meet and exceed our client's expectations," says Adrian commenting on the importance of these guaranteed work banks.
Where Taziker Industrial also excels is in its innovative approach to health and safety. "It is absolutely at the forefront of everything we do, getting all our people home safe everyday is vital to us, and we have a very good record of that," highlights Adrian. In accordance to its collaborative approach to the industry the company focuses on cross industry fertilisation initiatives to share best practice, provides behavioural safety coaching to all employees from CEO down and has utilised technology to improve safety efficiencies across the site. Not only has it developed a Sharepoint system for site managers and internal support staff to keep track of site hazards, but on-site staff also have access to a specially developed and unique app, which allows them to quickly report on anything from poor housekeeping to potential slip, trip or fall hazards. This eliminates the laborious task of reporting and form filling, which could potentially lead to hazards being neglected.
The UK's current investment focus on infrastructure paints a positive picture for the future of Taziker Industrial, and with frameworks in place the company is very much focused on investing in its services and people to ensure that it is best placed to capitalise. Recent successes show that it has the ability to respond well as it has appeared in Greater Manchester's Fastest 50 and the Sunday Times Profit Track 100, both representing the fastest growing companies in terms of profit. With the long-term view of becoming the preferred contractor of choice, either in a tier one or two capacity and to secure more frameworks. The company is very much focused on expanding its service portfolio to complement its current offering across all its markets. In order to achieve this it isn't ruling out future acquisitions, but is also focusing on investing in its own staff and increasing its collaborative relationships across the industry as it works to achieve BS11000.
Taziker industrial
Services: Structural strengthening and refurbishment services