Offering a complete precast solution, from design through to manufacture and erection, Techrete has contributed greatly to the advancement of the precast sector, helping to deliver a host of complex architectural projects in the process
A flair for the unique
Offering a complete precast solution, from design through to manufacture and erection, Techrete has contributed greatly to the advancement of the precast sector, helping to deliver a host of complex architectural projects in the process
Founded in 1985, Techrete is this year celebrating its 35th anniversary. Expanding in its early years by acquiring and developing the crafts and skills of pre-existing precasting companies such as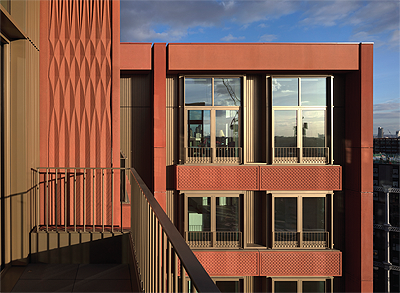 Roecrete in Ireland, and Empire Stone and Luda Products in the UK, it has since established itself as one of the market leaders in designing, manufacturing and erecting architectural precast cladding. Able to provide panels and units in a large range of bespoke sizes, shapes, textures and colours, Techrete has amassed an award-winning portfolio, being involved in countless projects, including the Dundee V&A museum, Lombard Wharf in London, the Tottenham Hotspurs Stadium in London, 2 St. Peter's Square in Manchester, Tapestry Kings Cross in London and Victoria Gate in Leeds.
For Techrete Chairman Marcus Sweeney, there are three specific events or periods of time that have helped shape it into the company that we see today. "One key event occurred in the mid-1990s, when we acquired Luda's defunct concrete manufacturing base at Brigg in North Lincolnshire," he explains. "Initially, we had designs on using this site as a storage yard, however we very quickly restarted manufacturing there, and now it remains our largest facility, spanning approximately 12,000 square metres.
"A little over a decade later, in 2007, we took our next step along our growth journey by moving from our previous base close to Dublin into a brand new, world class, state-of-the-art green field facility in Balbriggan, Co Dublin. More recently, the development of Techrete has been aided no end by the efforts we have made in building up and investing in our people. As well as devoting more time and resources to the training of our existing team, we have also hired in individuals with highly specialised skills and expertise, and this is helping to shape the future of the business."
Continuous investment
Techrete is clearly continuing to thrive, but what makes this business special in its ability to prosper where others will inevitably have failed in the last three-and-a-half decades? "For the vast majority of those businesses that have come and gone, it has been the failure to invest that has been their downfall. We have been completely the opposite, in that we continuously invest in the company, whether that be into our facilities, plant, machinery or people," Marcus continues.
"We are also unique in that we are essentially three businesses in one. In addition to being an architect/engineer, we are also a successful manufacturing entity and a building contractor, and this means we can provide a complete cradle-to-grave offering," he adds. "Above all else, however, it is our people who are our greatest asset. A great piece of advice I once received was that, while you can buy any piece of equipment, you cannot buy the people, and this has certainly proven to be true in the case of Techrete."
Every project that Techrete undertakes is unique, which means that every element it makes is bespoke to a particular location in a building and is made to order. As Marcus rather accurately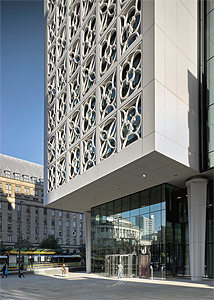 intones, the company is one that specialises in the unusual and takes on work that others would simply never attempt. A prime example of said work would be that which was carried out on the Dundee V&A, where Techrete designed and installed the precast planks on what was an incredibly complex frame.
"A huge amount of R&D and prototype work was required at the front end to develop the elements needed to meet the vision of the architect of this particular project," Marcus details. "The very nature of the Dundee V&A building, with its challenging geometric properties, meant that we had to really push the boundaries of Building Information Modelling (BIM) to execute the work, and we certainly learnt a lot from our time on this project. In the case of most of the work we undertake, we are endeavouring to fulfil the artistic goals of the architect in question, and the Dundee V&A is a great example of our efforts bearing fruit."
Another case of Techrete successfully delivering an exceptionally challenging project would be that of the Victoria Gate shopping complex in Leeds. Here, the company completed the striking three-dimensional precast façade of the building. "Once again, the geometry of this building provided us with a unique challenge to overcome, as did the fact that it required a mix of acid etched and polished concrete to be used across the same units," Marcus says. "The delivery of this, the Dundee V&A and numerous other contracts demonstrate how we are constantly pushing the envelope of what is possible to achieve with precast cladding."
Smooth transition
Looking to the immediate future and what that holds for Techrete, it would be hard for its plans not to be impacted – and least in part – by the UK's exit from the European Union, particularly with the company having manufacturing sites on both sides of the Brexit divide, as it were. As part of its preparations for Brexit, which began well over two years ago now, the company received confirmation in August 2019 that it had been approved by HM Revenue and Customs and by Irish Revenue as Authorised Economic Operators (AEO). Under this certification – as defined by the World Customs Organization (WCO) – Techrete will be offered Priority Customs Clearance, making the customs process quicker and simpler, as well as other benefits.
"Obtaining AEO status forms a key part of our strategy to try and achieve a smooth transition through the whole Brexit transition period, during which time we are determined not to lose sight of the fundamental strengths of our business, such as our R&D work," Marcus reveals. "We don't subscribe to the idea that big is necessarily beautiful, so mega growth is not what we are striving for. However, we will experience organic growth in the future, which I believe will take us from being a €50 million to a €70 million business in the next three-to-five years. This will come as a result of sticking to the qualities that have served us well for 35 years, and involves taking on unique, unusual projects that are never the same."
Techrete
Products: Architectural precast cladding