Terex looks forward to a strong year of growth with a number of new model launches, innovations and market leading solutions
Driving forward
Terex looks forward to a strong year of growth with a number of new model launches, innovations and market leading solutions
When Construction & Civil Engineering last spoke with Terex a year ago Mark Royse, Product Manager, talked about the numerous changes and developments within the company's product line that were helping it to secure its position as a leader in  the global construction market. Twelve months on and the same positivity is notable from the firm, which now employs 560 people at its Coventry site – an increase of 140 since this time last year. "We certainly saw strong growth throughout 2015 and we have brought more people on board to support this," begins Mark. "In fact, we almost grew volumes on certain lines by around 45 per cent."


Mark attributes this prosperous year of growth to rising construction demand across the global marketplace, as well as a successful first year delivering a private labelling site dumper agreement for another leading equipment manufacturer. However, it is also fair to say that Terex's approach to the international market, its ability to innovate and its wealth of in-house expertise have also contributed heavily to such marked growth. Allison Tucker, Marketing Manager at Terex GB, points out: "Our manufacturing site here in Coventry supplies globally and the beauty of this means when some markets are declining, there are always other markets that are growing, so we can focus geographically in terms of where we see growth potential."
Despite Terex's global operations being headquartered in the United States, the GB-based business has a high degree of autonomy that allows it to react to market trends and develop strong innovations quickly and effectively. Everything from engineering and production to product management and design is held in-house in the UK and Mark notes that within this further degrees of autonomy allow each division to make quick decisions and be reactive in the market place. "We are essentially fully sufficient with all our resources held locally. Be it engineering facilities, production systems, purchasing, marketing or sales – they are all under one roof," he says. "With these short communication channels comes improved flexibility and market responsiveness."
"High quality levels are also a key strength of ours that stems from this in-house expertise," continues Allison. "With everything being engineered and manufactured here within the factory there is a real sense of pride, involvement and expert craftsmanship."
From this expertise arises Terex's keen approach to innovation and continuous product development. "Innovation is hugely important to our business and our need to stay at the forefront of the market," Mark expresses. "Our key opportunities come from looking at the market spaces that aren't currently occupied and seeing how we can fill them with new models and features." Over the course of 2015, innovation greatly contributed towards company performance – completing the successful transition of its largest site dumper range from Tier 4 Interim to Tier 4 Final emissions standards, which were achieved with a solution that doesn't rely on exhaust after-treatment.
Demonstrating the continued commitment to innovation, early this year the company will be releasing a new power shift transmission solution for its nine and ten tonne dumper range. "This will also be released with two technology solutions," Mark explains. "One is Autoshift, which is a software solution that will automatically change gear for you based on the torque demand from the engine. It is able to sense if the machine is laden or not and make decisions accordingly at the point it changes gear. This isn't something that has appeared on site dumpers before and is an in-house development. The other innovative solution is Start-Stop technology, which will save fuel, extend service life and enhance residual values by reducing machine hours. Again this is new for dumper applications, has been developed in-house and has been granted patent-pending status."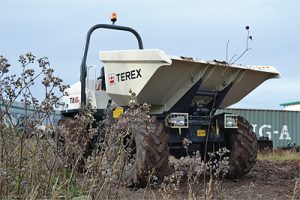 One of the major product releases anticipated this year is the new series of backhoe loaders, due to replace the current 820 range in the European market in the spring. "Last year we launched the centre-mount 840 R product, which was developed as a rental spec back hoe loader for the North American market, which did well in supporting volumes last year," says Mark. "We are now working on an equivalent offering for Europe and the Rest of World, which will feature a side shift option."
In addition to these innovations, the company is also working on new telematic solutions for its compact construction products and will be bringing to market a new nine-tonne swivel dumper later on in the year. The landing stage for such product arrivals will be Bauma, which will be held in Munich during April 2016. Allison comments on the importance of the show as an ultimate showcase of Terex's wide-reaching range of products: "It gives us a really good opportunity to meet with dealers and engage with their customers all in one go on an international basis. Engaging with the end-customer is something we want to do more and more of."
As the company continues to drive innovation into the world's construction market and is being rewarded with successful growth accordingly, the future for Terex will be focused on capitalising on these opportunities as best as possible. "Our dealer network is a major part of the business model as well, so addressing market growth and increasing our strength and presence in certain markets through the appointment of the right partners is key," continues Allison. "Therefore, we will be working with this network to provide the right products that are suitable and profitable for their individual businesses. This has been complemented by a restructured sales organisation whereby we now have regional business managers responsible for all business in that region, overseen by a head of sales operations."
With this in mind it is clear that the future for Terex is bright. Continual product development and their subsequent launches will be a key part of its journey as it looks to further cement its leading position in the global market. As too will the company's ability to expand and adjust its operations in order to best serve the rising demands and ever changing needs that present themselves in the international construction industry as well as supporting new and existing customers with an improved aftersales service. In the culmination of these core strengths and improving market conditions, 2016 looks set to achieve much of the same defining success that has driven the company forward throughout its history.
Terex
Services: Leading manufacturer of civil engineering plant equipment