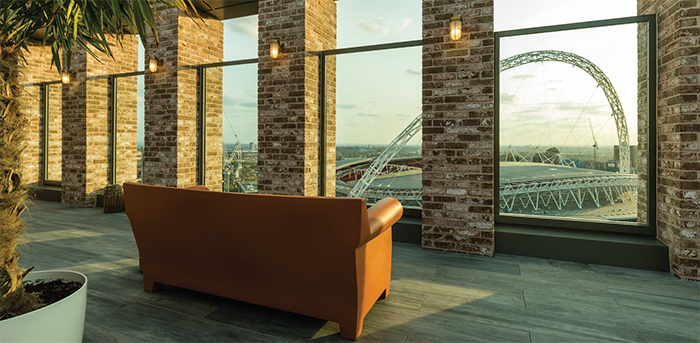 The £227 million extension to Wembley Park – and the construction company behind it
Care, integrity, and excellence
It's been over 160 years since family-owned business John Sisk & Son (Sisk) was founded in Ireland. Today, the company is active on construction and civil engineering projects across the UK, working for a range of large public and private sector clients, and has developed its presence across Europe, providing construction and fit-out projects in the data centres, life sciences, and retail sectors, among others. The company boasts 1900 employees across a network of regional offices, with premises in St. Albans, Solihull, and Warrington, and has also recently expanded into new locations: in Central London and Leeds city-centre.
Despite its history, however, Sisk sits within a rapidly changing industry. Technological advances – combined with a growing push towards sustainable construction methods – are forcing companies to evolve. For Ger Hayes, Managing Director, UK South at Sisk, it's crucial to be at the forefront of that change..
"We've successfully expanded our growth in the UK, Ireland, and Europe across key markets, and that growth is getting stronger, as can be seen in the group's excellent financial performance in its latest results," Ger tells us. "Sisk has the track record, scale, and capacity to successfully undertake large, complex, multidisciplinary programmes, aside from residential, and we are recognised by our global customers as world leaders in safe and effective delivery.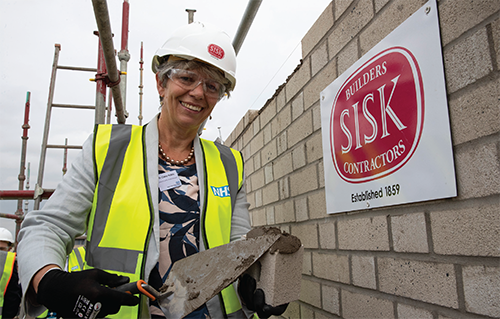 "Now, we want to be at the forefront of transitioning the industry towards becoming a more sustainable, productive, and inclusive industry for all," he continues. "Our 2030 Sustainability Roadmap targets include employing data apprentices and enhancing data analysis. Meanwhile, our Digital Twin Whole Project Lifecycle offering allows Sisk, working in collaboration with our supply chain, to provide our clients with an array of tangible benefits that go way beyond the certainty of delivery during the construction phase. We strongly believe in our vision, capability, and commitment to driving this technology forward for the industry with a view to continuing to unlock significant additional value for all our key stakeholders."
It's been a turbulent few years for Sisk, and for construction more broadly. Like many, the sector was hit hard by the Covid-19 pandemic, with travel rules and restrictions, as well as social distancing measures significantly reshaping ways of working across the country. But for Ger, it was a period that demonstrated Sisk's "resilience, empathy, and evidence-based leadership" in the face of adversity, and which saw the company continue to hand over projects in line with revised programmes.
The brunt of the pandemic having now passed, Sisk is in good shape. The company boasts a strong pipeline of work, and recently announced the extension of its work on the Wembley Park development in London until 2025. The company has been involved with the project since 2004, when it struck an agreement with the developer, Quintain. Now, after completing ten projects worth more than £813 million, Sisk has successfully delivered over 2000 homes for the community at the dynamic 85-acre regeneration scheme. Crucially, however, the project is also a testament to Sisk's capacity for innovation.
"The Wembley project, and the Eastern Lands phase in particular, has been a particular hotbed for new technology for us in the UK," Ger reflects. "By leveraging 4D and Digital Project Delivery (DPD) with tools such as BIM360, we ensured the sequence and methodology we planned in the virtual world back in 2016, was exactly what we delivered in the build phase. It's meant that we've been able to deliver an array of complex high-rise residences on-time and to-budget – an even more impressive feat considering that the pandemic struck about 70 percent of the way through the completion.
"In the next phase, North Eastern Lands, we've pushed the limit of design even further, with the largest amount of DFMA off-site that we've ever designed into the delivery of a residential project," he continues. "This approach has led to increased sustainable credentials, driving value through platform design for our client. It has also been a key factor in being able to sign a contract in August 2022 in an incredibly volatile market, coupled with early engagement with our client's teams, cultivating transparency and a fair allocation of risk."
At £227 million, the extension of the Wembley Park project represents Sisk's single-largest construction contract to date, and is set to deliver 769 homes across two new residential building plots. "The completion of the two buildings, covering 9593 metres in total, is expected in early 2025, with 74 per cent of the homes to be build-to-rent alongside over 100 affordable homes of mixed tenure," Ger reveals. "It's a landmark contract signing, and a credit to our success at Wembley Park alongside Quintain over the past 20 years, as well as our continued momentum."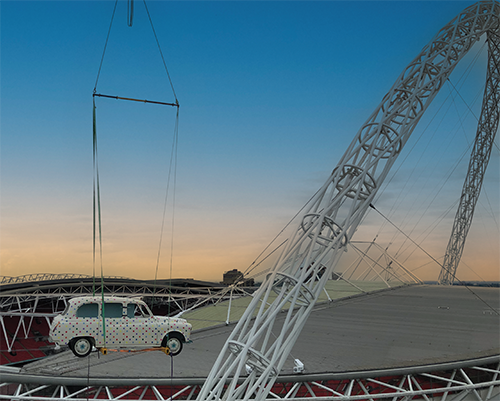 Wembley Park isn't alone in Sisk's work. The company also recently completed Moda, The Mercian – Birmingham's tallest residential tower. Designed by Birmingham-based award-winning Glenn Howells Architects, the 42-storey tower was delivered by Sisk at a cost of £260 million, it will be home to 481 intergenerational apartments for rent, ranging from studios to three-bed apartments. Sisk has also recently completed the Swindon Radiotherapy Centre – an expansion of Oxford University Hospitals NHS Foundation Trust's radiotherapy service, which is set to save over 13,000 journeys to Oxford for treatment every year. The company is now working under PCSA with Great Ormond Street Hospital, as well as being part of the Procure 23 Framework for the NHS.
"We're clear in our strategic direction, and we are continuing to invest in it with other Sisk Group businesses such as Vision Built and Sensori FM, offering additional elements," Ger comments. "Our focus on key sectors such as data, healthcare, and life sciences in the UK has been supported by key appointments to bolster our capabilities."
Underpinning Sisk's development is the hard work and dedication of the company's people – its 'biggest asset', according to Ger. "Our people always go above and beyond, and they are what sets us apart," he confirms. "We have some of the most committed and dedicated people in the industry. This is evident in the quality of outstanding projects they have delivered under difficult circumstances over the past couple of years. Our graduate and apprenticeship schemes have attracted some of the brightest, youngest and most diverse talent, who are rising through the ranks, and will be the future of our business."
It's faith that Sisk aims to repay. "We live by our values: care, integrity, and excellence," Ger continues. "This is evident in our engineering capabilities, and in how Sisk has treated its workforce. It's to that end that, in 2020, we launched our 'I Am Here' evidence-based mental health programme, and we now have over 500 Sisk staff trained as 'I Am Here' ambassadors. We also provide our Employee Assistance Programme and digital wellbeing platform, LifeWorks, to all our staff. This offers everything from free 24/7 counselling to health and financial advice. Our approach has been identified as one of excellence at the 2020 Irish Business and Employers Confederation (IBEC) Keepwell Awards, where we won the Best in Class – Mental Health award."
Sisk prides itself on a track-record of sustainable growth, securing places on major UK frameworks, including Highways England £218-million framework to revitalise ageing roads and NHS/SBS Public Works £15-to-35-million framework plus the national Scape Framework for public sector projects at +£75 million. This year, Sisk also secured repeat clients with Moda, Highways England, and Quintain, demonstrating its reliability and reputation.
"We have an incredibly stable business, and our ambition is to uphold our core company values of care, integrity, and excellence, which complement our purpose, vision and mission," Ger reiterates. "We will continue to futureproof our business by investing in innovative tech to streamline our delivery, blended with MMC, to ensure sustainable delivery for our clients and future growth for the company."
www.johnsiskandson.com