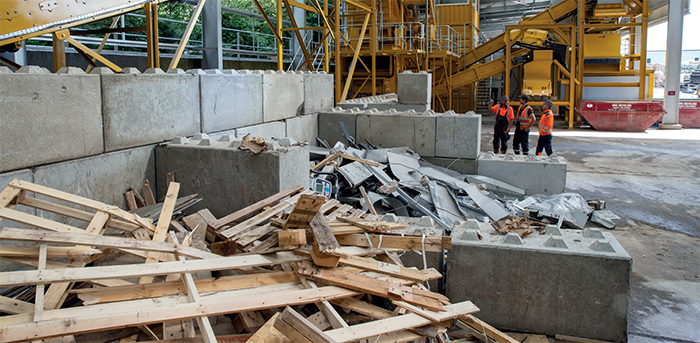 The £4 million investment taking WRC Recycling into a new era
Custom waste solutions
Robert Capper Jnr launched WRC Recycling (WRC), along with his father Robert Capper Snr and Uncle, Brian Capper, in 1998. They began the company as a small plastic recycling business, before gradually diversifying its services over the years to incorporate skip waste, plastic granulation, and paper shredding. Still family-run to this day, WRC relocated from its base in Johnstone in 2015, settling at a new eight-acre site at Inchinnan, close to Glasgow Airport. It was there, in 2015, that the company set to work on the construction of a new £6 million modern recycling centre and head office, with a view to providing its clients with a customised, total-waste solution.
Fast-forward to the present, and this August marked yet another significant milestone for WRC, when the company celebrated the official opening of a state-of-the-art, £4 million Material Recovery Facility (MRF) on its Inchinnan site. Under construction since May 2022, the plant marks the beginning of an exciting new era for the business, strengthening its position in the marketplace with enhanced in-house processing capabilities. The news comes in advance of the Scottish Government's ban on all non-household biodegradable waste from entering landfills, set to come into force in 2025, and intended to drive Scotland's transition towards becoming a circular economy.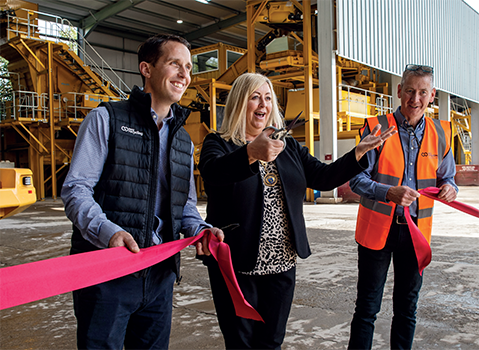 "The new facility represents a one-stop shop for recycling and waste management," comments Robert Capper Jnr, Managing Director at WRC. "Designed and installed by Kiverco, it's a plant that delivers on our promises of more uptime, a higher sustained level of purity, and a longer useful life. With the capability to process up to 40 tonnes per hour, it allows for a higher-quality recyclable product to be retrieved from construction skips, using intelligent technology to segregate complex construction waste such as timber, brick and rubble, metals, soil, and plastic, to create material that is free from contamination."
Supported by a £500,000 grant from Scottish Enterprise, the MRF will also promote WRC's carbon offsetting. "The facility has been built to the highest spec, up-to-date with the latest recycling and efficiency standards," Robert reveals. "It is supported by a 250 KW solar panel roof installation, which feeds back into the machinery we use on site. As technology evolves, we're committed to bringing further improvements to the facility, including the addition of another 660 KW in the near future. By reducing the number of journeys required to transport waste, it will also reduce our CO2 emissions, and create in excess of 30 new jobs in the Renfrewshire community across a variety of site-based and office-based roles."
Continuing on this theme, Robert emphasises the company's commitment to championing talented individuals with deep knowledge of the recycling industry. "WRC is not just about me," he continues. "There are other family members involved, and all those who join WRC enter into that extended family. Without our staff, we'd never achieve our goals."
It's an attitude that the company also adopts in respect to its local communities. In 2022, WRC became the first official charity partner for St Vincent's Hospice in Howwood, Renfrewshire, to help raise funds for the operational costs of the local hospice across the year-long partnership.
Turning to the future, the hope throughout WRC is that the company can sustain its upward trajectory. "Growth is an obvious objective, but there's only so much we can achieve in-house," Robert concludes. "With that in mind, we're firmly on the acquisition trail, monitoring companies to potentially bring into the WRC fold. In terms of our operations, we're always thinking about how to introduce new processes, and exploring if we can take any of our materials that extra step further. Within our current processes, such as granulation, we're bringing in new technology, streamlining where possible, and increasing our material quality."
www.wrcrecycling.co.uk