The Ashville Group of Companies
Made up of Ashville Inc., Ashville Aggregates and Ashville Concrete, the Ashville Group of Companies utilises its multi-discipline expertise to serve major clients and infrastructure projects across London and the M25 region
Success that has been earned
Made up of Ashville Inc., Ashville Aggregates and Ashville Concrete, the Ashville Group of Companies utilises its multi-discipline expertise to serve major clients and infrastructure projects across London and the M25 region
According to research conducted by Cynergy Bank in 2019, the construction sector has the highest number of family businesses in the UK of any other industry. Indeed, many of the leading
players and more recognised names that are active in the market today are able to credit a degree of their success to the fact that their family name has been around for generations. There are, however, examples out there of those individuals who have built their respective brands from the ground up through a combination of passion, dedication and hard graft. One such person would be Daniel Ashville Louisy, Director of the Ashville Group of Companies, Ashville Inc., Ashville Aggregates and Ashville Concrete.
For Daniel, the construction industry was always a source of fascination, dating back to childhood. "Growing up, I was the child whose toys were all diggers or trucks and who, if I passed a construction site on the way to school, would no doubt be late in as my mum would have to ask one of the workers present to show me a piece of equipment or explain what was happening," he explains.
Coming into adulthood, Daniel would embark on a Sports Science degree at university, work as a Strength and Conditioning Coach with various sports teams, and take on modelling contracts, yet his interest in construction remained. In fact, it was the purchase of a house in East London in 2003 and a flat in Silvertown a year later, and the work that he carried out on the interiors of each that ultimately led to the formation of Ashville Inc. in 2006. Starting initially with in-house development projects, Ashville Inc. has since become one of London's leading design and build contractors, providing a complete solution and turnkey service to its residential and commercial clients.
"It was later, in 2013, that we started getting into basement projects across the capital, and it was then that we started to encounter the challenge of sourcing waste management services. My solution was to purchase my first grab lorry, and from there Ashville Aggregates was born in 2014," Daniel continues. "Over time, we added more vehicles – grab lorries and tippers, as well as skips – becoming one of the leading suppliers of waste disposal and transportation services in the sector."
The final piece of the Ashville jigsaw, if you will, came with addition of Ashville Concrete in 2016, following the purchase of the group's first concrete lorry. Today, its fleet of volumetric mixer lorries provide ready mix concrete, ready mix screed and concrete pump hire in London and the surrounding M25 area.
Above and beyond
Having succeeded in taking the Ashville Group from a start-up to its present-day form, Daniel is all too aware of what it takes to prosper in today's market. "What you need above anything else is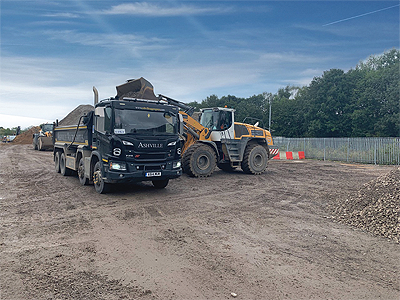 consistency and fortitude," he proclaims. "You have to be prepared – right from the off – to fight for contracts and opportunities, and then go above and beyond to meet the demands of your clients. It is only by doing so, and by working to your full potential and ability on a daily basis, that you can hope to grow organically, which is what we at the Ashville Group of Companies have been able to do!"
The next chapter in the growth story of the business was written last year, in 2019, when it established a dedicated railhead at its West Drayton home. Recognising Ashville Group's ability to serve major emerging projects, such as HS2 and the expansion of Heathrow Airport, it was decided that the opening of its own railhead would address the challenge of how to supply the quantity of aggregates required. With track works completed in a matter of weeks, the first loaded train arrived on July 16th 2019, and since then regular deliveries comprising of 24 box wagons – each of which is capable of transporting up to 75 tonnes of material – have entered. By being connected to the rest of the country by rail, the group is now able to supply the market with materials that are bulk delivered from various rail-linked quarries and marine import facilities.
"The opening of the railhead was very much a case of gaining a high degree of independence, becoming the masters of our own destiny, and placing us in this position to supply the materials that are, and will be, needed for the large infrastructure projects of the future," Daniel states. "If you truly want to be a major player, you need to have your own infrastructure. Just recently, for example, we delivered 1400 tonnes of primary type one aggregate to different sites in a single day. Such a feat would be near impossible to do if it weren't for our infrastructure and our proximity to major project locations."
Ready to serve
When he analyses forecasts for the material volumes needed for planned major projects in and around London going forward, Daniel has every reason to believe that 2020 could be a very big year for the Ashville Group of Companies. "We spent a lot of time, effort and money in 2019 creating a well-oiled 'machine' here at Ashville, and I would very much like to think that 2020 will be the year that we really ramp things up in terms of delivering services to clients across the region," he says. "We are ready and able to serve all of the forthcoming major projects, as well as the region's housebuilders, and at the same time we continue to invest in our fleet, plant and machinery.
"Obviously, there is still not a day that goes by where you don't need to work tooth and nail to win work – as I am sure that everyone within the industry understands – but as we have proven, nothing ventured, nothing gained!"
The Ashville Group of Companies
Services: Design and build contractors, waste management and aggregate services, and the supply of ready mix concrete and screed, and concrete pump hire