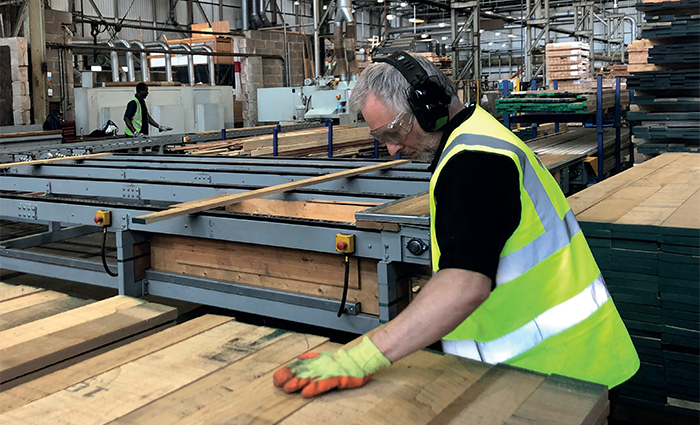 The chairman of one of the UK's largest independent timber companies, Illingworth Ingham, talks agility, supply chains and mastering the North West
Simon Graveley is the Chairman of Illingworth Ingham (M/cr) Ltd. Founded by his great-grandfather in 1929, the company is in its fourth generation of family ownership, which in time will lead to a fifth with Simon's children now also working at the organisation. Based out of its manufacturing facility in Trafford Park, Illingworth Ingham is one of the largest independent timber companies in the UK and specialises in the production and profiling of hardwoods and softwoods. Among its bespoke offering, between both small and larger runs, the diversity of Illingworth Ingham's product range extends from more affordable white woods to more high-end options, such as walnut. Through a separate arm of the business, Illingworth Ingham also supplies the North West of England through its six timber merchants.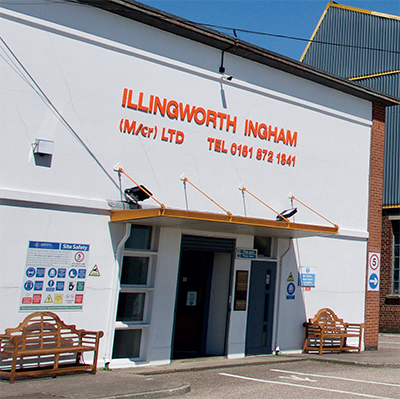 "Our ethos is: everything we've got, we own," Simon opens. "We deliver predominantly with our own fleet of vehicles from the Midlands up to Carlisle, Hull, and everything in between; and as far down as South Birmingham, which is our core region. We even deliver nationally on request. We employ around 130 people who we generally train onsite, through our internal training scheme, in everything from machinist roles to yard operatives. Even for the positions that need external bodies to certify, we like to think that our teams already know the content when they take offsite courses.
"We turn over around £29 million a year and our fleet is made up of nine vehicles that range from 28 tons down to 12. I like to think we're at the Rolls Royce end of the market, but that's not to say we don't stock lower-price items as well. In today's age, I think that people appreciate our independence, as everybody is getting bigger and bigger. Meanwhile, we continue to grow within our niche of being by no means small but still a family run company with the personal touch. Growth is a key element, high on our agenda, but really it's up to the next generation now. I'm 60 and although I've still got the drive and enjoyment to power the Illingworth Ingham machine, at some point it will be time to pass the baton.
Robust relationships
"In continuing the analogy, I always say that the mill's tool room is the company's engine," Simon adds. "It features three standalone grinders, an automatic grinder that feeds its eight molding machines, two multi-rip saws, two resaws, two crosscut saw lines, two priming facilities, a treatment plant and a tailor laminating machine. The internal extraction system is designed to shut off whenever it's not in use, to save on energy, and the site's roof is fitted with a 200 KVA solar power system too. Furthermore, we have replaced all of the original lighting with LEDs and upgraded all of our representatives' cars to electric vehicles. We are doing everything we can to keep our costs and emissions low and would like to extend our solar at some point in the future."
In commenting on Illingworth Ingham's tremendous growth and popularity within the market, he states: "Besides our independence, people appreciate the caring and personal nature with which we deal with our clients. We don't say no, and we will always adjust our services to meet our customers' requirements. This agility comes from being the size that we are. Our quality is second to none compared with elsewhere in the industry, which is resultant of our constant stream of reinvestments in the latest technology and processes. As a bespoke company, this is not always easy, but it clearly works really well.
"In recent years there's been a continued high demand. We've had a good hand on managing our incoming stock and the company's productivity has been steadily high. Business will always be a challenge, with whatever ongoing external factors you have to deal with, but it's all about how you mitigate these issues and keep things running. We are very much on the ball with that, we don't have any back offices directing us, so everything we do is always what we feel is right.
"Our supply chain relationships have also been crucial in this," Simon continues. "We are a well-established business that maintains strong relationships. Through the pandemic, everyone was transparent in supplying us to the best of their capabilities, generally within a percentage of the volume that we requested, because they know that we're a good customer. I don't like this just-in-time, open-to-the-market method of importing timber, but, unfortunately, gone are the days of ordering the boatload that you want, and it being delivered directly to your yard."
The regional arm of Illingworth Ingham was established around 40 years ago and comprises six timber merchants based strategically around the North West of England. The specific areas include Hyde, Stretford, Stockport, Clitheroe and Macclesfield, which has two separate yards, as Simon details further: "Our satellite locations are designed to supply everyone; from developers, and builders to the general public. The smallest employs five people and the largest 12 and they distribute all of their materials locally with their own fleets of vehicles. Where we, at Trafford Park, don't stock certain items, such as carcassing and sheet materials, they do. They do the whole lot as timber merchants.
"We have the North West really well covered. The branches have done exceptionally well. In fact, the Builders' Merchants Awards recognised us as Timber Merchant of the Year in 2022. Our branches successfully run their own operations within the wider business. We like to give them the flexibility to do their own thing and view them as being independent teams while upholding the Illingworth Ingham ethos. Head office is there for support when needed. The only condition is that we ask them to purchase all materials that we already stock in house directly from Trafford Park, but otherwise they are free to buy from the open market, particularly through the H&B buying society. Waterloo Timber in Clitheroe was the latest edition, but we should really be looking to move further north next. If there's an obvious path for future growth, it's in purchasing more branches and further investment in our production facilities."
www.iitimber.co.uk