The heartbeat of the industry
Every three years, bauma – the world's largest trade show – shines a spotlight over the entire spectrum of the construction industry
Described as 'the world's leading trade show', bauma returns to the Messe München exhibition centre from April 8 – 14th 2019, with an expanded exhibition site, increased numbers of exhibitors and even more attractions for the anticipated 600,000 visitors to experience.
Widely considered as the essential exhibition for construction machinery, building material machines, mining machines, construction vehicles and construction equipment, bauma is already the largest trade fair in the world, but with 2019's improvements, the show now covers 18 halls, with the total area reaching more than 614,000 square metres.
The largest sector, construction machines and attachments, is one recipient of more space, having expanded from four to five halls, as well as having more outdoor space too, directly adjacent to the hall complex. The components sector also now has five instead of four halls; formworks and scaffolds moves to Hall B3; and lifting appliances are bundled in Hall C4. New in Hall C6 is the Conference Center North that houses additional conference rooms.
Furthermore, the bauma Forum is embedded directly into the fair's activities in Hall C2. This is where exhibitors, trade associations and partners discuss their latest product developments, trends and market analyses in presentations, press conferences and/or panel discussions. The main topic of discussion this year is 'The digitisation of the construction industry', because as Mareile Kästner, Project Manager at bauma points out, this area is becoming increasingly important to all in the sector, and offers huge potential for gains.
As more sophisticated technologies are making their way into the construction industry, they bring with them the ability to automate and complete construction projects more efficiently, quickly and cost-effectively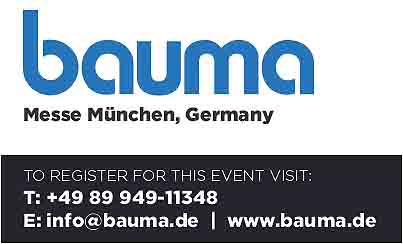 without having to sacrifice quality. In order to achieve this, all stakeholders must, for instance, be perfectly connected with each other, and the processes must be handled electronically.
"Many construction machines are already equipped with communication interfaces that provide comprehensive data, e.g. on location and consumption. This development is also reflected at bauma 2019. At the show, visitors will not only be able to find out about initial technologies, but also exchange views with the exhibitors about their potential," adds Mareile.
With big name exhibitors such as Leica, Topcon and Trimble all showcasing their innovative products, visitors can expect to be impressed with the wide range of options on show – they can also refer to an up-to-date overview of all exhibitors online in the bauma exhibitor database, in order to assist them in planning their route around the event.
Additionally, for the first time, visitors to Hall B0 will be able to experience the industry virtually – thanks to virtual and augmented reality. This is made possible through a combination of images, sound, or sensor feedback, such as wind. "The booths have size limits, but the digital area is limitless. With new virtual offerings, we're bringing the construction site into the trade fair and expanding our digital portfolio," explains Mareile.
THINK BIG!
Another attraction for visitors is the special 'THINK BIG!' exhibit that shows students career opportunities in the construction and building material machine industries. This has been moved to the International Congress Center Munich, leaving Hall B0 as additional exhibition space. THINK BIG! enables students to watch trainees at work on large machines, as well as ask questions about how the training works, and about technical courses of study.
Focus on mining
One of bauma's key exhibition sectors – mining, extraction and processing of raw materials – is coming under the spotlight this year, reflecting the upward trend in this market. Uniting the biggest names in the mining and construction industries under one roof, bauma is going to cover a wide range of topic areas, ranging from financing projects and occupational safety to remote control and the change towards surface mining. Digitisation will receive special attention in this area as well, as the industry still finds itself at the very beginning of this technology. bauma 2019 is also being used as a platform for sustainable mining, bringing together all key players in the industry and showcasing new technologies and trends in the coal, iron and steel industries. Manufacturers like ABB, DSI, FAM Förderanlagen, FLSMIDTH, Haver Niagara, Komatsu, KGHM Zanam, Miller Technology, Paus, Siemens, ThyssenKrupp Industrial, WEIR Minerals and many others will present their highlights and innovations. "By selecting sustain bility, bauma 2019 is focusing on a real issue of the future," says Mareile. "There is no other such venue where all key players in the industry can have an opportunity to discuss the issue of sustainability so thoroughly. This will make bauma the ideal place to conduct successful business."
Partner country – Canada
2019 will also see all eyes focused on this year's designated partner country – Canada. Due to the recent free trade agreement CETA and big investments in infrastructure, the Canadian market offers plenty of opportunities for companies and investors, with bauma's supporting programme offering information on current Canadian projects in the construction and mining sector; the Canada Visitor Lounge where visitors can meet top-investors and companies defrom Canada, and the Canadian Pavilion, where visitors can gain an overview about business and investment opportunities in the world's seventh biggest construction machinery market.
bauma means business
Offering one access point to both the largest players and the smaller niche operators in all markets and target groups, bauma opens new fields of opportunity to visitors and exhibitors in what is the world's largest meeting place for the industry. It is the only event to offer a complete overview of all the newest innovations, technologies and trends – everything that makes the industry tick.
With over 3500 exhibitors from 55 countries making their appearance in Munich, the 8-14th April promises to be an extraordinary week in the construction calendar. Appreciating that the site is gigantic, the organisers have created a clearer site structure, with a new fairground map to facilitate orientation for visitors. Thanks to the clear division into the individual exhibition sectors, visitors can be managed in a more targeted way. "The industry is booming, which is also reflected in the growth of bauma. We've taken account of the rise in demand and expanded our site … our aim is to offer a platform to as many exhibitors as possible. With bauma 2019, we continue to surpass ourselves," concluded Klaus Dittrich, Chairman and CEO of Messe München.