The Heart of Europe is a cluster of six islands on the world in Dubai, the biggest construction project on man-made islands.
A taste of Europe in the Arabian Gulf
The Heart of Europe is a cluster of six islands on the world in Dubai, the biggest construction project on man-made islands.
The Kleindienst Group is an established real estate and property developer with global expertise spanning more than 30 years. The group started in Austria and Hungary as a property broker and investment company, and has since expanded to offer a broad scope of largescale property developments and services across the entire real estate spectrum. Having achieved huge success in Europe, the Kleindienst Group expanded operations into the Gulf region in 2003.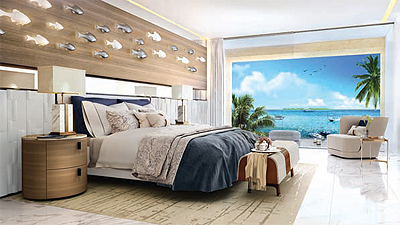 Kleindienst is a private, family owned group of companies based in The UAE, consisting of The Heart of Europe, JK Properties, Austria Business Centre, European Business Centre, JK Bauen and the ABC Business Centre in Germany. "We are interested in markets where real estate investment are profitable like touristic properties in Dubai," said the Chairman Josef Kleindienst.
Today Kleindienst is proud to be the largest European real estate company in Dubai. "We aim to be the market leader in the real estate and property development market by offering innovative concepts and solutions that span all property related requirements and exceed client expectations. Respected, dependable and trusted, we pride ourselves in delivering what we promise to our business partners, stakeholders, employees and the community," said Kleindienst.
The Heart of Europe is a glittering constellation of six islands; Sweden, Germany, Monaco, Switzerland, St Petersburg and mainland Europe, set against the backdrop of The World Islands in Dubai. The islands are a celebration of the continent's artistic and cultural treasures, with each one capturing a different facet of European culture, character and ambience. "Our guests will be amazed as it rains in summer and snows in winter," explains Kleindienst.
The iconic, first of its kind hospitality development, is located 6.5 kilometers off the coast and is truly remarkable even for Dubai's standards. "Our resorts and residences welcome guests as if to the home of a close friend, presenting a quintessential luxury lifestyle that is beyond imagination," said Kleindienst.
Guests will be able to enjoy a plethora of authentic styled cafes, bars, and restaurants and a member's only floating yacht club, represented across the 51 European countries. One of the most unique experiences available is to sleep under water on the world's first floating villa, The Floating Seahorse, an exclusive marine style retreat (essentially a boat without propulsion) with its own plot in the Arabian Gulf. Each of the properties boast three levels, one underwater, one at sea level and one upper deck. The 131 properties are fully customised and personalised to suit individual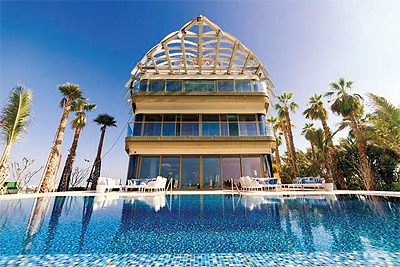 style and taste, to create something bespoke and distinctive. Spanning 4000 sq-ft across three levels, each Floating Seahorse is home to unique special features and state-of-theart technology, including outdoor climate control.
In December Kleindienst announced the appointment of JK Bauen Building Contracting, Wuchang Ship Building Industry Group Company Limited and Sino Great Wall Engineering Company Limited. The companies have joined forces to carry out the construction of all the hotels located on The Heart of Europe's main hub, Main Europe Island, villas on Germany Island, buildings and resort facilities on St Petersburg Island, as well as the buildings and infrastructure on the other three islands in the project.
JK Bauen will focus on building the Heart of Europe in an environmentally sustainable fashion. The design will boast a specialised insulation around the windows and doors, which will conserve up to 70 per cent of electricity output, largely exceeding current standards for sustainable building. The project also features a coral nursery, which will be home to 100,000 natural corals feeding a protected coral garden that, once completed, will cover a surface area of five million square feet.
"We share a vision with both Kleindienst and Wuchang that the Heart of Europe will be a luxury project unlike any other, in terms of design, construction quality and sustainability. We will keep all these factors in mind as the construction progresses so that standards are maintained throughout. Bringing together these companies and their significant level of expertise will enhance and expedite the successful completion of the project," said the Chief Properties Officer of The Heart of Europe and JK Bauen.
"The combination of JK Bauen's vision and Wuchang's experience will work hand-in-hand to bring the Heart of Europe to life. From the Floating Seahorses to the hotels on Main Europe Island, the building quality greatly exceeds construction regulations in the Middle East with durable materials and superior technique," commented Kleindienst.
It looks like the joint venture is set to continue developing throughout 2017.
The Kleindienst Group
Services: Offering a wide selection of properties in key worldwide locations and bespoke hands-on real estate solutions and services