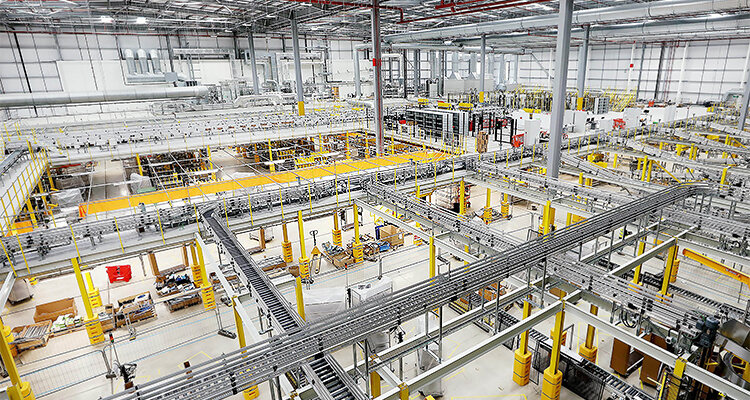 The manufacturing capabilities at Davicon, the UK's leading mezzanine floor business
As its name suggests, Davicon Mezzanine Floors (Davicon) is the UK's leading brand for mezzanine floors, support steelwork, and integrated mezzanine solutions. Its innovative technology and highly experienced team make Davicon one of the only businesses in the UK that boasts the capability to manufacture products in-house.
With over 45 years' experience, the business has designed, manufactured, and installed its solutions for various applications, from automated warehouses and distribution centres to commercial offices, retail spaces, and storage facilities. Its portfolio includes numerous household names, like British Gas, Sainsbury's, Jaguar Land Rover, and Tesco.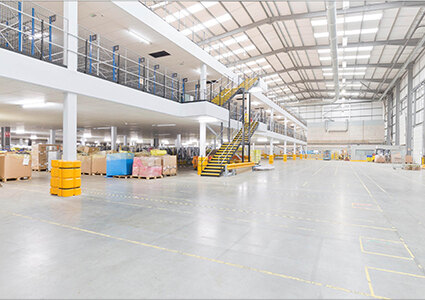 Originally founded as a trade supplier in 1976, the business has been on an interesting and transformational journey. "We were acquired in 2009 and we've grown on a steady, continuous basis since then," begins Peter Watson, Managing Director at Davicon. "We've transitioned all our manufacturing capabilities into our internal teams, meaning that we produce everything in-house, including stairs, handrails, pallet gates, treads, and even colour powder coat powders everything in-house.
Growth trajectory
"Our ability to manufacture in-house is a real competitive advantage, a unique selling point, if you like. It also means that we're in control of our schedule throughout the process, which enhances the possibility of completing a project on time, or even ahead of the deadline.
"We're a trade only manufacturer of mezzanine floors, integrated solutions, and structural support steel work, but everything we do is entirely customised to the clients' requirements or specifications. If a client approaches us with very specific technical requirements, we can be confident in our team of structural engineers to deliver appropriate designs. We like to think that nothing is outside the realms of possibility.
"Our product range varies from a four-metre-squared mezzanine through to the largest project we've completed, which was 56,000 square metres over a complex, three-tier design for a sortation system," Peter goes on. "In terms of structural steel, we can provide supports for up to 1400 tonnes. We're extremely broad in our scope and we continuously strive to enhance our offerings.
"The core sectors in which we operate are industrial, retail, and what we call interior fit outs, which is when customers are integrating a space, like offices or retail stores, with mezzanine structures. At the moment, demand for our product is steadily increasing in the emerging markets of robotics and artificial intelligence (AI), which have very specific technical requirements.
"We're also experiencing continuous growth in the logistics and warehousing space, which only increases as we serve the markets of robotics and AI," he reveals. "It still shocks a lot of people to know just how frequently robotics are used in many high street retailers' logistics operations. Companies must be forward-thinking, especially with the ongoing international issues surrounding trade agreements and supply issues."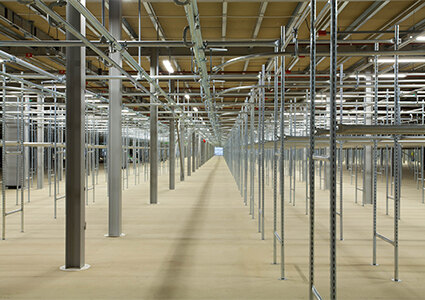 Continuous improvement
Aside from day-to-day operations, Peter is particularly passionate about enabling success and supporting young people through apprenticeships. Davicon was recently awarded Exemplar Employer status within engineering by Make UK.
"I started out as an apprentice myself when I was 16, so apprenticeships are extremely important to me on both a personal and professional level," Peter recalls. "We run an apprenticeship scheme across all departments and take great pride in being able to train young people in an exciting industry.
"We're fortunate to have long serving employees who are extremely loyal to the business, having remained with us after completing an apprenticeship many years ago. I can think of two guys in particular who are in their 50s or 60s and remain working for us even now!"
To facilitate its successful apprenticeship schemes, Davicon is partnered with Adam Tipper's Next Gen Makers, which supports manufacturing and engineering firms in the UK to offer quality apprenticeships. "I accompany Adam on his visits to local organisations and schools, talking to students and raising awareness of the advantages engineering has to offer," says Peter.
In keeping with its culture of continuous improvement, the business has invested significantly in new or upgraded machinery. "We've just installed a 12-kilowatt fibre laser to increase our manufacturing flexibility, as well as purchased brand new drill and saw lines," Peter reveals. "All our investments are carefully considered with a vision to enhance our manufacturing capabilities and in turn, broaden our product offering.
Customer satisfaction
"We've also just invested in a new, completely integrated Material Requirements Planning (MRP) system, which is helping us run seamlessly from sales inquiry right through to invoice and delivery. It's not about what we do, but it's how we do it that has resulted in our positive reputation; so, it is important that we continuously improve our operations and elevate the quality of what we're delivering.
"From a research and development perspective, I'd like to increase our knowledge and understanding of new products coming to market," he proposes. "Our people are fundamental to our success, so we'll continue to gradually expand our workforce and develop the skills of our existing employees.
"My aim for the business is to remain a continuum in people's minds for delivery of mezzanine projects. To do so, we must maintain our growth while increasing productivity and improving customer satisfaction.
"While having steady increased sales growth over the next five years or so is significant in keeping the business ticking over," Peter concludes, "having such growth in a controlled manner that maintains high customer satisfaction is more important to our longstanding reputation."
www.davicon.com