The McGrath Group has been a recognised market leader in the supply and installation of structural steel and architectural metalwork projects for over 30 years
Structured growth
The McGrath Group has been a recognised market leader in the supply and installation of structural steel and architectural metalwork projects for over 30 years
The company head office, and accompanying 107,000 sq ft purpose built factory facility, is set in an 11.5 acre site located in Lisburn, Northern Ireland. The flexibility of the factory layout enables a wide range of products to be fabricated and assembled.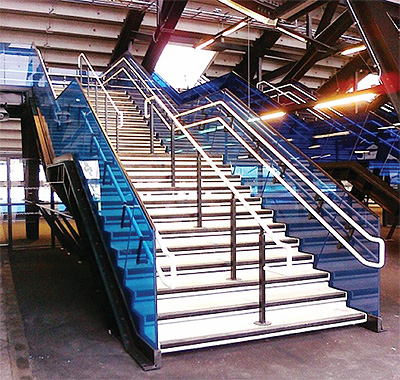 The McGrath Group has expertise that allows it to work with leaders in the rail, construction, housing and infrastructure sectors delivering and installing a wide range of products and bespoke commissions such as glazing, façades, balconies, cladding and roofing, balustrades, bridge structures, lift shafts, stairs and walkways, platforms and canopies and its work can be seen on many award winning and iconic schemes.
With a highly skilled workforce and a fully CAD equipped and BIM compliant drawing office, the company can offer a professional and flexible approach to every project design and aims to provide the complete sub-contract solution. The McGrath Group also utilises a regionaloffice in Tottenham, London, where it directly employs London based project management teams and site labour.
To meet the challenges of the ever changing markets it operates in, the group maintains a strong focus on complying with stringent qualifications and accreditations such as ISO 9001:2008, Achilles Building Confidence, Achilles Link-up, CHAS and Constructionline. Furthermore, since July 2014 following a successful audit, the McGrath Group is CE Mark Approved to Execution Class 3 of BE EN 1090-1. This approval followed the introduction of BS EN 1090-1 CE Marking for fabrication steelwork, which means all European manufacturers must now CE Mark all fabricated structural steelwork.
In the group's early years, it concentrated heavily on general engineering works. Today it is acclaimed for its expertise in architectural metalwork fabrication and offers a refreshing approach to the industry by working in partnership with architects and main contractors. It has established strong working relationships with market leaders in industries such as construction, residential, infrastructure and rail. This can be seen through its involvement in the 2012 Olympic Stadium, Aquatics Centre and Athletes Village developments. Working alongside Bovis Lend Lease, Sir Robert McAlpine and Balfour Beatty, the McGrath Group carried out more than £8m worth of works, including the manufacture and installation of complete bolt-on balcony unit, glass balustrade to 42 staircases, mirror polished stainless steel rails to diving boards and various other architectural metalwork.
The McGrath Group is continuously adapting to meet the changing demands of the market. One business segment to witness notable growth is the UK residential sector. This significant upturn has resulted in the organisation increasing its capacity to deliver balcony projects. The McGrath group previously had a balcony manufacturing output of circa 400 which has now more than doubled to 850 per year; with the option to increase to 1200 should the market dictate.
The McGrath Group's recent work at Regents Place, London also demonstrates its capabilities in executing bespoke architectural commissions. Appointed by principal contractor Bovis Lend Lease, work on this project included the supply and installation of balconies, glass balustrades, privacy screens, podium works and architectural toast racks.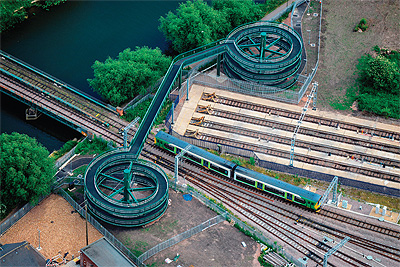 The group's impressive services have also been required on a number of bridge projects for principle civil and rail contractors. The most recent example of this is the completion of the £1.2m Tyndall Footbridge in Cardiff for JR Smart (Builders) Ltd. The scope of work for McGrath Group included the manufacture and installation of a 43 metre bridge span, a 90 metre spiralled ramp to the South, a 95 metre spiralled ramp to the North, 34 support columns, two 16 metre stairs and 510 metres of parapet balustrade. As Tyndall footbridge crosses the railway line from East Tyndall Street to Pellet, Cardiff, the new footbridge drastically enhances access opportunities by linking Cardiff's retail centre and the £150 million development at Capital Quarter, which is owned and developed by JR Smart. The footbridge was successfully installed over the May bank holiday weekend in 2014 and officially opened to the public on 25th June 2014.
The McGrath Group has the capacity to produce two footbridges a month. These bridge structures can include curved and spiralled ramp sections with various balustrade types. Bedford Sidings Footbridge is a prime example of the complexity and magnitude of bridge which the McGrath Group can deliver. Bedford Sidings had a total span on 43m with spiral ramps at each end totalling 244m.
In 2013, Network Rail selected the McGrath Group as its preferred supplier and primary Tier 2 contractor for the supply and installation of footbridges to the Network Rail National Level Crossing Risk Reduction Programme and is delighted to be associated with Kier who is the Tier 1 contractor on this framework. The McGrath Group was also involved in the successful manufacture and installation of the Brock Level Crossing. The footbridge forms part of the 115 level crossings in the West Midlands and the North West that have been closed since 2010 due to Network Rail's successful goal of closing 750 of Britain's level crossings by April 2014.
Alongside working on footbridges and residential projects, McGrath Group has a wealth of experience in the refurbishment and redevelopment of train stations. For example, the company carried out structural steel for all of the above ground buildings and head houses, stainless steel ceilings, cladding, housings for light fittings, stainless steel security doors, painted steel fire doors, roller shutters, access ladders, roof covers, aluminium roof walkway grilles, stainless steel handrails and roof access hatches for the £550 million redevelopment at King's Cross Station.
Able to provide its superior services to a diverse range of market segments, McGrath Group is certain to continue to flourish over the coming years as further investments are put into the UK's rail industry and residential areas.
McGrath Group
Services: Supplier of structural and architectural steel metalwork