Growth and investment have defined the past 40 years of the NEC in becoming the UK's leading event centre
Making connections
Growth and investment have defined the past 40 years of the NEC in becoming the UK's leading event centre
2016 marks four decades since Her Majesty Queen Elizabeth II opened the doors to the NEC in Birmingham. It was already considered a major site at the time, boasting five main Piazza halls spread across 85,000 square metres of space. Yet, fuelled by an active manufacturing sector in the UK the following years saw the centre grow to meet international needs and today the NEC can only be described as vast. Twenty interconnected halls spanning 182,000 square metres – which includes the 15,700-capacity Genting Arena – means the centre is 80 per cent bigger than its nearest rival in the UK, attracting around six million visitors and 35,000 exhibitors a year.
Such growth has only been made possible by a string of key investment programmes. In the last ten years alone a £29 million project to update the façade and internal visitor experience of the Genting Arena and a major £40 million improvement programme of the NEC venue has taken place. Most recently in October 2016, Malaysian casino and leisure group Genting opened the £150 million Resorts World Birmingham on the site – its first integrated leisure and entertainment complex in Europe. Comprising 450,000 square feet of retail, dining and entertainment facilities, Resorts World was a major project to achieve in such close proximity to the NEC's live exhibition halls, and supports the continued prosperity and growth of the NEC by adding a new element to the customer experience; offering the opportunity to meet, work and relax outside the hours of an event.
Indeed, as the NEC's Managing Director Kathryn James looks ahead, the wealth of activity and further opportunities for construction are remarkable. "The NEC Group was sold last year by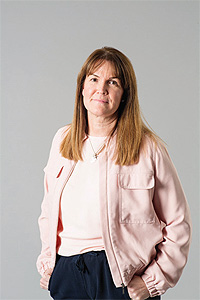 Birmingham City Council to LDC – Lloyd Banking Group's venture capital arm," she explains. "Being privately owned has allowed us to develop our strategy further and our focus now is on business growth and improvement with a number of capital projects planned for the coming years.
"Included amongst these is a large scale £5 million exterior cladding project to resurface halls one to five over the next three years. This is about to commence; as too is a £4.5 million programme to refurbish all of our bathroom facilities over the next four years. We're also upgrading all our lighting systems throughout the halls and public spaces, which represents an additional £2 million of work, to improve operating and maintenance costs, as well as our overall green ambitions. Furthermore, our catering partner, Amadeus, is undertaking £3 million of work to improve all the major catering pods in the halls."
With so much work going on, it is not a surprise that the NEC has forged some longstanding relationships within the construction industry, especially considering that the venue hosts some of the biggest exhibitions in the industry including, Grand Designs Live, Construction Week Live and Homebuilding and Renovating Show.
With the challenge of such a busy event schedule and such large volumes of visitors, Kathryn explains how critical it is that robust and collaborative relationships with construction and supply partners are maintained in order to achieve the growth and development needed at the NEC.
"The fact that we have been growing for 40 years now means that we have a well proven methodology of working with our partners and carrying work out in live environments," she highlights. "One of the beautiful things about events is that they don't come as a surprise and we have a diary broadly scheduled now until 2023. Therefore, we have the advantage of being able to plan ahead. However, it is also critical that we can team up with experienced, creative, flexible and cool-headed partners who can work with us and understand the needs of the NEC to achieve our goals. We pick partners based on their track record and attitude towards delivering these kinds of projects, and this extends to the way we work in partnership with surrounding authorities such as the City Council, Birmingham Airport and Highways England."
Kathryn additionally notes that establishing solid relationships with construction partners and the industry's supply chain is also helping the NEC to achieve its international ambitions. "This is being demonstrated on a couple of new build projects at present where our unique group offering of both venue management and venue services can deliver new solutions to different markets," she adds.
However, opportunities for growth and further construction development do not stop there. Suitably located in the centre of the UK with physical connections to Birmingham Airport and the West Coast Mainline, plus being situated in close proximity to the motorway network, the NEC is one of the best-connected venues in the country. In 2017, construction is set to begin on the new HS2 NEC Interchange station. "When complete in 2026, the NEC interchange will be the first highspeed stop for trains coming out of London with a travel time of 36 minutes," explains Kathryn. "As part of this we are also working very closely with Highways England to consult on redesigning and improving the road system around the NEC to cope."
Big plans and major construction projects in the works mean for a lively future for the NEC and its neighbourhood. With infrastructure improving Kathryn also hints at continued expansion of the NEC's footprint. "It's all hugely exciting," she concludes. "In 20 years' time I'm expecting the geography around the NEC to be an incredibly vibrant and economically bustling environment. From a construction perspective the opportunities for major companies all the way through the supply chain are massive, and I hope that over the coming years we will see a construction community flourishing in the West Midlands."
The NEC
Services: The UK's number one venue