The Offsite Construction Show
It's show time
Now in its fifth year, The Offsite Construction Show (OSCS2019) is continuing to build on the success it has established in the marketplace
The show expects up to 70 exhibitors, showcasing everything from building materials, composite panel manufacture, and modular construction, to LSF structures, hybrid products, precast concrete, timber frame manufacturing and design, engineering and construction consultancy. At least 25 per cent of exhibitors at the 2019 show will be first time exhibitors, bringing a range of exciting products and services to a whole new audience.
OSCS2019 is once again conveniently located at ExCeL in London, and the show's organisers believe that hosting the event in a city that is home to many spectacular flagship OSC projects strongly contributes to the show's high turnout and excellent visitor quality. "London ExCeL is located in the heart of the Docklands and is a truly world class venue," explains show director, Steven Callaghan. "It has superb facilities for visitors and exhibitors alike."
Head of Sales, Maddie Maclellan agrees: "Visiting the show could not be easier," she added. "Whether visiting by public transport or by car, ExCeL has two of its own onsite Docklands Light Railway Stations (DLR) and this is the most popular way of travelling to the show, as it is fast, cheap and efficient. However, if you do prefer to come under your own steam, the venue has an underground parking garage with over 3000 spaces."
These excellent transportation links means the show is easy to access by the many thousands of senior construction, design and specifying personnel based in the capital city, as well as both central and local government.
Once they arrive at the Exhibition Centre, visitors to the show can look forward to seeing the progress that is being made in the offsite construction arena, and, as Steven point out, this particular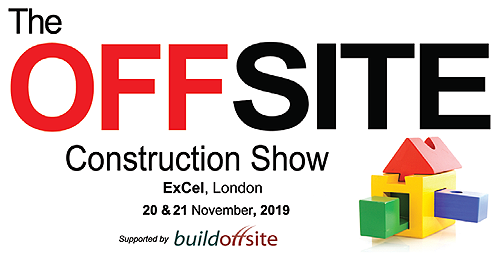 sector is really seeing a huge amount of development and growth. "Offsite construction (OSC) is now more in the news than at any time since we launched the show in 2015," he said. "Housing shortages in the UK, in particular the lack of affordable housing, have seen OSC advanced as something that could make a major contribution to solving these particular problems. This has led to a wider appreciation of the other benefits of OSC such as improved quality of the finished product and, vitally, improvements in health and safety at work."
Shortages of skilled labour are another good reason why OSC needs to be considered very seriously, as the digital generation has different expectations from a career in construction than perhaps their predecessors. "Many employers are finding that current entrants to the workplace are less enthusiastic about working on a windswept building site than their forefathers," added Steven.
Ensuring the show addresses the wide variety of needs and interests that visitors will bring to ExCeL requires both experience and expertise, and this need is fulfilled by London-based organisation buildoffsite, which plays an important role in OSCS2019, as Maddie explains: "We organise the show in association with buildoffsite (www.buildoffsite.com) and they are regarded as 'the trusted voice of the offsite construction industry'. As a membership-based organisation whose sole role is to promote the use of offsite construction technology, it only takes a brief glance at their list of members online to see the extent of their influence – it's a real who's who of end users, contractors, manufacturers and even government departments."
One of buildoffsite's major contributions is the buildoffsite Seminar Theatre, which has become a very popular feature of previous Offsite Construction Shows. "I'm pleased to confirm that it will be making an appearance once again in 2019," announced Maddie. "The programme is yet to be published but for a flavour of what is to come at the show, expect seminars looking at key developments impacting on prospects for the UK construction market, a look at advances in the hugely important residential market, the importance of achieving design excellence to deliver project quality and value and future skills for an offsite enabled industry.
"There will also be a series of Masterclasses and workshops including sessions looking at women in offsite and how offsite construction can help reduce workplace stress in the building and construction industry," she added. "We will also be running the show's own seminar theatre, so there will literally be something for everyone, and it's all absolutely free of charge."
In 2018 OSCS was attended by over 4000 people, a record attendance, and a similar number is expected in 2019. Whether your reason for visiting is to learn more about OSC with a view to 17incorporating it in your future projects or to look to develop your existing supply chain, the show has something to offer you. Bringing together suppliers and manufacturers under one roof, the event combines interesting and educational seminars, state-of-the art new products and services, and superb networking opportunities, making it a must visit for anyone specialising in offsite construction.
Registration is now open online for your free entrance ticket – register beforehand and it will save you time on arrival at the show hall.
The Offsite Construction Show (OSCS2019)
ExCeL, London
20-21 November, 2019
Supported by buildoffsite
For more information, please see
https://offsiteconstructionshow.co.uk
https://www.buildoffsite.com