The Peikko Group, which is a family-owned Finnish organisation, is one of the leading suppliers of high-quality concrete fastening technology to the European construction industry.
Building blocks for success
The Peikko Group, which is a family-owned Finnish organisation, is one of the leading suppliers of high-quality concrete fastening technology to the European construction industry.
Throughout its 40-year history the business has remained forward-looking and innovative, pioneering much of the most recent concrete fastening technology. Servicing its customers through an extensive network of subsidiaries and selected partnerships, Peikko manufactures its products at state-of-the-art production facilities in Finland, Germany, Slovakia and Lithuania.
"The Peikko Group is a leader in the development and manufacture of a broad range of concrete fastening and connection items, together with composite beams and structures for the prefabrication and construction markets," says Raimo Lehtinen, managing director at the business. "Our clients are predominantly construction companies and prefabricators across Europe, we have subsidiaries in 16 European countries and our own sales offices in over 20 countries.
"One of the key strengths of the business is that we have developed a catalogue of unique, innovative products that give added value to our customers' operations," he continues. "Also, due to the quality of those concepts we have been able to easily enter new countries and markets to expand our brand reputation – essentially we have recognised that if our products work well in one place they translate easily into another. Additionally the Peikko Group is a large organisation, which is very important to our overall capabilities and brings a lot of benefits."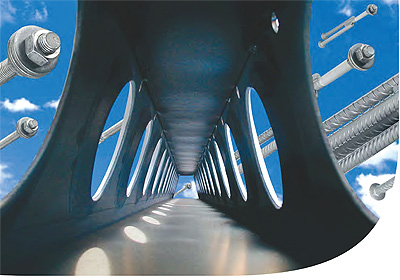 As the reputation for its products has spread throughout the European construction industry, Peikko has experienced considerable growth in recent years. Raimo explains: "The company started as a small business in Finland in 1965 mostly operating in the domestic market very successfully. Today, the large majority of our turnover comes from our operations throughout other areas of Europe. Our sales have grown a great deal in recent years, with 2007 seeing an increase of 56 per cent and we have been experiencing this good level of growth since the early 1990s. This was when we began to develop our European network of sales and production facilities further and initiated a period of organic growth throughout the business, which has continued to this day."
The development of its production facilities has given Peikko a key advantage in the market – enabling it to serve the growing areas in the construction sector: "We have had two reasonably sized acquisitions in recent years," says Raimo. "In 1999 we bought a site in Norway and in 2004 we acquired a small fabrication facility in Lithuania meaning that we now have production plants in four different countries – Finland, Lithuania, Germany and Slovakia. The Slovakian site is where we are currently implementing significant investments as the market growth in the Eastern European sector has been extremely aggressive. Consequently, we are concentrating on building up our capacity in the sector, with the new site expecting to start production at the beginning of April this year."
The Peikko Group is renowned for producing construction solutions that offer a number of key advantages. The superior design quality enables efficient construction processes, which in turn results in increased profitability for clients. Furthermore, the company's design service and technical support ensures customers achieve the best results, whilst all the products are certified to the appropriate construction standards. Included in the company's range of concrete fastening solutions are KK anchors, which are spherical anchors that are used for the transportation and lifting of pre-cast concrete elements, the PCs corbel system, which is designed to support and attach composite beams to reinforced concrete columns, PC beam shoes, PPM anchor belts, and PSK wall shoes.
Furthermore, the company has also developed the highly successful Deltabeam product. It is a hollow steel-concrete composite beam made from welded steel plates with holes in the sides, which acts as a composite beam with either hollow-core, composite, or thin shell slabs. Deltabeam offers a number of competitive advantages to construction clients. For example, it allows flexible layouts through the whole life-cycle of a building and easy HVAC installation below or inside the floor, its composite action requires little extra work on-site, and it is highly fire resistant.Highly regarded, the product has been used for more than 4000 construction projects since 1989 and is certified to ISO9001, ISO14001 and EN729-2.
Raimo emphasises the importance of ensuring quality throughout the company's supply chain: "Our supply chain is strictly operated through our own sales offices, with the technical support of those products we source being very important.We buy our steel directly from a number of major producers, which means that we place considerable emphasis on establishing longterm relationships with them. In short, we always aim to work with those companies that we are positive we can rely on."
Reflecting on the recent growth within the business, Raimo is confident that this can be continued in the coming years: "We have opened a number of new sales offices recently with the hope of further broadening our market globally. The construction sector has been very active in recent years, with our turnover totalling 94 million euros in 2007.We are targeting further growth of around 20 per cent this year and after our performance in the first quarter I am confident that this can happen," he concludes.