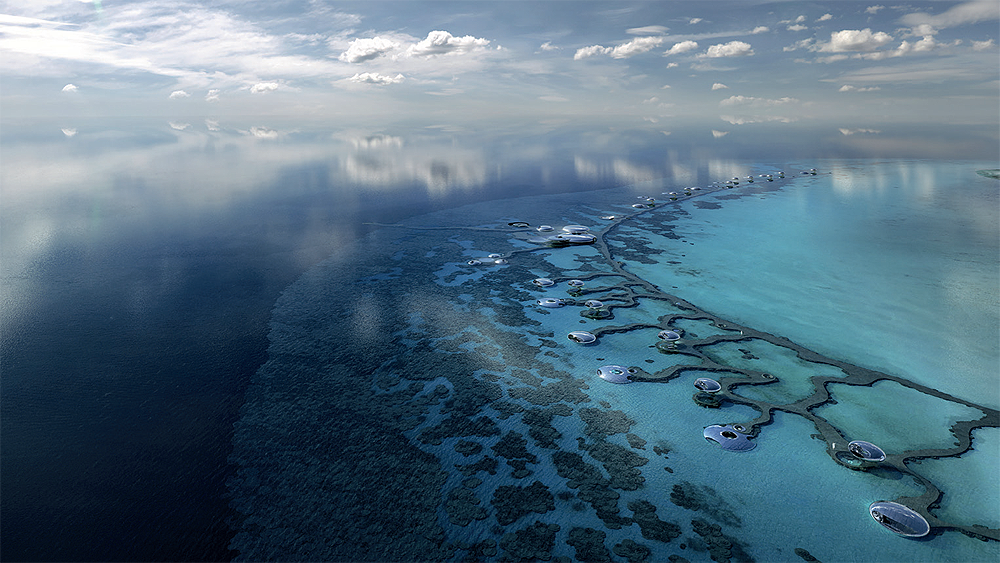 The Red Sea Development Company – The Red Sea Project
Breaking new ground
Arguably the world's most ambitious and exciting tourism and hospitality project, The Red Sea Project – led by The Red Sea Development Company – is setting new standards in sustainable development
Developed over 28,000-square kilometres of pristine lands and water along Saudi Arabia's west coast, and including an archipelago of more than 90 islands, The Red Sea Project is the country's flagship international regenerative tourism initiative and one of the standout projects to form part of its Saudi Vision 2030 framework. The destination is home to mountain canyons, dormant volcanoes, and ancient cultural and heritage sites, and will ultimately play host to several hotels, residential properties, and leisure, commercial and entertainment amenities, as well as supporting infrastructure that is centred around renewable energy and water conservation.
A joint-stock company, wholly owned by the Public Investment Fund (PIF) of Saudi Arabia, The Red Sea Development Company (TRSDC) was established in 2018 to drive the development of the project, while also becoming a preeminent developer in the country for future works. For now, however, the sheer scale of The Red Sea Project makes this particular undertaking especially notable.
"At 28,000-square kilometres in size, The Red Sea Project measures in at only slightly smaller than Belgium," explains Chief Projects Delivery Officer Ian Williamson. "The location itself, which has been largely left untouched by man, is absolutely breath-taking and it is a real privilege to be leading on the planning, design, construction and procurement of such an important project."
Rapid progress
The Red Sea Project is envisioned to eventually attract approximately one million visitors to the region per annum, a figure which has been capped in order to preserve an environmental balance to the area. The 90 plus islands that form its archipelago cover around 65-square kilometres in themselves, and owe much of their existence to mangrove forests. Of these islands, many are either too small to develop on, or would be too severely impacted environmentally, leaving 22 of the 90 that have been marked for development.
The board of TRSDC, which regularly boasts ministerial level attendance, is chaired by His Royal Highness, The Crown Prince, giving the company the direction, political will and leverage to support its ambitions as a cornerstone of Saudi Vision 2030. "Of the many different projects and initiatives that make up Saudi Vision 2030, The Red Sea Project is the only one to be entirely focused on attracting tourism to the country," Ian states. "Vision 2030 is, of course, designed around the need to diversify the country away from being a purely oil-based economy, by enabling the growth of new sectors, with the ultimate aim to create jobs and contribute to GDP. We believe that The Red Sea Project will create as many as 35,000 direct jobs – people who will be required to support its hotels and other infrastructure – as well as 35,000 indirect and induced jobs, while also contributing an estimated SAR 22 billion towards Saudi Arabia's GDP once fully operational in 2030.
"The Saudi Government understands the opportunities that tourism brings, and the country has long been known for being extremely welcoming to religious tourism on a massive scale, with millions travelling for The Haj on an annual basis. However, with tourism currently accounting for only around three per cent of Saudi Arabia's GDP – whereas globally this figure tends to be around ten per cent – it highlights the headroom that we have available to us."
Since TRSDC was formed in 2018, it has made incredibly rapid progress in terms of its development of The Red Sea Project. In that time, the company has awarded some SAR 14.5 billion worth of contracts (nearly $4 billion), covering some 500 individual agreements in total, and resulting in around 5000 contractors currently working on site on numerous fronts. "We have been extremely busy over the last two-plus years in terms of both procurement and mobilizing major contracts and designers from all around the world," Ian explains. "What we chose to do was to build in tandem with designing, rather than adopting a sequential approach of designing, procuring and building, as we felt that this was the best way of meeting our ambitious deadline of opening the first elements of the destination by the end of 2022."
Work underway
Today, some 100 designers – be they architects, interior designers or landscape engineers – are actively supporting the company with various developments, including the construction of no fewer than 16 hotels being built during the project's first phase, as well as a coastal village that will cater for 14,000 permanent residents of the area. By 2030, the goal is to build the destination up to 50 hotels.
Due to the remote nature of the project's location – it is served by a single four-lane carriage way and the closest regional airport is a two-hour drive away – the first few months work centred on establishing a base camp with accommodation, offices, and recreational and catering facilities for what was at first a team of 150 people. Those efforts were completed in early 2019, with work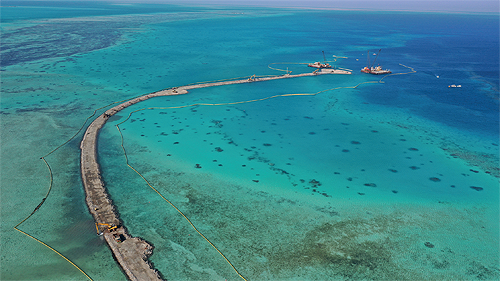 quickly commencing on building primary infrastructure.
"Since then," Ian details, "we have built around 71 kilometres of road of a planned 80km, to better connect the resorts, facilities and infrastructure both inland and along the coastline, and the location of our future airport. We soon completed the works on our main compound, and we have been doing a lot of work since on raising a large section of land around the coastline by around four metres to protect again sea level rises and storm surge. We then got to work on designing and awarding contracts to complete the necessary power, water, sewage treatment and waste collection works that needed to be completed, before we could then start the construction of key buildings.
"As we speak today (January 2021), we have an office to staff 500 people nearing completion. This will be a permanent asset of TRSDC with a 50-year life, and it will open its doors by the end of Q1 2021. We also have a hotel that has largely been built for our own purposes, initially to serve TRSDC and its consultants, that will open by the end of Q2 2021. That hotel will also become a permanent asset of our coastal village. We also have around 220 residential apartments completed, which are going through testing and commissioning ahead of their opening in April 2021, and we have just recently awarded a large contract for the building of 40 apartment buildings, which we are keen to see completed by the end of 2021 as they will provide accommodation to our construction workforce."
Smart destination
Another impressive undertaking by TRSDC is the construction of a dedicated 'Construction Village', which will house up to 10,000 workers. An important element of the project's Phase One development, the village is designed to ensure that workers remain healthy, safe and happy during their time working on The Red Sea Project. Complete with cricket and football pitches, basketball courts, gyms, a two-screen cinema, a supermarket, a doctor's clinic, and a 24/7 helpdesk, the village is something that is truly unique to the region. Two Saudi firms, Red Sea International and the Facilities Management Company (FMCO) will each be tasked with looking after up to 5000 workers, providing maintenance, security, catering, administrative and laundry services.
A project of this size and scale has understandably required TRSDC to adopt a number of innovative approaches to its work on top of proven methods of construction. "We have imposed BIM throughout the supply chain, and instigated a model of working that enables everyone to see model designs in 3D, which allows us to walk through different spaces and understand how buildings and infrastructure are going to look and feel once complete," Ian adds. "We also have what we call a Smart Destination team, whose focus revolves purely around technology and how we can use it to enhance the customer experience and protect the environment, while also creating operational efficiencies in the way we perform whilst these assets are being built.
"Although there is smart technology already being built into the design of our buildings – in the form of things such as smart meters – being a smart destination means extending that through to applications such as smart transport modes, smart vehicles, smart signage and so forth. We have also looked to incorporate such technology into the design of our new airport, in which we are working to create a totally new customer experience when it comes to arrivals and departures. We anticipate smart technology enabling passengers to be pre-screened ahead of arrival, meaning that they won't need to queue to show passports and be fingerprinted, thus minimalizing delays."
Concept Master Plan
In terms of its construction methodologies, one of TRSDC's biggest commitments throughout the project is to the concept of offsite manufacturing. "We believe," Ian reveals, "that there are far greater opportunities within, say, a hotel, than simply producing bathroom pods or the like, which has pretty much been the industry norm for the last 20 years as an offsite manufacturing element. Our efforts are focused on achieving more standardization where we can offsite manufacture entire rooms that come largely pre-finished and pre-fitted, thus reducing the amount of labour required onsite.
"We have embraced such methodologies on the building of our hotel and residential apartments, with Saudi Amana Contracting and Dubox Precast Products – who are well known for their pre-finished, volumetric, concrete construction efforts – being awarded the contract for this work. Effectively, what it means is that we are receiving modules brought in on flatbed trucks to site, which are then craned into position onto pre-prepared foundations, and these are then fitted together, while also being interconnected in terms of services. There is some final finishing work required to the exterior, but in general they come as largely finished units with kitchens, bathrooms and toilets fitted, tiling in place, ceilings in, and lighting complete. So, offsite manufacturing is something that we are very keen to continue to explore, and what we want to do is to take this philosophy further still, getting it to a more refined stage so that we can apply it to some of the remote islands that we are developing as part of The Red Sea Project."
TRSDC has also proudly achieved a number of unique firsts when it comes to the environment and sustainability. In the early days of the project, it entered into a partnership with the King Abdullah University for Science and Technology (KAUST) to conduct an ambitious Marine Spatial Planning (MSP) program to map out land and coral reef conservation areas at the site. This exercise – the data from which was digitalized into what the company called Benefit Mapping – helped to inform the Concept Master Plan for The Red Sea Project.
"Using the information from the MSP program, we were able to break down the entire marine geography of what is a 5000-square kilometre space into a management grid, which we can use to detail our level of impact occurring on a per grid basis," Ian enthuses. "This totally influenced our philosophy on how we would go about developing the whole area and helped to generate our commitment to enhance the net conservation benefit of the region by as much as 30 per cent by 2040."
Towards the tail end of 2020, TRSDC also announced the award of a public-private partnership (PPP) contract to a consortium led by ACWA Power to design The Red Sea Project's utilities infrastructure. The significance of this contract is that it marks a major step towards the project's aim of being powered solely by renewable energy. Under the terms of the contract, all utilities will be delivered under a single agreement, including the provision of renewable power, potable water, wastewater treatment, solid waste management, and district cooling. Energy will be generated via solar panels and wind turbines to meet an initial demand of 210MW, while the PPP agreement expects to generate up to 650,000MWh of 100 per cent renewable energy to supply the destination, whilst emitting zero carbon. Included within the package is the world's largest battery storage facility of 1000MWh, which will allow the destination to remain completely off-grid and powered by renewables day and night.
Taking shape
Looking ahead to what 2021 has in store for TRSDC and The Red Sea Project, Ian goes on to explain how focus is now moving away from design and into completing the procurement phase. "We have around SAR 8 billion worth of work still to procure, and then it is all about construction," he says. "We have a deadline of December 2022 to welcome our first guests, and we are literally counting down the days until then, but there is still a lot of work to be done. We are making great inroads with our Coastal Village community, and you can now see buildings starting to spring up out of the ground alongside the coastline. We have now switched some of our attention towards the hotels, with 11 of these currently tracking for completion by 2023.
"At present, we are excavating an estimated one million cubic metres of fill material in order to raise our islands in order to commence the build, however we need around another eight million cubic metres more to complete the task. To achieve this, we have come up with an innovative way of retrieving materials from the seabed local to the island, in an area that is not blessed with corals, seagrass or other areas of natural beauty. We worked very hard in 2020 alongside our environmental team to identify where it was best appropriate to carry this out, and once raising the islands is complete, we will begin awarding further construction contracts."
Inland, The Red Sea Project has a destination called Southern Dunes, which sits on the top of a plateau that offers panoramic views of the destination. In December 2020, the company awarded a contract to a contractor to begin putting in the core infrastructure here for a number of luxury villas. In addition to this, another of TRSDC's hotels at Desert Rock is being designed to be partially built into one of the area's impressive granite mountains. At the time of press, site establishment works here were underway and progressing rapidly.
"In summary," Ian concludes, "2021 will be very much about bringing our hotels out of the ground, and that will – for the first time I feel – really help to give people an understanding of how this amazing destination is going to look, the shape and form of these resorts, and the unique nature and beauty of this incredible part of the world."
The Red Sea Development Company – The Red Sea Project
www.theredsea.sa
Services: Driving the development of The Red Sea Project