There are exciting times ahead for The Swain Group as the company is engaged by prominent contractors to work on the country's main infrastructure sites
Distributing logical solutions
There are exciting times ahead for The Swain Group as the company is engaged by prominent contractors to work on the country's main infrastructure sites
The Swain Group is one of the principal 'Transport & Logistics' companies specialising in the construction sector. In recent years, it has been involved with some of the largest infrastructure and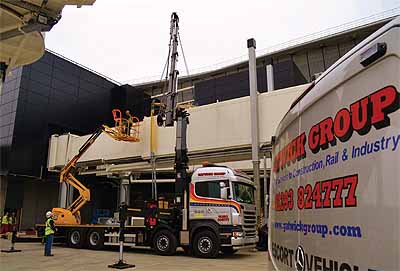 civils projects in the country, including the new Wembley Stadium, Heathrow's Terminal 5 and the London Olympics. The firm has turned tunnelling projects into a specialism too, having supported significant segment supply chains in undertakings like Eurotunnel, Network Rail, and Crossrail. We interviewed Swains' Commercial Director Matthew Sweet, who provided us with an overview of how 2017 went for the company.
"Last year was a year of solid activity," he begins, "particularly in construction. We grew our construction sector activities and it now represents around 60 per cent of our business portfolio. We have been undertaking a number of projects for prominent contractors, across the country, broadening our historical focus on the capital. We also developed a strategy which will see us replicate what we do in London, in other major metropolitan areas – particularly in the Midlands and Manchester, which complements our current depot structure. As a result, we picked up two significant projects, one in each area. In 2017, we were also very active in promoting our services to important UK infrastructure projects, such as Heathrow, HS2 and Hinckley Point, all of which will attract investment from the business. We also signeda significant contract in the Midlands to run a logistics centre for a new aggregates mining development. Further to that, we are investing into the Modular Housing market and have secured a contract to provide supply chain support to move 600 modular building units to a client in the Home Counties."
Exacting standards
Heavy investment in external, customer focused activities did not prevent Swain from pursuing internal development, especially in terms of staff recruitment. Matthew tells us; "In the last 12 months we appointed two new general managers – one in the Midlands and one in Manchester. We also took a new Health and Safety Manager on board, to ensure that we uphold our own,as well as customers' exacting standards in this critical area. Customers are increasingly wanting much more than pure transport services and our compliance in this respect is now becoming business critical." Furthermore, Swain has shown ongoing commitment to opening its doors to the next generation of young and talented individuals, to whom the future belongs. "We took on two graduates and one undergraduate in the business as part of our drive to bring smart people into the industry," Matthew discusses.
2017 also saw significant investment in equipment upgrades at the company. "We placed investment in new equipment for both trucks and trailers," Matthew adds. "The strategy behind this was, first, to reduce our carbon footprint, and second, to bring down the age of the assets that we operate. It is one of our key objectives for 2018. We continually challenge ourselves to look more into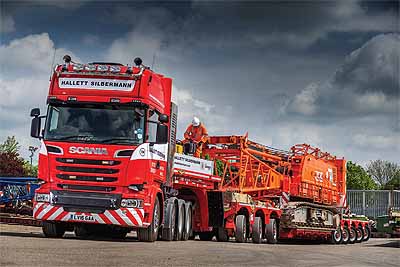 both safe standards and effective ways of working with ever more efficient vehicles, in order to reduce costs for our customers. The job is what the job is, and our differentiators are very much our people, processes, compliance and equipment standards. We have the ability to offer bespoke investments on projects which many of our competitors cannot."
Reflecting on the flourishing period the company is enjoying as of late, Matthew points out the important flexibility in its services, which makes it a preferred partner for its customers. "Our specialisms encompass a broad range of activities, in order to offer an extended service in certain areas to different customers. It is important that we develop the capability and the expertise to take on various projects. We have the ability to tailor specific solutions to the construction industry which is often beyond pure transport. Customers are increasingly looking for ways in which to extract value from what is an increasingly complex supply chain. We have the experience to look into this when we are given the opportunity in order to design the most optimum solutions."
The company's goal to achieve overreaching expertise is illustrated with its future partnership with a new client in the developing modular sector, where it will play a central role in its upcoming projects' logistics. "We will be managing both the inbound and outbound logistics for their development portfolio, supporting them with everything – inbound flow of materials, preassembly, storage, and inbound line-feed transportation just-intime (JIT). Then, on the outbound side, we will be managing the specialist movement of large units to final delivery points across the country," Matthew outlines. This will involve various parts of its business, led by a dedicated program manager.
Key developments
As Swain is undoubtedly a leading name in its field, we are curious to get an insight of Matthew's observations for the state of the construction business, as well as the areas of development for the company itself in 2018. "I think Northern Powerhouse is seeing important investment leading to key developments that will require our services in and around the region, especially with regards to the North-West and the M62 corridor," he notices, also expressing his satisfaction of the levels of recent investment in construction, despite Brexit.
For a company that celebrates its centenary this year, the near future is filled with numerous, nationally significant ventures in which it will take part. It hopes these will make the Swain brand more recognisable, and synonymous with construction logistics resulting in sustained growth and development.
The Swain Group incorporating: R.Swain & Sons Ltd, Hallett Silbermann and Gatwick Group
Services: Road transport, warehousing and contract distribution, palletised distribution, consultancy and solutions design