Built and developed by five generations of Swains, The Swain Group have gained a proven track record in delivering the best possible transport solutions
A century in transport
Built and developed by five generations of Swains, The Swain Group have gained a proven track record in delivering the best possible transport solutions
R Swain was created from opportunity and inspiration in 1918, when a Swain forefather realised a horse and cart provided a better and faster service for Kent farm product to arrive fresh at London's Covent Garden. Also providing an equally welcome return load services to local greengrocers, the company was well established by the outbreak of war in 1939; it was during this time that staff became a home guard unit in its own right.
Following decades of steady growth, stemming from R Swain & Son's focus on local economic expansion, the company developed a solid reputation with both customers and employees. In 1972, the company changed hands when Bob Swain, today's group chairman, became the fourth generation to manage R Swain & Sons. At this point the company had 18 vehicles and a turnover of £100,000; making the strategic decision to focus on organic growth, the company made strategic acquisitions that resulted in the firm setting a gold standard for the industry. Acquisitions included Transit Medway Ltd in 1999, HND Group in 2000, Ensor Vehicle Services in 2001, H&G Haulage in 2002; Charles Hewitt of Canterbury and H&M plant in 2009, LV Transport in 2013 and Hallett Silbermann Ltd in 2014.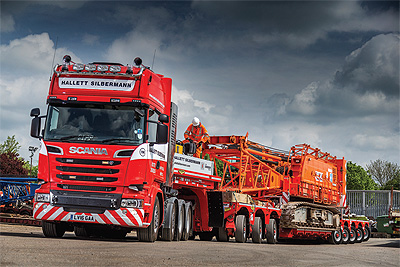 A more recent acquisition for R Swain & Sons is Gatwick Group, a specialist transport company that operates airside and rail construction project support. The company operates as a standalone part of the company's specialist projects division. The company also acquired Jefferies Haulage of Swadlincote in 2016, which means it now has a multisite logistics curtain side operation that, in addition to its extensive fleet of 300 flat-bed vehicles, supporting the construction industry, has the capability to swiftly move consumer goods such as FMGC, eCommerce and other prominent market sectors."
Describing the company's operations is Matthew Sweet, Commercial Director at The Swain Group: "We are a £60 million revenue business with five depots throughout the UK; we employ 600 people, have 700 trailers and 500 trucks. Bob Swain remains the current Chairman and has grown the business through both acquisition and organic growth, with particular emphasis on the construction and engineering sector. Today that sector represents around 50 per cent of the company's turnover – we are heavily involved in moving product from steel, concrete prefabrication building materials and all associated sector activity. Major construction projects are a specialism; the latter is supported by experienced teams, that have been involved in projects such as Wembley stadium, Twickenham stadium, Lee tunnel and, more recently, Thames Tideway and Crossrail."
He continues: "From the acquisitions we benefit from having a depot structure that really supports customers in going the extra mile thanks to our flexibility. For example, when things go wrong at site operations due to equipment failure or bad weather, instead of repatriating the product back to the point of origin, we are able to offer flexibility to stand trailers or consolidate products at any of our locations, provide back up and responsiveness to changes within a particular site, thus keeping cost and operational disruption to a minimum. When it comes to our depot structure, we have a head office in Rochester, Kent, then locations in Woodville in the Midlands and Manchester. We also have the subsidiary, sites of Hallett Silbermann, a complimentary business that is involved in heavy haulage in Hatfield, and a Horley, Surreybased Gatwick Group; the latter is synonymous with complex airside and rail side construction logistics."
Working directly for tier one contractors as well as tier two and tier three suppliers, the company focuses on forming close working relationships with customers and suppliers alike. "We focus on both domestic as well as European transportation and project management. Our solutions are designed to support efficiencies in the construction and civil engineering supply chain. With a large fleet, which includes a pool of around 50 trailers in Northern Europe, we are able to deliver a single point of contact to manage projects for customers. We are creating value via experience and bringing new talent into the organisation," says Matthew. "The market is very strong at the moment and we see rapid growth in this sector; in fact, the business overall has grown 68 per cent in the last two years and a large proportion of this growth can be attributed to the success in landing projects and business directly related to the construction sector."
With all company profits invested back into the business, The Swain Group has strongly benefited from the positive growth it has enjoyed, with £15 million invested in the last two years in new vehicles and equipment. "We have purchased 45 brand new tracked units from DAF, which is part of our ongoing vehicle replacement programme; we have also brought 25 new Dennison flat bed trailers and purchased two flagship vehicles from Scania that are capable of carrying up to 150 tonnes; one of the vehicles is for Hallett Silbermann coupled to a Broshuis multi steering axle trailer, which represents £600,000 of investment, the other vehicle can carry in excess of 50 tonnes for special projects work based at our Rochester site," highlights Matthew.
While investment in equipment and capabilities is important, the company has also achieved FORS Gold Certification for the third year in a row; viewed as a key part of business compliance activity, Swain places a great deal of emphasis on compliance when it comes to safe delivery and safe transport solutions, which includes vehicle equipment, multi-angle cameras, squawk boxes for turning left as well as driver training and office training for management. "On top of this commitment to compliance, we also hold strong family values in which the focus remains on the customer through listening, learning and being responsive to their needs," comments Matthew.
Moving forward, the company has plans in place to grow the business to £100 million by 2020 in a way that is not only sustainable but also supportive to customers. "We want to create new services for customers and grow with them by developing our employees, bringing new people into the business and also looking to make complimentary acquisitions," concludes Matthew.
The Swain Group
Services: Leading supplier of transport, warehouse distribution and special project services