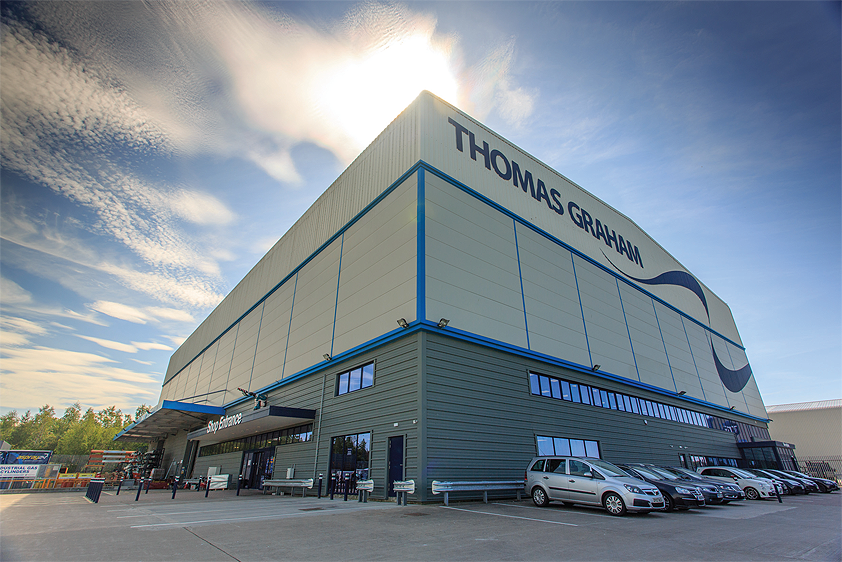 Tools heaven
Working closely with its customers, Thomas Graham & Sons is capable of providing them with the right industrial supplies, steel and welding tools to contribute to the effective completion of any job
The phrase Russell Smith – Contracts Director at steel and industrial supplies provider, Thomas Graham & Sons – uses to describe his company, is customer-intimate. To Russell, the knowledgeability of staff and the readiness to go the extra mile for clients is one of the main USPs for the Carlisle-headquartered business. Only when we take into account that Thomas Graham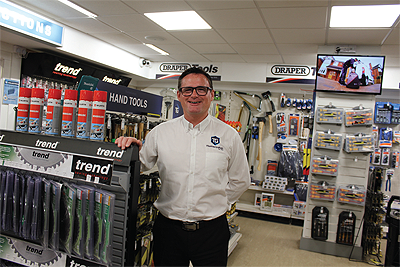 stocks over 35,000 product lines, can we realise how significant an effort its people have to make to learn item specifications and provide the right advice to customers.
"I think that customers ring us, because they are confident that even if they themselves do not know exactly what they need for their project, we will be able to help them out and offer the best possible solution," Russell insists. "Together with this, of course, they are impressed by the wide range of products that we have. We stock everything they might be looking for – from janitorial to welding, to steel, to fasteners, and always look to evolve our ranges by adding new and more innovative products to our warehouses."
Split into five divisions (Steel; Industrial Supplies; Welding; Workwear/PPE; and Hygiene), Thomas Graham began as a small ironmongers' shop and steel warehouse in the centre of Carlisle in 1892. With Thomas Graham's operations growing, so has the company's infrastructure. While still based in Carlisle, in 2014, the business relocated to a new purpose-built head office on the outskirts of the city. In addition, it also has facilities located in Egremont, Kendal, and Morecambe.
The growing reputation of Thomas Graham has helped the company to win several big contracts in recent times and also to regain some of its former customers. Russell discusses: "In August of last year, we secured a £23m contract to supply power tools and hardware to Sellafield. We had worked with them before and knew exactly what we were going to do. Their site is just five miles away from our Egremont branch, so delivering everything they needed was always going to be a very straightforward process.
"It has been slightly different for the £24m contract we won with Magnox, though," Russell continues. "As a company that is responsible for the decommissioning of nuclear sites all over the UK, Magnox has more challenging requirements, not only with regards to the on-time delivery of products to multiple locations. The sheer scale of the project means that the client needs a lot of different tools, including a lot of specials that we do not necessarily stock at all times. As we are known for being very good at buying in special items and discovering products that are usually hard to find, however, we have managed to order all the tools required to Magnox and get them delivered to their sites either directly or through our suppliers."
Thomas Graham's pedigree in the nuclear decommissioning sphere has helped the company to previously win a 'Supplier of the Year' award with the Nuclear Decommissioning Industry (NDA). According to Russell, it was the business' innovative approach to serving customers that led to the bestowal of the prestigious accolade. "We are always available on-site, trying to make things better for clients and offering them new products. I believe that our proactivity and willingness to open up new ways of doing a job were the main reasons why we won the award. Our distinct operational method also includes the heavy involvement of our supply chain. Usually, our suppliers' sales specialists will come along with our own Area Sales Managers to demonstrate innovative applications of particular products, which adds further value to our services."
The 'Supplier of the Year' award is not the only honour achieved by Thomas Graham. In recognition of the staff-orientated spirit of the company, the organisation was crowned 'Family Business of the Year for the North and Northern Ireland' by Family Business United at a ceremony in London last year. "We have been a family-run company since we were founded in 1892 and it is currently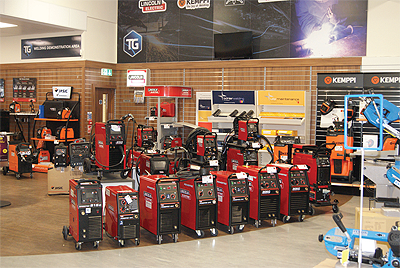 the fifth generation of the Graham family that is in charge," Russell points out. "Throughout our history, we have upheld the family values in the running of the business and we are very proud to have been singled out as the best family company in our region. We are committed to doing the best for our staff and their development and we will continue to reinvest in the business to create more opportunities for them in the future."
Several years after the move to the new Carlisle HQ for Thomas Graham, the company is now expressing a keen interest in expanding its other branches, too, particularly the ones in Egremont and Kendal. "We need bigger premises, so we can offer our customers more readily available stock," Russell reasons. "We understand the importance of keeping every facility up-to-date and, to this end, we are planning to put in some new technology in the warehouses to make our operations slicker and more efficient. Ultimately, we are aiming at a 98 per cent rate of On Time In Full (OTIF) delivery.
"Another important long-term goal for us is moving into new business areas. We do not just do nuclear, we have got all sorts of customers – from farmers to local businesses, and we want to provide all of them with the same level of quality service. We may have won a few big contracts, but they are not everything to us. The day-to-day customers are equally as important, because they are the ones that made us what we are and we want to keep them happy, going forward," Russell adds in conclusion.
Thomas Graham & Sons
Services: Steel stockholding and industrial supplies