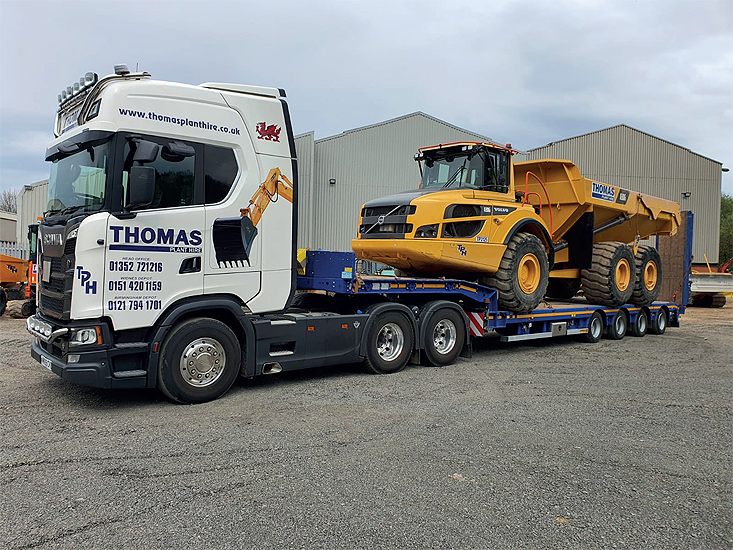 A hire power
A welcome story of success during a challenging year, Covid-19 has failed to derail Thomas Plant Hire's rapid growth trajectory – and the company has even made time to celebrate 20 years in business
In the midst of year-long 20th anniversary celebrations, Thomas Plant Hire took a moment to look back on two decades defined by tremendous growth. A family-run operation to this day, the company has grown from a humble groundwork and contracting business to one of the UK's leading providers of plant hire related services. Commercial Manager Lowri Thomas discusses the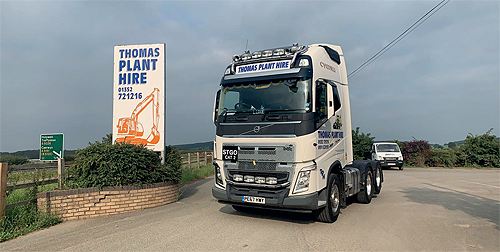 transformation in more detail.
"In the beginning, we didn't do a lot of plant hire," Lowri explains. "We focused on contracting first, before going on to purchase a wide range of machinery. It wasn't long before we had customers asking if we would hire the equipment out and so we seized the opportunity and moved into plant hire quite heavily."
The way the young company seamlessly incorporated plant hire into its offering was an early sign of the flexibility it continues to showcase today. When Thomas Plant Hire customers displayed interest in a tool hire service, the company quickly adapted to the needs of its clients and satisfied their demands.
"Four years ago, we weren't doing tool hire, but we started it up because the demand from our customers was there and it seemed silly not to," Lowri reports. "It is an area in which we've really excelled, so now we always stay open to new ideas. Flexibility and strong customer relationships have taken us into areas and fields that we weren't previously in and the strategy remains profitable."
Thomas Plant Hire applies a similar positive approach to the acquisition of businesses that it thinks will support and complement its existing portfolio. One example of this was the purchase of SOS Hose Services, a local Deeside business specializing in hoses and hydraulics for plant hire and production industries. Offering 24-hour on-site vehicles and a trade counter stocked with hydraulic hoses, fittings, and accessories, SOS fit perfectly into Thomas Plant Hire's offering and continues to ensure that plant at the disposal of Thomas Plant and its customers remains in perfect working order.
Following the success of additions like SOS, Thomas Plant Hire's acquisition strategy was in action again in September 2020, when the firm purchased Manton sales and plant hire, a Wrexham-based company providing hire, sales, and servicing for diesel, LPG, and electric-powered forklift trucks.
"It all contributes to our ability to provide a full package service for our clients," Lowri asserts. "We've got the plant hire, tool hire, SOS hose services, and in 2019, we set up a new sister company called On Grade Machine Control, which offers laser attachments for a variety of equipment and machinery. In the same year, we founded Thomas Plant Sales, which sells our assets and machines coming to the end of their life, as well as purchasing equipment to sell on.
"Most recently, in the last few months, we established First Grade Recruitment, which is effectively an agency company for some of our staff because we have over 200 machine drivers that work for us most of the year. First Grade Recruitment studies the market for opportunities and hires these team members out when the demand arises."
Thomas Plant Hire's expansion, and the acquisition trail that has accompanied it, are both clear signs of the company's continuing success. It is a sentiment reflected in the way the firm's turnover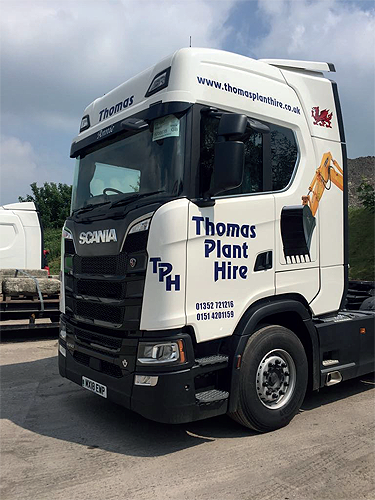 has increased considerably over the last three years, from around £25 million in 2018 to almost £38 million in 2020. In order to support this growth, Thomas Plant Hire recently invested in new infrastructure.
"We've had a good, solid year of growth and so we've been able open a depot in South Wales," Lowri reveals. "It means that we've now got five depots – Birmingham, Widnes, Bolton, Holywell, and the new site in Wales. This is in addition to the facilities made available by our subsidiary companies like Manton, tool hire and SOS who have got their own depot."
Lowri goes on to explain that the significance of the South Wales depot is that the new site will act as a 'bridge' to the southern half of the country. "At present, it takes us four hours to get down to South Wales," she says, "and even from Birmingham to South Wales takes us two and a half hours, so the new depot will not only provide ease of access but, more importantly, it will give us more coverage."
Though Thomas Plant Hire is a company that specializes in equipment and machinery, it is clear from talking to Lowri that people are also a vital part of the operation – none more so than Founder and Managing Director Wyn Thomas. According to Lowri, it is Wyn that deserves most of the credit for keeping the business modern, forward-thinking, and hungry to succeed.
"He is very aggressive when it comes to business," Lowri says of her father. "He likes more work, more business, more turnover and more profit. As Managing Director, he is very aware of what's happening in the sector and always ready to pounce on anything that drops down the line, such as new properties or businesses for sale. The new depots are all down to his hard work and drive. We have customers across the breadth of the region asking us to provide them with plant in South Wales. Sending products from the North or Birmingham wasn't ideal, so it makes sense to have a depot down in South Wales and attack the market from down there."
Across the previous two decades, Wyn's hard work has been supported by a strong, experienced, and skilled workforce that has made a sizeable contribution to the success of the business. Today, Thomas Plant Hire employs over 300 people that continue to further the firm's reputation as a customer-focused company dedicated to the service of its clients' needs.
"We've got really good staff here and it's something for which we are incredibly grateful," Lowri states. "I can't thank our team enough, especially in the context of everything that's been happening this year. We were forced to place a number of people on furlough earlier this year, but the majority of them are back now. They are a strong, reliable team and they've just got on with it.
"Over the years, we've built up a really good track record for hiring great staff and it's something that continues to benefit us. It's good to have someone with experience in plant hire, but it's more important that they have a great attitude. We are very much a business with a focus on doing everything we can for our customers. Anything is possible when it comes to client requests; we never say no! That is the motto really: never say no."
The company's accommodating and cooperative nature is traceable back to its roots as a family firm. With so many family members still present in the organization, it is no surprise that the company treats its customers with a level of care and attention usually reserved for relatives or friends.
"We don't just talk about being a family business," Lowri remarks, "we are one. My dad owns and runs the business, his wife is the secretary, my sister works in the Admin Department, and I work on the finance and transport side of things. Even my little brother comes to help with the mechanics in the term holidays It all makes for a really welcoming and supportive environment."
As Thomas Plant Hire looks for a strong finish to 2020 that will move the company closer to next year's target of £45 million in turnover, the firm is still taking time to reflect on the 20-year journey that led it to this point. Though Lowri is proud of the milestone, she is quick to thank all those that have contributed to the achievement.
"Fantastic customer support and great staff have got us to where we are today and I think it's vital to remember that and continue to work hard on those principles for the next 20 years," she declares. "We're ambitious and we want to expand all areas of the business. We want to grow turnover, provide jobs, and increase our customer base."
Thomas Plant Hire
www.thomasplanthire.co.uk
Services: Plant hire services