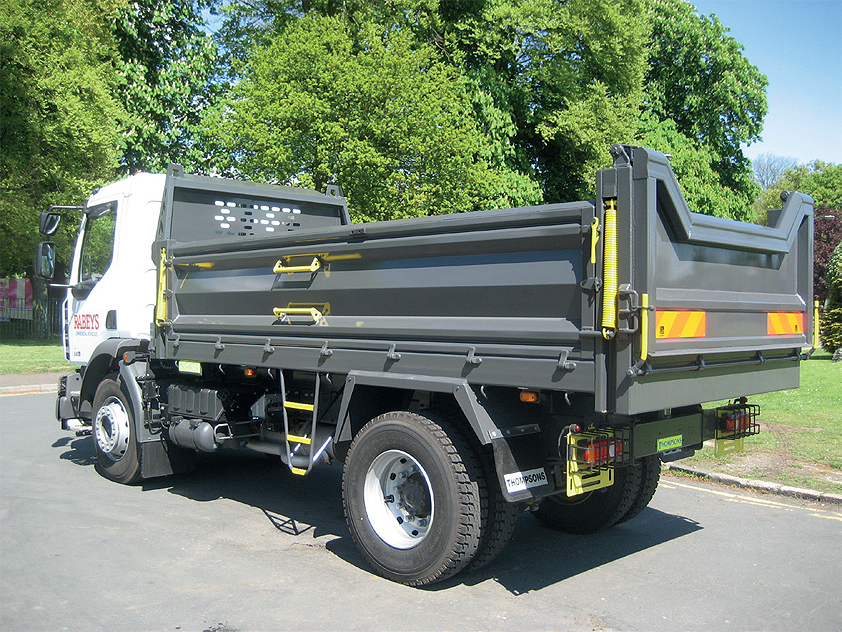 A customisable experience
A flexible, client-centric approach to business is just one of the keys to the longevity of tipper manufacturer Thompsons UK Ltd
UK based company Thompsons UK Ltd celebrates its 50th birthday this year and the UK's leading provider of tipper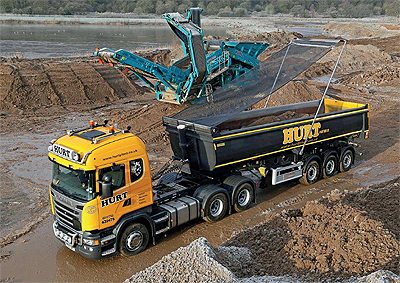 bodies shows no signs of slowing down. Since the year 2000, Thompsons has opened four new factories, and in 2003, the company purchased Charlton Bodies, its biggest competitor. This acquisition enabled Thompsons to add a wider range of products to its core range. Having previously focused on tippers and tipper grabs, the company diversified, adding non-tipping plant bodies and a professional finish paint section to its offerings. More recently, in 2017, the company expanded into Scotland. "We already had a number of Scottish customers," explains Group Engineering Director, Neil Griffin. "But in keeping with Thompsons' attitude to provide a local service, we opened Thompsons Tippers Scotland."
The nature of Thompsons' expansion into Scotland is evidence of the company's commitment to providing a specialised service for its clients. "One of the main differences between Thompsons and our competitors is that we offer a customer exactly what they want," says Neil. This flexibility is one of the keys to Thompsons' longevity and continued success. "We do not offer a 'standard product', rather we have a variety of body ranges and options, but we can then customise each and every one to suit a customer's requirements."
Custom options
With locations in Croydon, Blackburn, Dover and Scotland, Thompsons makes around 30 trucks per week, using only the highest quality Hardox steel from Swedish Steel (SSAB). Thompsons' relationship with Swedish Steel includes a stock programme that allows all its material to be held in the UK. This means that the company can tolerate design changes right up until the last minute and still have the correct material, without having to make compromises in production.
"Customisation is very important in our line of work," Neil states. "A number of our customers operate in a specific geographic location or transport specific material that requires different attributes to our standard range." As a result, Thompsons has a variety of body ranges and options that can be customised to suit each and every one of a client's requirements. This includes being able to adjust the height, length and width of tipper bodies to suit a client's capacity demands or fit a specific chassis.
As well as serving the construction industry, Thompsons provides products to the waste, environment, highways, utilities and rental sectors. It also works directly with chassis manufacturers and, to date, has supplied close to 1000 tippers for their stock programmes. "Because of the reputation of the Thompsons body," says Neil, "chassis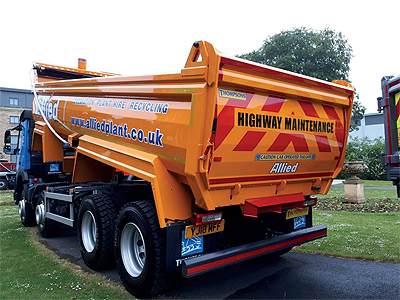 manufacturers are keen to have our products in stock as they know they will be able to sell them and not be worried about potential warranty issues."
With dedicated service departments covering the entire country, Neil believes that Thompsons' unrivalled back-up and warranty package is another large factor in its success, and something that has helped build its portfolio of satisfied customers, including companies like MAN, Volvo and Scania. Leeds Commercial, Thompsons' largest private customer, has been a client for over 15 years. Understandably, Neil is proud of this long working relationship. "The fact that they continue to come back is testament to the quality of service and product that Thompsons offer," he says.
Continuous improvement
Despite the company reaching a half century, it is clear from talking to Neil that Thompsons has its eyes firmly on the future. For a start, the last three years have seen an investment of around £5 million in new equipment and factories. "Investing in new equipment is essential to maintaining efficiency and freedom in design," explains Neil. "We are always looking for processes that might improve production and the product." A new facility has been purchased in Blackburn with a view to automating the production of tailgates and side panels, and Thompsons recently installed a Trumpf TruBend 8600-8 press brake onsite. The machine, which is the largest Trumpf bending machine in the UK, is being used to form tipper side panels from 4mm thick Hardox abrasion-resistant steel. A Trumpf TruLaser 3030 laser cutting machine was installed at the same time, with a second one due for delivery in the next month. Neil suggests that the robotic welding cell has shifted the bottleneck to bending and Thompsons is now starting to realise the significant benefits of investing in high technology automated production systems. "With order volumes rising," Neil adds, "there is a constant need to keep pace with production and invest in our future."
Innovative approaches
What does the future look like for Thompsons? Automated production systems are sure to play a part and the company is already considering the introduction of robot welding cells to automate the fabrication of various brackets and components. It is also looking at the option of using a robotic arm to operate a press. "Using robots represents a large change in the production process, so it is important to plan properly and consider all eventualities before committing," Neil emphasises. It is clear though that automation is certainly one option Thompsons is considering to keep the business moving forward.
After Brexit uncertainty caused a downturn for many businesses in 2019, Thompsons is enjoying a much brighter start to 2020. "Business is now picking up," Neil says. "We are hoping that infrastructure projects such as smart motorways and HS2 will also add a large boost to the construction industry and thus to the amount of trucks required."
As far as goals for 2020 are concerned, Thompsons hopes to get new equipment installed and running at maximum productivity by the end of the year. The company is also working with SSAB on the use of their latest generation wear plate, aimed at increasing payload whilst maintaining service life, and hopes to have some new products later this year. "We are always looking to improve our products using innovative designs and new materials," Neil states. "Continued investment in technology helps with design improvements, as well as securing production capability and allowing for increased productivity. It is an ongoing process."
Thompsons UK Ltd
Services: Number one tipper bodybuilder