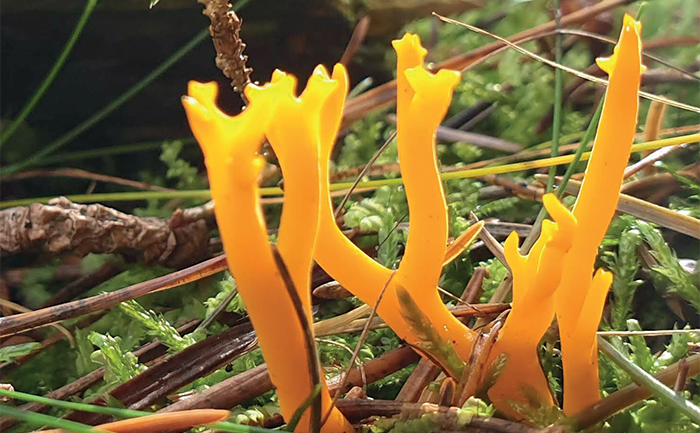 Thought you were out of the woods? Think again.
Grow our own
The Confederation of Forest Industries (Confor) recently warned that the UK faces declining supplies of home grown wood due to lack of productive tree planting. With the country currently needing to import over 80 per cent of its wood requirement, the UK could be sleepwalking into a timber shortage crisis in the not too distant future. Stuart Goodall, Chief Executive, Confor, examines the threats to supply and why the UK must urgently move productive tree planting up the agenda.
It should be concerning to everyone when a mature economy with the perfect conditions for growing a wide range of tree species should be in a potentially precarious position in relation to wood supply. But that's exactly where we find ourselves. For decades we have not taken responsibility for investing in our domestic wood supply, leaving us exposed to fluctuating prices and fighting for future supplies of wood as global demand rises and our own supplies fall.
UK: the big net importer
The UK is the world's second largest importer of wood after China, importing around £7.5 billion annually, because it currently grows only around 20 per cent of its wood requirement, leaving it exposed to a very significant balance (80 per cent) needing to be imported from other countries. In 2020 the UK imported 48 million cubic metres of wood products, of which 22 per cent was sawnwood and wood-based panels destined for use by the building and construction industry. By 2021 this had increased by 15 per cent, with the UK importing an average of one million m3 of timber and panel products every month – a rare occurrence according to Timber Development UK. Specifically, softwood import volumes increased by over 21 per cent, hardwoods by 26 per cent and plywoods by over 13 per cent, demonstrating increased demand even during ongoing Covid restrictions.
Beyond the UK, it is estimated by the World Bank that global demand for wood products will treble by 2050, driven by an increased population of 7.8 billion today, to ten billion in less than 30 years. This huge increase is being driven primarily by higher living standards, greater urbanisation – including China's almost inexhaustible need for timber for both construction and manufacturing – and greater use of what is increasingly seen as a more sustainable building material.
These trends are being compounded at a time when a number of other global developments are coalescing. In particular, security of supply of natural resources is under ever greater threat from geo-political upheavals, as witnessed by the Russian-Ukrainian crisis and soaring energy prices. While the UK may not be directly affected by Vladimir Putin's incursion into Ukraine – overall Russian timber imports into the UK are relatively small at only 1.25 per cent – Russia remains the world's largest supplier of timber globally. With potentially longer-term economic sanctions placed against Russian exports, there will inevitably be significant disruption to supply chains, price hikes and pressure on countries typically supplied by Russia, Ukraine and Belarus, to seek building material imports from other sources – including those Scandinavian countries that the UK relies upon so heavily.
Even before the Russian invasion, 2021 was a year when demand for wood outstripped supply, and timber prices rose significantly – with imported sawn or planed wood jumping by more than a fifth during the summer – leading to an increase in construction costs and delays in completing projects. The National Federation of Builders called for ministers to step in and urge councils to show greater flexibility on materials changes, while the Building Back Britain Commission warned in November that the government's housebuilding targets might be at risk.
An overlooked partner for Net Zero
The UK's commitment to become net zero by 2050 is, in part, dependent on the greater sequestration of Carbon Dioxide (CO2) for which productive tree planting in the UK can make a significant contribution.
Wood in all its versatile forms – high value engineered wood products, roof and floor trusses, roof linings, timber frames, insulation, cladding, volumetric chipboard flooring, doors, windows, skirting and door frames – is a unique natural material that is truly sustainable. Not only is wood a readily available substitute for many materials which have much higher emissions loads, including brick, concrete, steel and polyurethane, but the tree from which it evolves sequesters large amounts of CO2 as it grows.
The opportunity is here
The UK has ideal conditions for growing wood to build low-carbon homes and is a global leader in certifying that its forests are sustainably managed. Yet, while the UK government has stated its ambition for more tree planting, there has been little action on the ground outside of Scotland. Confor is now calling for much greater impetus behind those aspirations to ensure we have enough wood to help meet increasing construction demand.
The causes of the UK's current position whereby wood supply is falling just at the time we need it to increase, is complex, and ranges from outdated perceptions of productive forestry to a disconnect in thinking between consumer demand for wood products and understanding the need to plant the forests that they come from. It also encompasses significant hesitation on behalf of farmers and other land owners to invest in longer term planting projects.
With the UK facing the likely scenario of increased competition for future imports, it is little wonder that Confor is highlighting the declining supply of UK domestic wood supply and the potential risk this poses to major industries including construction and manufacturing.
Being a highly populated, mature economy with a limited land mass, the UK is likely to always be a large importer of wood products. However, we are in the enviable position of having excellent growing conditions for productive planting, a robust regulatory system in place to ensure good forestry management and a deep commitment to biodiversity and achieving net zero status by mid-century. The building blocks of a stronger domestic security of wood supply are in place. What is needed now is greater stimulus by the UK government in order to leverage these advantages into reality.
For a list of the sources used in this article, please contact the editor.
Confor
www.confor.org.uk
Based in Edinburgh, Confor is the representative body for the UK's forestry and wood industry, with almost 1500 members across the entire timber supply chain – from nurseries growing young trees to sawmillers and other wood processors. It supports sustainable forestry and wood-using businesses through political engagement and supporting members' competitiveness.