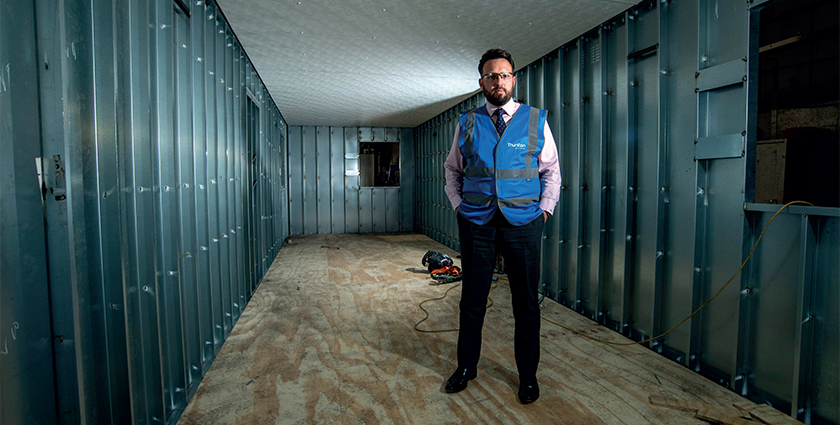 Building innovation
With more than five decades under its belt, Thurston Group has established itself as the provider of choice thanks to its turnkey modular and portable building solutions
Founded in 1970, the Yorkshire based Thurston Group (Thurston) operates three manufacturing sites in Wakefield, Hull and Catfoss. The company employs approximately 385 people, including manufacturing and production line operatives, welders, and fabricators. Privately owned for almost the entirety of its 52-year history, the company was acquired in September 2021 by the private investment firm the HLD Group of Companies.
In the wake of this significant development for the company, Construction & Civil Engineering sat down with Matthew Goff, Managing Director at Thurston Group, to discuss the move, and to explore Thurston's ongoing status as a leading provider of modular building solutions. Matthew reflects, "Thurston has been profitable and traded very well throughout its history. From the perspective of the former shareholders and owners of the business, however, the time to pass on the baton had arrived."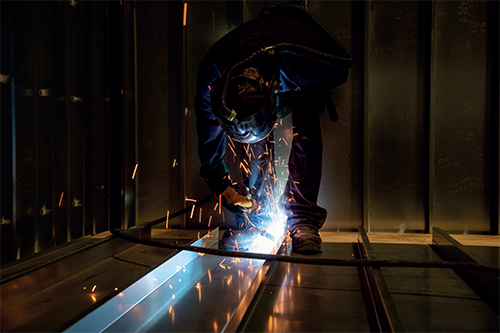 That baton now passed, there's an exciting leg to come for Thurston's. "We have growth plans to take the business from its £55 million in revenue today, to £100 million by the end of 2025," Matthew reveals.
For now, however, Thurston's day-to-day operations remain unchanged. The company's business is organised into three divisions: Products, which predominately serves the construction and accommodation hire business; Projects, Thurston's newest area of growth, providing off-site solutions for education, healthcare, commercial, and other types of sector clients in need of a permanent structure; and Specials, a niche field, catering to a wide array of sectors, including blast, nuclear, and the offshore market with bespoke solutions.
Despite this varied repertoire, the core of Thurston's reputation lies in the company's status as one of the UK's leading manufacturers of modular and portable building solutions. The concept of modular building, which involves prefabricating 'modules' typically in a factory-controlled environment before their delivery to the intended building site, is not new. Nevertheless, it's a practice that's rapidly gaining momentum, as an ever-increasing number of companies seek to save time and improve construction efficiency.
"We use many of the same building products as a traditional builder might," Matthew explains. "The key advantages are the reduced time that we spend on-site, along with the controlled environments in which we're manufacturing: dry, warm, and comfortable – as opposed to being exposed to the elements. We are in a factory, which does command a cost, but that's generally offset by the programme of works efficiency savings.
"Whilst the building preparations are fermenting, ground works are taking place, or any similar sorts of activities, we will be working in tandem on whatever it is – be it a new school or hospital, inside our factory," Matthew goes on. "From there, as soon as the site is ready, we can really bring everything together very quickly."
The recent Covid-19 pandemic brought another boost to the modular construction industry, as NHS hospitals and trusts up and down the country found themselves in sudden need of testing stations. A series of acquisitions throughout Thurston's long history has enabled the company to expand its service offerings across a number of different projects and project types, and in this instance, it was well prepared.
"Most of the UK's Covid-19 testing stations were manufactured by Thurston," Matthew reveals. "Many of the customers we serve were fortunate enough to win contracts to support and aid the NHS, and other areas of healthcare. From our perspective, we were incredibly busy. The quick nature of the solution that we were able to offer aligned well with the application, urgent need, and use-type of that product. Working with our supply chain, we were able to mobilise very quickly.
"We were able to manufacture approximately 120 units per week," he continues. "That underlines exactly why we're one of the UK's leading manufacturers in modular construction. We're able to meet the excruciating demands that even the NHS felt during Covid-19, and the time constraints in which they had to work."
But testing sites were by no means the only shift to overcome hospitals throughout the last two years. As the number of confirmed Covid-19 patients increased, there emerged an urgent requirement to expand respiratory ward space. At Tameside General Hospital, that's exactly what Thurston did. Working with the Tameside and Glossop Integrated Care NHS Foundation Trust, the company's brief was to deliver a ten-bed ward facility that had to be operational within an unprecedented seven-week programme. With minimum disruption to the running of the hospital, while observing the UK Government guidelines on social distancing.
"We were awarded the contract based on our previous relationship with the Estates Director of the Tameside General Hospital, who had come from another NHS Trust where we had previously delivered a number of large building contracts," Matthew notes. Acting as the principal contractor for the project, Thurston's work included groundworks, along with the installation of seven modular bays, the required bed spaces, a nurses' station, an AHU filtration system, and automated doors.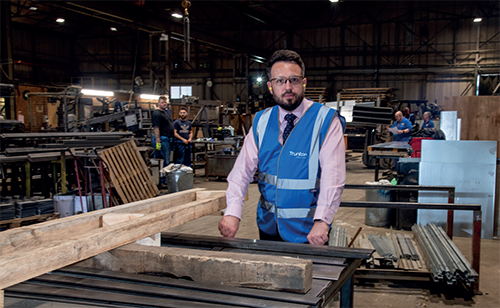 "There have been a number of similar applications where space has been needed and required, including schemes in education and the public sector," he adds. "In construction, we also saw the need to make sure that the workforce could return to live building sites, safely participate in socially distanced inductions, have lunch, and more."
It's thanks to projects such as the Tameside General Hospital that Thurston now has an extremely reputable name. Nevertheless, the company continues to explore new ways to drive new business. The recent launch of Thurston's new website hopes to achieve exactly that. As Matthew says: "We have customers that only deal with us for Products, or Projects, or Specials work, and they'll know us for that one particular service. However, when we dig deeper into our customer demands, there is certainly a cross-pollination across all our business streams that, with the right approach, we could utilise to better support our customer base. Our marketing team have been fantastic in terms of PR, and coming up with a new branding scheme that nods to our heritage, while still allowing us to move forward with a modern approach."
With sustainability in mind, Thurston is set to conduct a review of the carbon output across its three manufacturing sites this year, and has already set to work installing solar PV and LED lighting as part of general site upgrades.
"We manufacture, design, and develop innovative energy efficient buildings day after day," Matthew comments. "Accordingly, we need to do the same for our own facilities. As part of the project management of the new factory we're building in Wakefield, we're taking that opportunity: to go back to basics in the application of sustainable design principles. As a manufacturer, we hope to become net-zero by 2025."
In this drive towards net-zero, and a continued push for the £100 million mark, Thurston is taking encouragement from a period of strong performance. "Thankfully, we have a great order book, with a large volume of work in the education sector scheduled for the second half of the year," Matthew says. "We'll also continue to do a lot more of the same in terms of our Products business, which is generally very consistent."
For Matthew, one of the biggest challenges facing Thurston, and the industry as a whole, centres around recruitment. "Given we know that there are more jobs than people right now, how do we grow our business?" he asks, before answering: "Reviewing processes, procedures and innovation.
"At Thurston, we plan to spend a significant amount of money over the course of the next three years on training and development," Matthew concludes. "We hope to onboard a huge number of apprentices and see what comes of that. As we drive on with the growth of the organisation, it's the training, coaching and nuturing talent that we believe, in our business, can have the biggest impact."
Thurston Group
https://thurstongroup.co.uk
Services: Modular building solutions